Link Whisper Review: best Internal Linking, Structure and Suggestion tool?
This is a full review regarding the Link Whisper Plugin. See what the Plugin has got and its impact on search rankings.
The answer is incredulous when estimating the weight Internal links can accumulate on a site. There are no bones about what it can do.
Precisely, interlinking has been a tangible ranking factor for Google and other search engines thanks to the attestation of knowledge it signifies.
Obviously, a site is regarded to be more focused and specialized on a topic when it has loads of Pages within a particular subject. This way, the site is said to have nitty-gritty contents concerning the subject in question. And not having an assortment of different post that differs from one another.
That said, smart Internal linking is a surefire way to earn that coveted snippet box you ever dreamed of. Though, the impact is relatively small, adopting proper link management practices could make a big difference.
Without further Ado, let's get going with this in-depth Link Whisper Review!
What's Link Whisper, an overview?
Simply put, Link Whisper is an Internal linking WordPress Plugin developed for the main purpose of skyrocketing organic results through the use of striking internal links. The Plugin makes it super easy to harness the power of Post Quantity to garner enriched rankings on search engines.
When you initially start a niche site from scratch, it's likely that you will have very few posts to link to. However, as time progresses and you gradually build up your blog posts, you may start feeling the urge to interlink them with each other.
In this scenario, you'll have to dedicate maximum time for the work and also the strength and effort it requires. This process sucks a lot of time and energy… believe me. But by using Link Whisper, you can easily find Orphan Content (Pages with no links pointing to them) and subsequently perform the Doable with ease.
Aside Link Whisper fixing Orphan Contents for you, you also have relevant Link suggestions as you write on WordPress. To cut the story short, the Plugin comes along with plethora of amazing features that could supercharge your ranking capabilities.
Link whisper WordPress Plugin: Features
Underneaths are the cool features or functionalities that the Link Whisper WordPress Plugin has got to offer.
1. Nigh-Perfect Internal Link suggestions
The core feature of the Link Whisper WordPress Plugin is the Nigh-Perfect Internal Link suggestions to add to your posts. You can easily filter through relevant ones and check them out to work on your site.
But how does Link Whisper discern links to suggest and how relevant are these links?
Let's take a look but mind you, this is an honest Link Whisper Review, we'll be divulging all the ins and outs including the Pros and Cons.
Alright, back to business – how does Link Whisper generate the suggestions?
It works this way – The Plugin utilizes some sets of AI-driven instructions to deliver you suggestions that are nigh perfect. By nigh perfect, I mean the suggestions are slightly far away from being perfect.
However, the suggestions get more relevant as you use the Plugin. Also, with their stunning Natural Language Processing, great results are achieved over time.
Now let's go to the WordPress dashboard. Once you've got the Plugin activated on your site, it will mount a Pop-under section where it renders its Link suggestions.
This section is divided into two portions: the one on the left showcases the "Proposed phrases to add the link[s] from…" whilst the other showcases the "Post[s] to link the Phrases to…"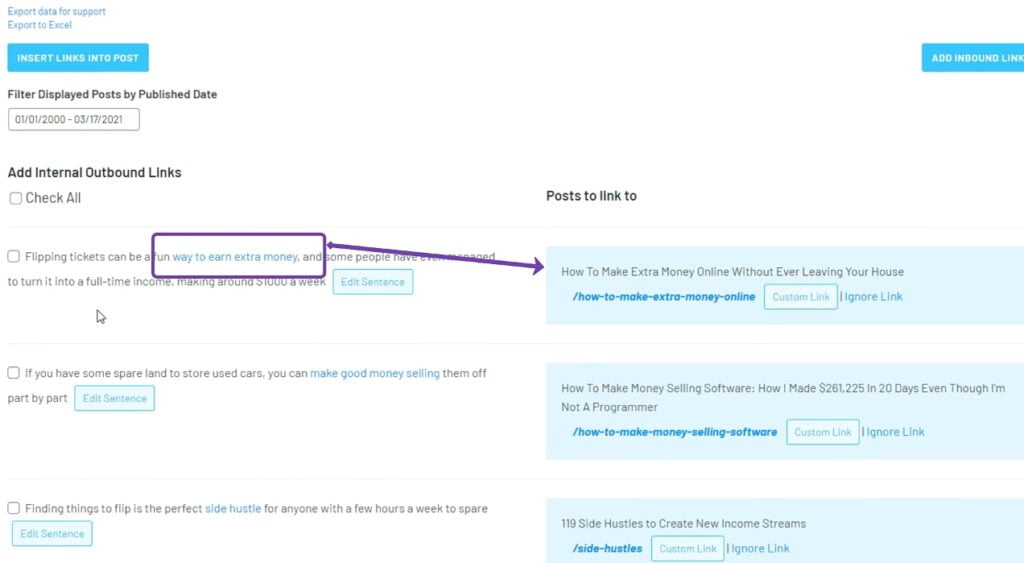 You can easily scroll around and select the ones you prefer. You can also use the Filter above to limit link suggestions by Categorizes, Published dates and whatnot.
There are a lot to do with the plugin. Let's keep this Link Whisper Review going…
2. Reporting
Honestly, metrics and statistical information provide valuable data in helping you work with full potential and not waisting your time in doing the guesswork.
With a nifty reporting program, one have a higher odds of improving with time. Because it exposes critical weak points and perhaps some possible workaround to get it up and running.
With the Link Whisper WordPress Plugin, the Reporting has been pre-enrolled with utmost details ranging from the Primary Dashboard, the Link Reports, the Domain Reports, and all-encompassing.
As always, the primary dashboard is used in listing almost all the exquisite data reports regarding changes and performance. You can get in touch with the current data statistics at just a glance. To view the full report, you'll have to refer to the section[s] directly.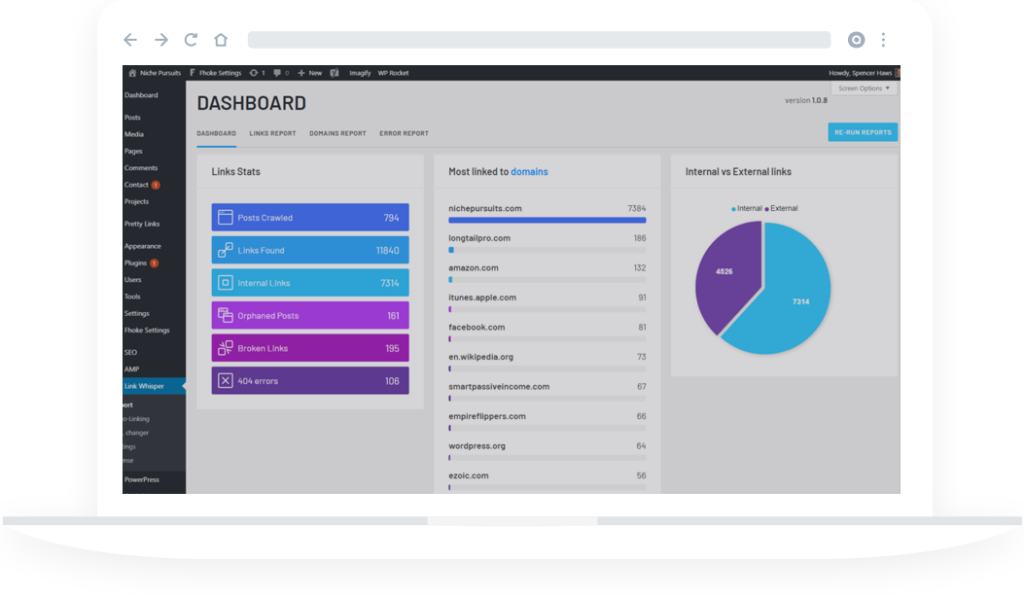 1. Link Reports
The Link Reports aggregate vital information regarding internal links and the way Pages perform on SERP. You're enabled to view and add specific outgoing or incoming links to your content. You can also export the Report as a CSV file for future reference.
2. Domain Reports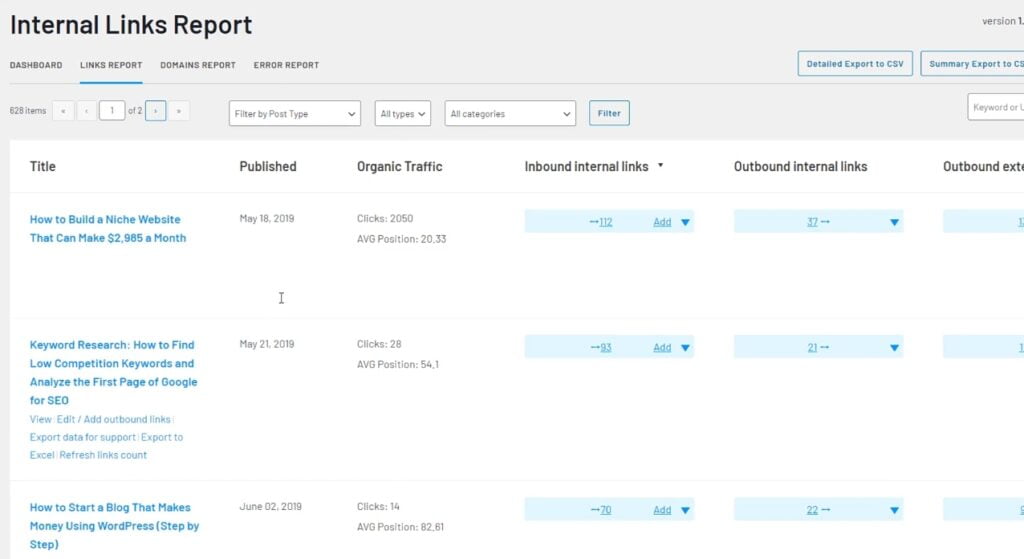 The Domain Reports section provide you with valuable information pertaining to the domains or websites to which you have passed link juice. It shows these with their frequency value, giving you more room to make certain adjustment when it's needed. That's really utilitarian.
With a report like this, the site owner stands a mighty chance to exert improvements, especially in the SEO aspect of the website.
3. Link Type Ratio
The Link Type Ratio is very handy when it comes to maintaining the amount of Link juice that flows across your site. With it, you can easily respond to changes. You can limit the number of websites you're pointing to or as well you can do some job in your Internal linking strategy.
Regardless to say, when the ratio guiding how often you point to other sites with respect to your own content[s] is abnormal, your site of course will suffer negative issues in organic rankings.
So you need to point links with caution… All thanks to the Link Whisper WordPress Plugin that have made it quite simple and intentional
4. Error Report
Broken links are one of the killer factors when it comes to your site ranking on search engines. They can pull down a website from something to nothing without notice.
Good news, Link Whisper has got its back on this. The Plugin provides an easy avenue to detect and subsequently edit the links with ease, thereby protecting your scores from being hurt.
Ps. Bear in mind that you can perform all this stuff in the Link Whisper dashboard directly and not having to click to individual contents.
3. The URL Changer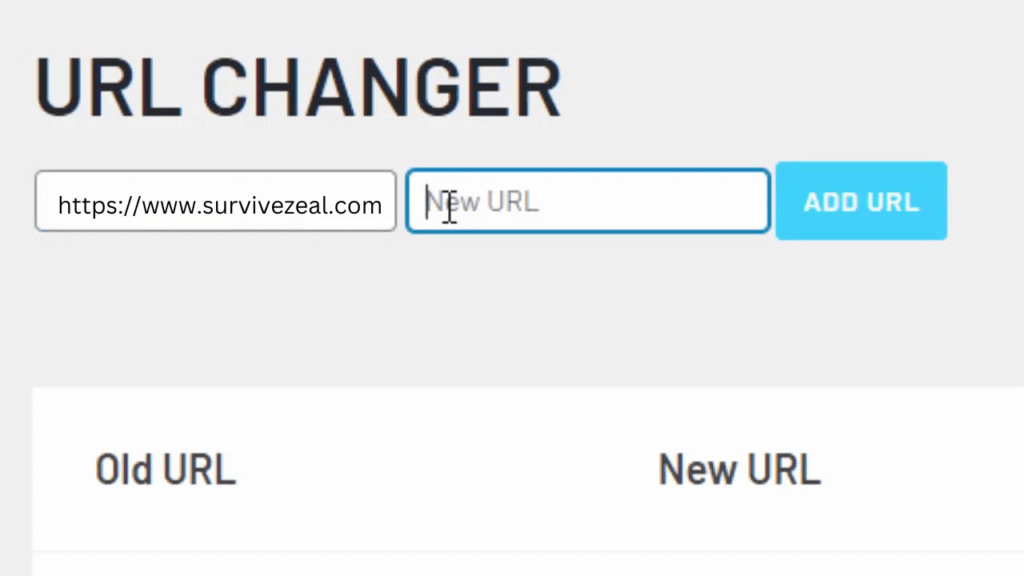 Page moved or migrated to a whole new URL? No worry, no redirection. You only need to click a button.
It's simple and easier to do this way. The Link Whisper URL Changer is really a game-changer. Let's take this analogy:
Supposed you have links pointing to the Contact page of your website. And it happens that the page has moved to a new URL!
Gone are the days when you have to open all these pages in order to fix the broken link[s]. You only have to specify the new link address, then Link Whisper will help you overshadow the old URL with the New link location.
4. The Auto-keyword hyperlinker

Likewise Pretty Links and ThirstyAffiliates, Link Whisper allows you to add links to specific keywords in your site. This kinda hyperlinking is automatic and it works for both past and future mentions of that specific keyword.
So if you have old keyword opportunities that need hyperlinks, you can link them up with this exact Link Whisper feature automatically.
5. Target Keywords collector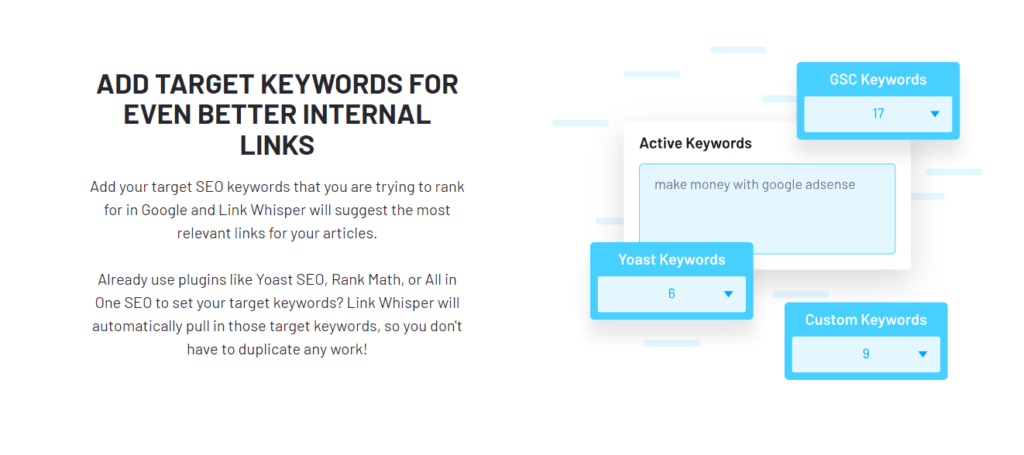 For the sake of nigh-perfect internal link suggestions, Link Whisper had come up with crazy ideas for collecting targeted keywords for each page on your site.
With this, the Artificial intelligence can familiarize the most vital keywords you're ranking for on search engines and better align its Links suggestions for success.
Now, there are many ways that Link Whisper lets you do this. They are:
#1. By doing it manually: You can easily create targeted keywords for each post manually right from the Link Whisper dashboard.
#2. Leveraging your best SEO Plugin to do it automatically: Instead of waisting a staggering amount of time creating targeted keywords manually, you can easily check some box in the Link Whisper settings to allow your best SEO Plugin to do it for you. For me, I use Rank Math and it really works well for me.
#3. By connecting your GSC account: To better perfect the targeted keywords for internal linking on your site, you can also connect your Google search console account to the Plugin. By doing so, you get all the keywords you're ranking for in Google.
Link Whisper Review: Pricing
That said, let's take a look in the overall Link Whisper pricing plans. Here we have: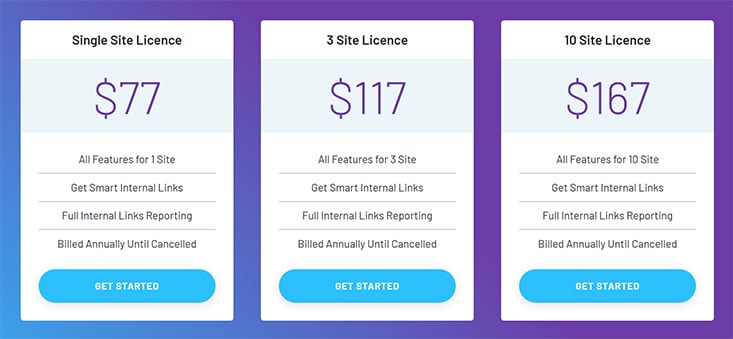 The single-site license which normally costs $77
The 3 sites license which costs only $117
And the 10 sites license which costs a measly $167
N.B: The Plugin currently supports annual licenses only. And there are slashes in pricings during Black Fridays and Cyber Mondays.
Limited Time Offer: They just rolled out a trial version. And you can make the best use of it here
Go now before they close it!
Link Whisper: Free Trial, Free Version, Discounts, Coupons & Promo codes?
Does Link Whisper has a free trial or a free version? Are there any discounts, coupons or promo codes that could get it at the best bargain?
Glad you asked! Let's find out…
First off, the Link Whisper WordPress Plugin doesn't offer any free trial as of the time of updating this Review. But you know what – the Plugin has a free version that you could easily install right from the WordPress dashboard. The free version of Link Whisper is obviously limited so be sure you won't get many of the beautiful features that we touched above!
Now regarding the available Link Whisper discounts, coupons or promo codes. Let's refer to this link, it contains the biggest possible discounts (we update it regularly so that the right deal is being served)
Update: They just rolled out a trial version. And you can make the best use of it here
Go now before they close it.
Link Whisper Review: Support Ratings
Whenever you're counting the best Softwares out there, one of the best priorities is the overall Customer Satisfactory rating.
Frankly, Link Whisper has been of good Conduct in the space. Their customer support service is highly responsive, with an average response-time of less than 6 hours, the management is said to be in full knowledge of what they're doing.
Link Whisper Plugin Alternatives
Don't conclude yet! Because the Link Whisper WordPress Plugin is not all alone in the Link building field, there are several Plugins out there (some we made mentions of and some we didn't) that could deliver if not above what this native plugin have got to offer.
Here are some of the top players
Looking for their in-depth Reviews? here are them in action:
Link Whisper and some FAQS around it
After surfing the web doing our research, here are some nagging questions we saw people asking each and every time about the Link Whisper WordPress Plugin. We didn't only include the bugging questions, but also we provided the best possible answers and some links to other pages.
Here we go:
How relevant are the links that Link Whisper suggest?
While there's no perfect thing on Earth, Link Whisper should at least suggest sth that's relevant. For this, the plugin is known to perform the very best.
At first, the link suggestions are far away from being perfect. But when you spend some couple of time using the plugin, their AI will shuffle itself to match up with your needs.
Needless to say, the inbuilt suggestions ain't only the value of Link whisper. You can use it for way other things.
What happens when I uninstall Link whisper?
When you uninstall or expire your Link Whisper license, all the links built and settings will remain active on your site . Therefore, should you reinstall Link Whisper or not, your activities and progress will remain untouched.
Does Link Whisper support link shortening and cloaking?
Link Whisper is only for your internal linking needs. So it's not there for you in terms of link shortening or cloaking.
We recommend you check out ThirstyAffiliates for Link cloaking.
Does Link Whisper really increase Search rankings?
Yep/No, by making use of the features in Link whisper, you stand a chance to outrank your competitors. More link opportunities translates to more and more rankings.
Will Link Whisper slow down my site?
As aforementioned, the Link whisper WordPress plugin doesn't add anything to the overall weight of your website. Unlike other plugins that contain bloatware, Link Whisper is utterly free from large and bulky scripts.
How neat are the codes that Link Whisper generates?
Thankfully, Link Whisper generates codes that are light and simple. So don't worry about crazy HTML codes and that of CSS files.
Link Whisper WordPress Plugin: Pros and Cons
All softwares in the planet earth has their own upsides and downsides. So there's no perfect thing at all.
Link Whisper Pros
Saves Link building Time and strength
Intelligent Link suggestion
Intelligent Link Reporting
Automatic linking
Link Whisper Cons
Usually generate irrelevant Link suggestion
Link Whisper as an Internal Linking Plugin – Is it even worth it?
Most definitely, the Link Whisper WordPress Plugin is more than worth it because it let's you maximize the rate of output. By letting you make the best use of your time and energy, the Plugin is regarded as a timesaver.
Just think of it – more links opportunities, more ranking opportunities, and more time being saved. Actually, the Plugin is worth the investment.
But mind you, the Plugin works the best on big sites whose contents are more than 500 Posts. Although you can still use it on any site, we really don't recommend doing so. The reason is the Link suggestion feature (which is the primary) relies on Post Quantity to function accordingly. If there are few posts, then Link Whisper won't have anything to suggest.
Therefore, we admonish staying clear from Link Whisper at least for now if you're just starting out. Because you can perform all this stuff by yourself.
Now instead of investing as a new site owner, we recommend getting started with a CTA Affiliate Plugin.
N:B: Yep, ditching Link Whisper (as a new blog owner) for a CTA Plugin should be prioritized. Because you can really perform all your internal linking needs with your hand. Whereas, it's almost impossible to pop out an eye-catching CTA illustration all by yourself.
Also, for sites that are already getting tractions. We also recommend getting a CTA plugin together with Link Whisper. They work really the best with one another.
Summarizing the topic as to whether Link Whisper is worth the investment, we would say "YEP" in bold characters.
It's obvious we don't recommend Link Whisper for new site owners. But anyways, if you've already existed in the marketing space before or you have the required experience already, then you can try Link Whisper, it can get your site up in Search engines.
Now, for big site owners, we highly recommend the Plugin. It can do a lot, especially in the SEO aspects of your website.