Link Whisper vs Rank Math Review: What should be your first choice?
In this Link Whisper vs Rank Math Review, we put to test two of the best SEO tools. Get ready to ascertain which one wins overall as well as the one that should be the first option whatsoever.
But before we go into the big details, I would like to make it clear to us — Whilst Rank Math and Link Whisper aren't radically different from the root, they aren't built to address the same thing.
Needless to say, Rank Math is for let's say all things SEO whereas Link Whisper on the other hand focuses deeply on Internal Linking.
Now, we have a primary glimpse of what the Plugins are all about. It's high time we discover that they do not qualify for Competitors or worthy Alternatives. Therefore, one can't say – let me use this one and ditch the other one.
Both join hands one-on-one to deliver you the kind of results and experience you need in the SEO aspect of your site.
That said, let's keep this Link Whisper vs Rank Math Review going. It's all gonna be fun
Pretty new to the tools? Check out our in-depth Reviews here: Link Whisper Review | Rank Math SEO Review
Disclosure: Some of the links on this Page are Affiliate links and we do earn a commission when you engage through them. The fee we receive as compensation doesn't determine our ranking. Our judgement are natural though we try to add money links to any opportunity. We appreciate your engagement!
Link Whisper vs Rank Math Review: Feature Comparison
…On the WordPress Editor
On this Page, we compared the WordPress Editor screen of Link Whisper to that of Rank Math SEO
1. Link Whisper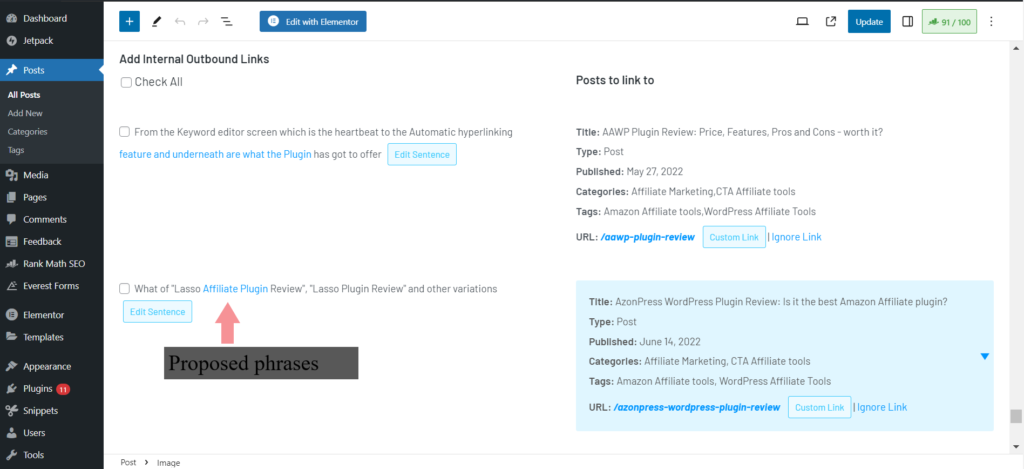 On the screenshot is a box for Link suggestions. The right-hand section contains the proposed phrases that Link Whisper has discerned and marked worthy of converting into a hyperlink. The other on the left shows the Post URls that will wear the Proposed phrases, thus making them internal links.
Of course, it's the Primary feature of Link Whisper to suggest you opportunities in your article for Internal Linking. It makes use of NLP (Natural Language Processing) which requires the test of time to deliver you results that are relevant.
Meanwhile, as you use Link Whisper, it gets better with time. Now, when you first install the Plugin, the Suggestions it delivers are somewhat noisy and irrelevant. You have to scroll through the mess unchecking what isn't right.
Anyways, it has got filters and features for fine-tuning. You can freely and swiftly ignore any suggestion that's not right. From the filters, you can decide which categories, post types, and whatnot should be fetched. Believe me, fine-tuning means a lot.
2. Rank Math SEO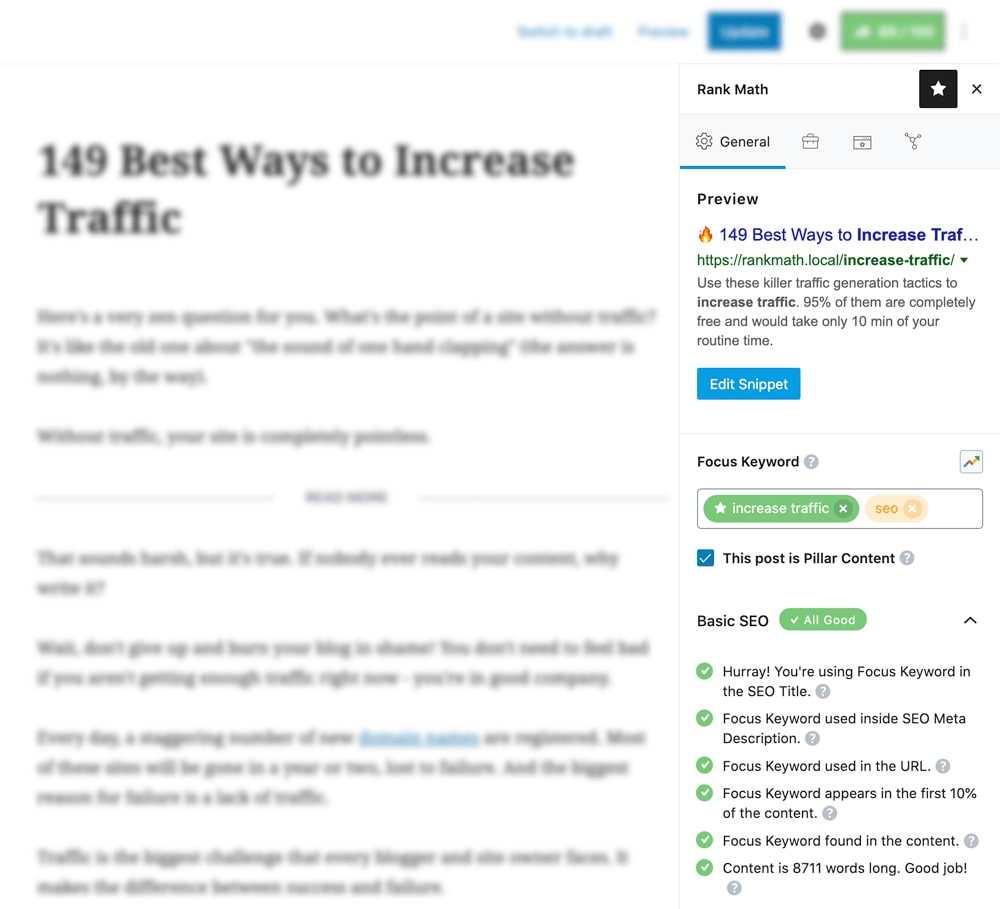 Here comes the Swiss army knife of WordPress SEO!
Behold its SEO-friendly guidelines at the highlighted portion of the screenshot. It appears on the right-hand side and it plays a significant role in seeing that Pages perform well in SERPs.
Taking a closer look is a scale constructed by SEO gurus that rates your piece of work from a measure of 1% to 100%. The nearer you are to the max, the better your chances on SERPs.
As you write on WordPress, Rank Math will demand a focus Keyword which it will pass through its benchmark for ratings and suggestions for improvement.
Consider the focus keyword as your target phrase that you want to rank on search engines. After inputting the focus keywords (you can typically add up to 5), Rank Math will assess them using its own criteria, revealing whether your keyword optimization was good or not.
Outside keyword optimization, Rank Math does run a bunch of other tests using its full-fledged benchmark. It scans whether the right quantity of Internal Link appears on a Page or not, whether the ratio of Internal links to External is optimum, and among others.
In brief, the WordPress Editor Screen of Rank Math handles comprehensive SEO analysis. It instills confidence, helping you determine whether you're headed in the right direction or not.
Let's now explore the features that these Plugins have got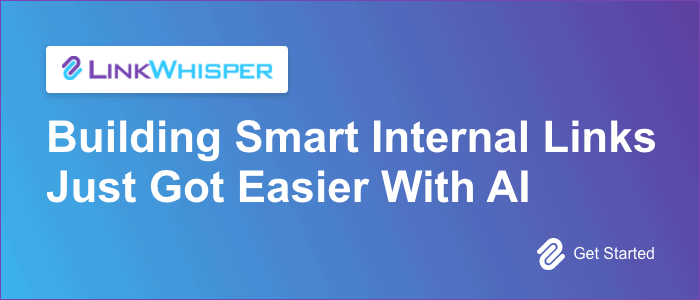 1.1. Link Whisper Features
When it comes to Features, Link Whisper is jam-packed with a plethora of capabilities that would change your Internal Linking work.
Here are all the features it offers in a jiffy.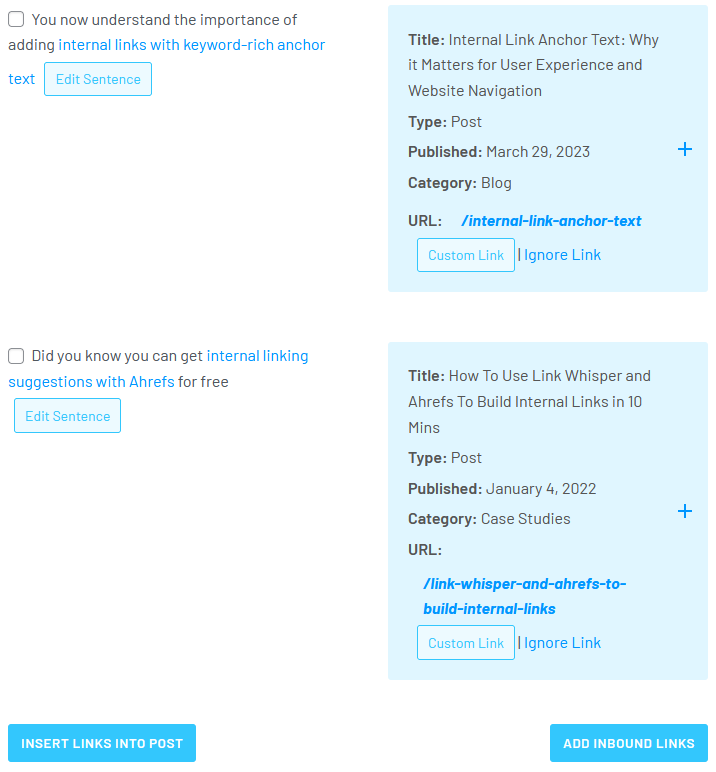 1. Internal Link suggestion: As aforementioned in the beginning, Link Whisper's primary function is to give you Internal Link suggestions as you write on WordPress. This is especially important in helping you take advantage of any opportunity on a page.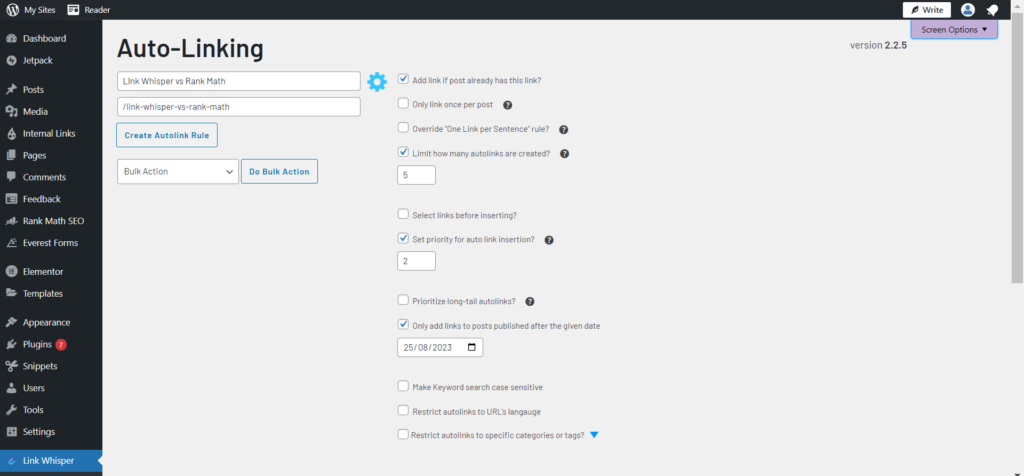 2. Automatic Linking: As part of the Internal linking game, Automatic Linking allows you to build hyperlinks on Autopilot. You only need to specify the target keywords alongside their respective links, then Link Whisper will help you make the conversion in both past and future mentions.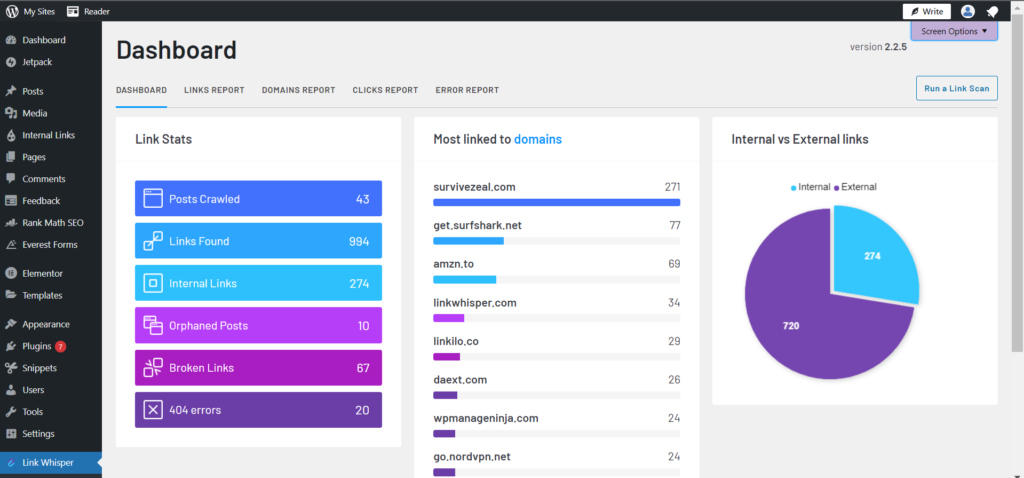 3. Internal Link statistics and Reporting: Really, information means a lot as it combats guesswork. You can easily see the number of Internal links that appear on a page. The same is applicable to external link counts. There's an option to delete an already existing outbound link right from the dashboard. One is also able to view the current Anchor texts in use and also can edit them by following the Posts they appear in to the Edit screen.
These options appear in the Link Report section. Coming to the Domain Report – You get eye-opening data about the Domains you have passed link juice to. The Report includes all the Posts the Domains appear in and their respective Anchor texts. Right from this screen, one is able to unlink to the Domain or any of its offspring pages without needing to click to the Page Edit screen directly.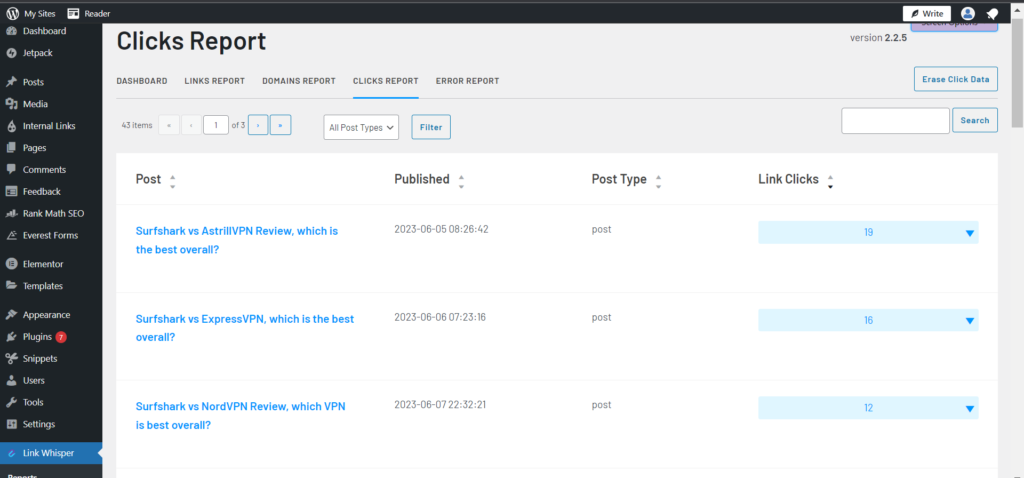 4. Click Analytics: With the Link Whisper WordPress Plugin on board, you no longer need a second plugin to track the clicks on your internal links. You get the reflection instantaneously as the links are clicked. You can run a deeper Analytics report, which will show you all the Internal links that have been clicked in a Post, their respective Anchor Texts, and the option to locate any post of your choice using the "Search by keyword" parameter. Also, you can erase the Click Records to make it afresh.
5. Error Report: In this Link Whisper vs Rank Math SEO Review, we discovered that the Error Report is a partaker in the commonalities. Both the plugins have it and it's paramount because it gives insight when there's a Broken Link on a Site. As for the Link Whisper's own Error Report, one can run a Broken Link scan to check if there's any occurrence or not. And the result is great and very helpful.
6. URl changer: This exact feature is one we haven't been able to find in any other Internal Linking tool. It's pioneered and perhaps used only by Link Whisper. Using it, we no longer need to place Redirection when we move our page to a new URL. In the same vein, gone are the days when we need to visit our thousand Pages where the moved links appeared. The mere thing is to use the URL changer feature – Only specify the old and new Link address, all to see Link Whisper make the changes for you. Isn't that great? Again, there's no Redirection, it's the same way you update a hyperlink, but in this case, it's Automatic!
2.1. Rank Math SEO Features
Rank Math SEO would potentially come out first if we are to ascertain the most feature-rich Plugin in the WordPress.org database. It packs an umpteen number of functionalities yet it doesn't interfere with Loading times. Its modular framework is responsible for this, allowing you to enable the features you need and uncheck other ones.
This isn't a full Rank Math SEO Review, therefore, the features are explained in brief.
1. SEO writing Assistant: This is the one we talked about above. It's located in the WordPress Editor screen and it regulates content optimization in an SEO-appealing manner. As you write on WordPress, Rank Math SEO delivers you suggestions and ideas which when followed up, can qualify you for Search ranking.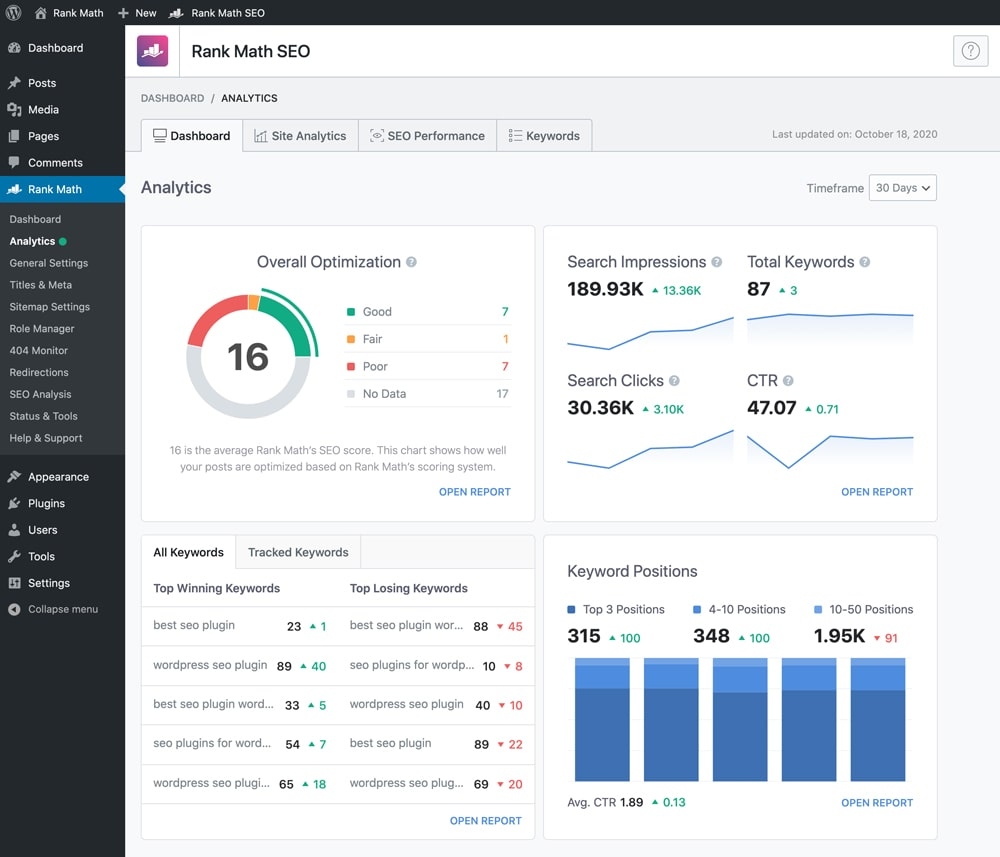 2. Analytics, Tracking, and Reporting: The so-called all-in-one SEO tool does more than analysing a single page! Hikes, it provides you with overall SEO Analytics of your website. For the tracking, you no longer need another Plugin to measure your ranking, it's more than a Rank tracking tool. Finally, for the Reporting, you get full information about your ranking keywords, their position levels, and overall SEO Performance.

3. Internal Link suggestion: Thankfully this Review of Link Whisper vs Rank Math SEO collides here! Rank Math SEO though not based primarily on Internal Linking, provides you with intelligent Link suggestions as you write on WordPress. To use this feature, you have to set your Parent pages to pillars (the option is at the WordPress Edit screen), after then will the Plugin throw you relevant Link suggestions.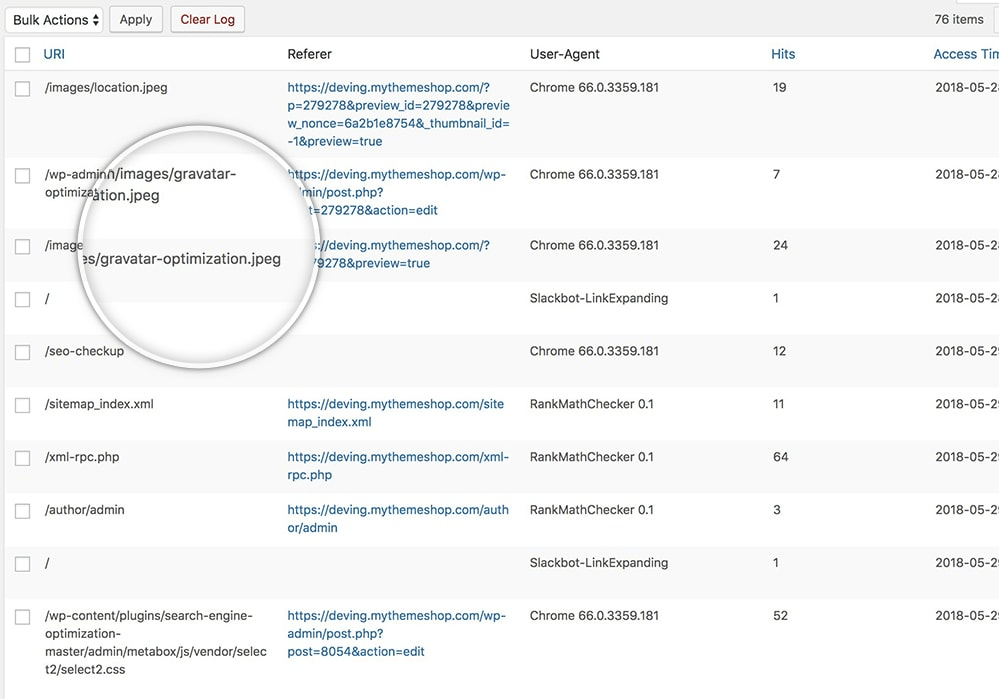 4. 404 monitor: Similar to Error Report in Link Whisper, the 404 monitor scans your site outrightly for broken links and faulty URLs.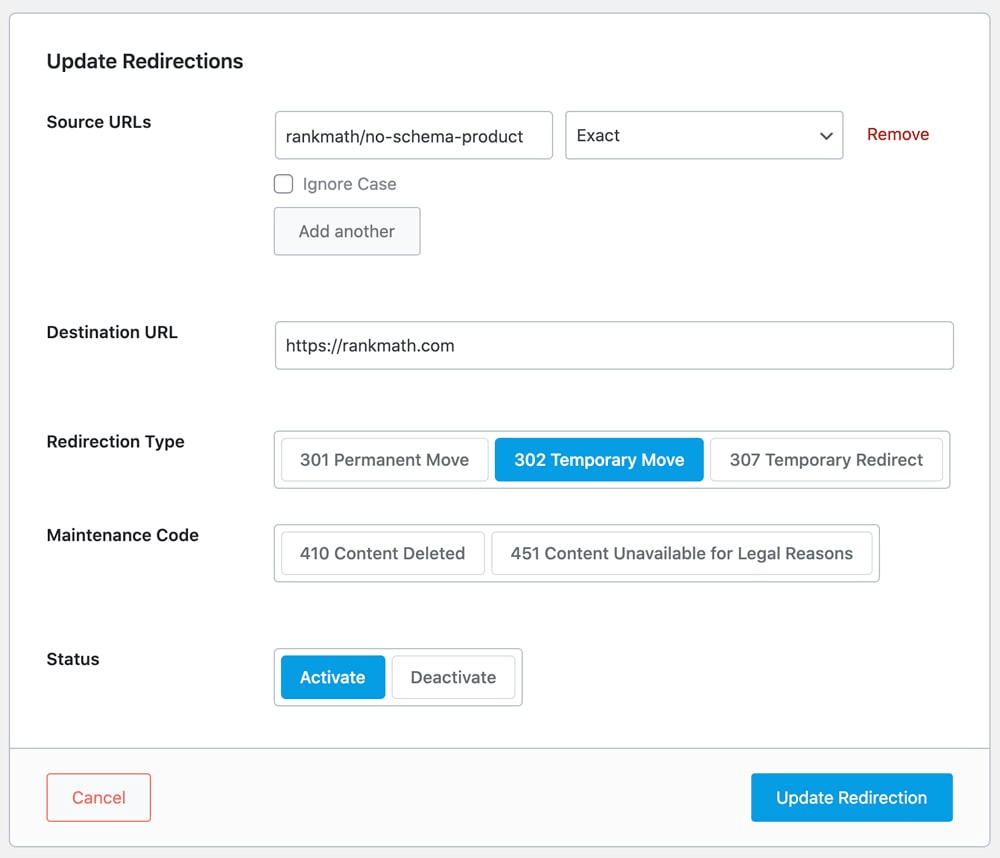 5. Redirection manager: Also homologous to the URL functionality of Link Whisper, the Redirection manager helps in directing pages from one location to the other and also in managing all things within them. You can choose from the Redirection type you want, you can create categories to group your Redirection. You can also be enriched with the Click-tracking data which shows the hits on the Redirected links, among many other things.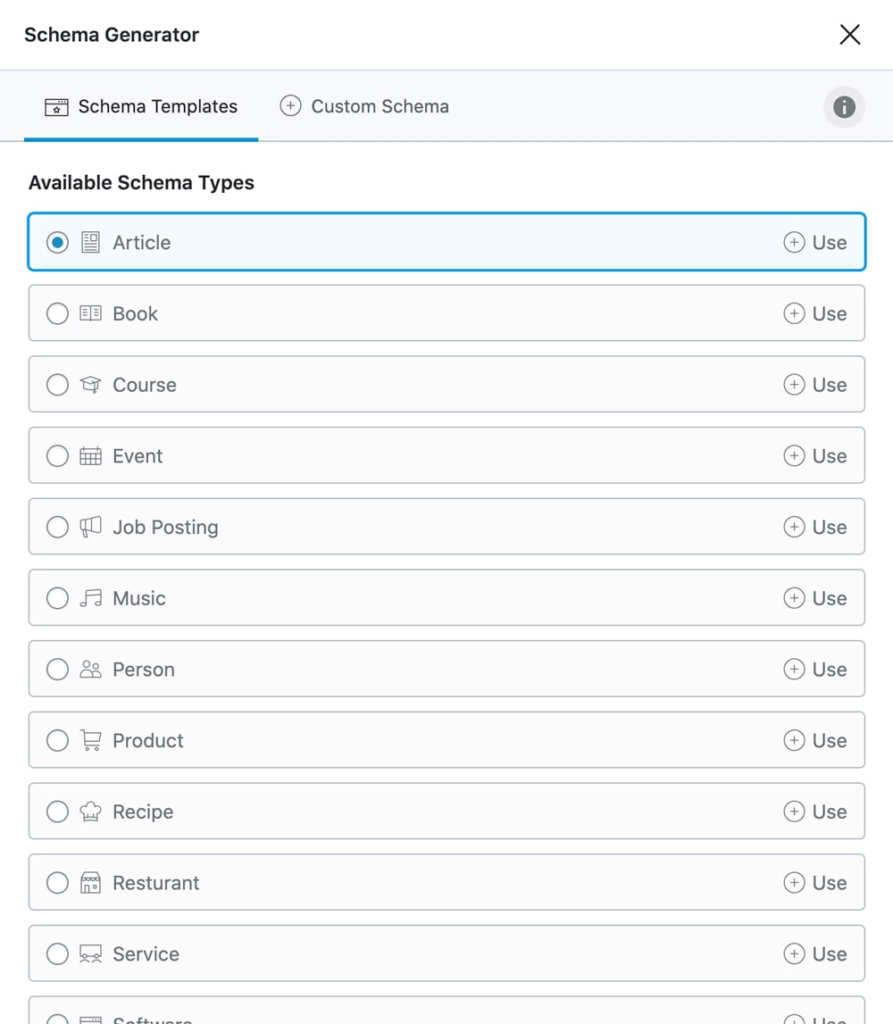 6. Schema Markup: Still struggling to have a rich snippet on the web? Use Rank Math SEO. With it, you can make the following Schemas in one click; Product, Article, FAQ, Local business, Recipe, how-to, Video, Events, Recipe, and Knowledge Graph Meta Data. As if that wasn't enough, you no longer need Google Rich snippet results for validation purposes, it can be performed seamlessly in the Plugin.
7. Global settings & Image SEO (Do it once and leave it forever): Why still toggle the option to Open External links in New Tab when you can do it globally and once-for-all using Rank Math SEO? Why waste time doing all of these things? You can of course instruct your images and their surrounding elements to behave in a certain way. For instance, you can decide to allow Rank Math SEO to fill in missing Image Anchor Texts, Descriptions, Captions, and Title tags for you, among many other things.
8. Social media integration: The tag "all-in-one SEO tool" isn't in vain. It's to show that Rank Math does almost everything SEO including its integration with Social media websites. Now, your About page section will appear as a rich snippet showcasing your presence on Social platforms. Just to name a few, you can make a good Open Graph with all things in mind (think click-worthiness and adaptability).
I'm already burned out going through Rank Math's powerful features. In the Plugin, you can also find the following functionalities
Local SEO
Google Search Console integration
Content AI (for LSI keywords)
XML Sitemap
Automatic Linking [coming soon]
One-click AIOSEO data import
One-click Yoast SEO data import
3. Comparing Link Whisper & Rank Math common features:
Now that we have explored the whole of their features, let's review the things they share in common in this Link Whisper vs Rank Math Review.
Commonalities: Link suggestion, Error Report (404 monitor in Rank Math), URL Changer (Redirection manager in Rank Math), Import & export
1. Link Whisper Link suggestion vs Rank Math Link suggestion?
For Link Whisper, it uses Natural Language Processing to deliver you internal link suggestions. As we all know, NLP can be inaccurate if not most of the time. However, it aligns itself as time goes on in favor of the user's style and usage.
In addition, Link Whisper uses various means that are intelligent to collect targeted keywords. These include – using the focus keywords already set in SEO tool (I use Rank Math), through the keywords in the title tag and permalink, or via a Custom mode which allows you to put in the focused keywords by yourself.

Very importantly, the architecture of the Link suggestion that Link Whisper uses is unique. And it works by matching up key phrases with the Pages you already have on your site.

As for Rank Math SEO, it has its own as noiseless as possible and while the Link suggestion only works for the Pillar pages, it's highly effective and is used in many Internal Linking tools (think Linkilo and Interlinks Manager).
Now, handing over the trophy to the rightful winner in terms of Link suggestion, Link Whisper undoubtedly takes the cake! It doesn't only have the edge over Rank Math on this. But it's regarded as the best Link suggestion tool currently.
The ability to query and filter the Link suggestion kind of refines the output, thus making it as relevant as possible. Plus, the capability to edit the proposed phrases to anything of your choice! What's more? You are also able to change the suggested Pages that wear the suggested keywords. The flexibility is limitless.
2. Rank Math 404 monitor vs Link Whisper Error Report?
What could have this post been if we hadn't included Error Reporting as part of the Commonalities in this Link Whisper vs Rank Math SEO Review?

Regarding the Rank Math 404 monitor, it brings 404 pages that would have been apparent to your notice. It displays these with their Access time. You can choose from simple or Advanced monitoring.
Note: The Simple mode shows you the affected URL and the access time only while the Advanced shows you additional information like the Referrer URL and so on.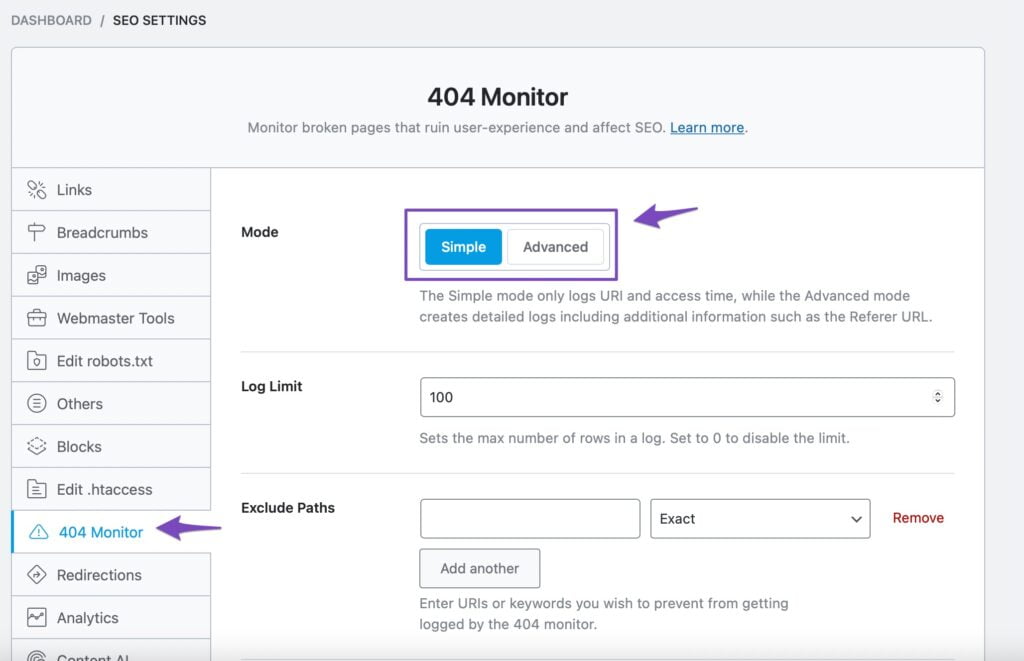 There's an option to exclude certain Pages from the logging plus the ability to ignore Query parameters from the report. For further work or future reference, an Export via CSV format is there always.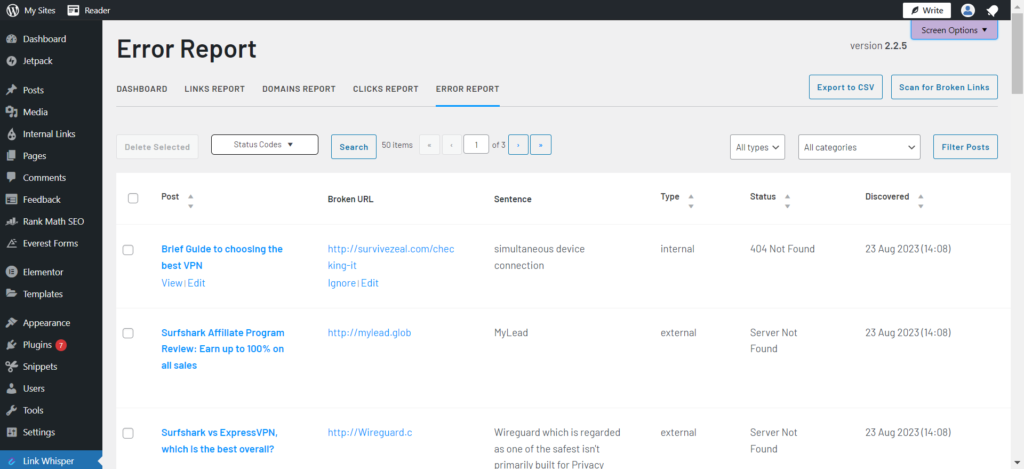 Now, for Link Whisper's Error Report, it has the edge by not just catching 404 pages, but all errors in the Internal links you can ever think of. Here, it shows all broken links found in your site, the time when they were discovered, the Anchor text that wears them, their error status and whether they are Internal or External link types. Similar to Rank Math, there's an Export option which is really useful.
3. Link Whisper URl changer vs Rank math Redirection manager?
Here comes a very useful and similar functionality – The Link Whisper's URL changer and that of Rank Math Redirection Manager.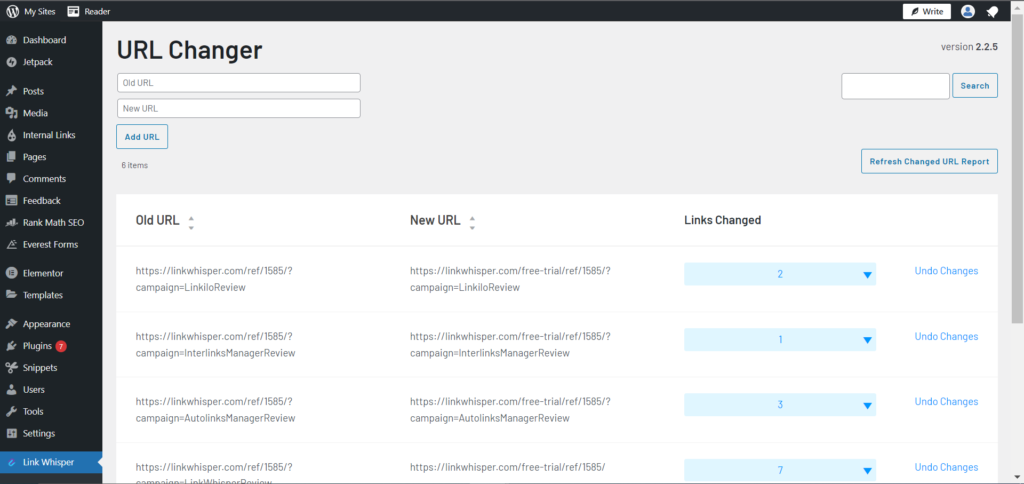 Pertaining to this Link Whisper function, it lets you change links on your pages to point to a new address without having to do it manually.
Unlike Rank Math's redirection manager, it doesn't use redirection. What it does is to change the URL, and you can achieve this by specifying the Old link with the New link location which it will point to.
As easy as that right? Supposed I have an Old Link A, and then it got moved to a New address B. Gone are the days when I need to open these pages for the updating work let alone using Redirection, I just have to overshadow the Old link target with the New link in one click.
Now for Rank Math Redirection Manager, it's highly feature-rich and can't be replaced by Link Whisper's URL changer, mind you!!! At Rank Math advantage, its Redirection can fully take the place of the former.
Of course, it's what I used to use for instant Link destination change before I came across URL changer.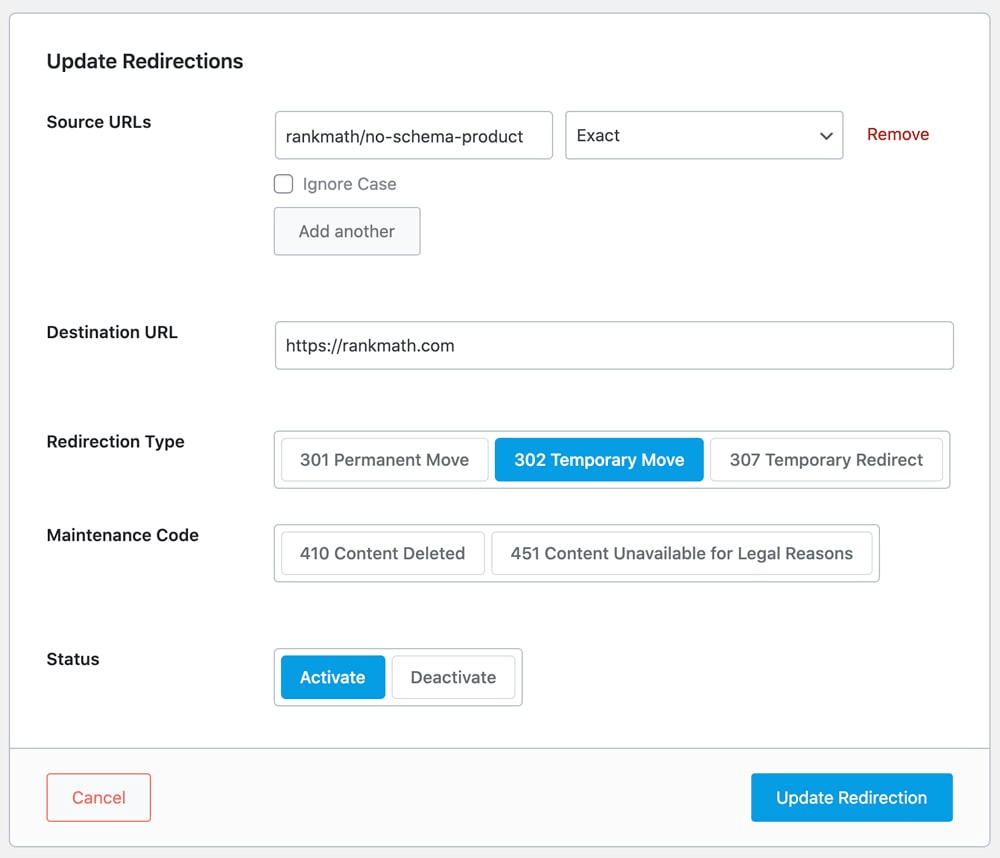 The Redirection manager gives you the ability to configure Automatic Redirection per change in the slug. This is one of the powerful flexibilities it adds to WordPress.
Moreover, the other setting options like the Fallback behavior which grants you the permission to decide what your 404 pages do (whether for them to get redirected to the Homepage, or Custom URL or to the default 404 notice) and the enablement to plug your Redirections in categories, plus the Clicks Analytics are things one can't do without.
What should be the first choice? – final Verdict!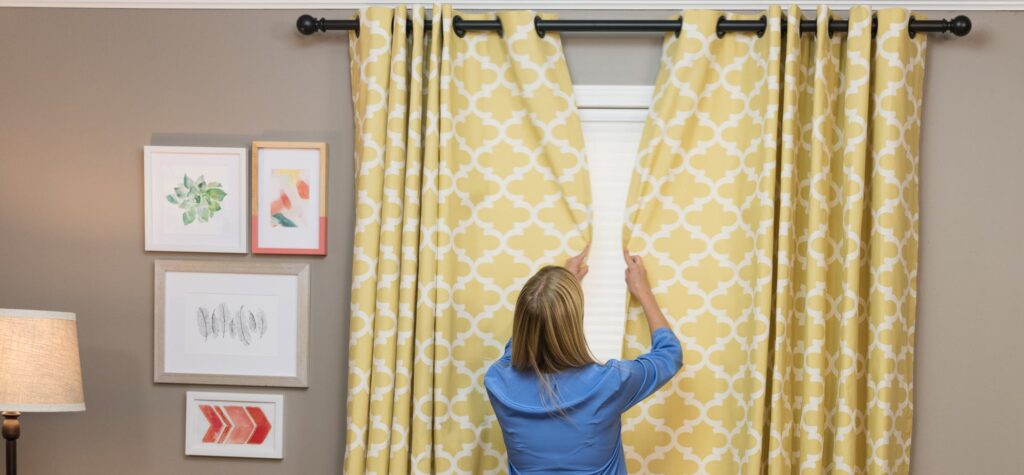 It later transpired that the two cottons around this Link Whisper vs Rank Math Review are one draw away from meeting each other.
Recall, Link Whisper and Rank Math SEO are two different Plugins in the SEO sector that work hand in glove. They aren't perfect alternatives, as a result, one can't be displaced for the usage of the other.
Regardless to say, Rank Math is for all things SEO whereas Link Whisper focuses only on Internal Linking.
This alone calls the result for "what should be the first choice"!
Rank math works smoothly and Is highly recommendable irrespective of whether the blog is new or not. As for Link Whisper, it does demand an already established website with at least a few hundred posts. This is to get its Link suggestion to work properly because it's the primary feature, and relies on the quantity of Content.
Also, the fact that all Link Whisper's functions (i.e. Internal linking) can be performed by hand makes it dispensable. As for Rank Math, you need it to feel the breeze of a proper SEO structure.
Key takeaway: The use of Rank Math and Link Whisper altogether is the best thing that can ever happen to a site. We use both of the plugins on our site and it has changed the way we perceive things. The golden news is that we can now save more time and energy needed in the work.
The bottom line, the conjunction of Link Whisper's URL changer (which we use to update link destination internally), and that of Rank Math Redirection which makes sure backlinks and our URLs on social pages findeth their way to the new Link address, are functions one can't do without!
Best of luck!
Until then, keep hitting them big with the incredible power of these SEO tools. We are waiting for you in the comments!