ClickWhale Review: Best Affiliate Link Shortener & Link Pages Tool for WordPress?
In this ClickWhale Review, we are going to take a whale dive into the Plugin observing whether it is really the whale of the Link management industry.
Spotlight: We have compiled the list of the best Affiliate Marketing Plugins – check it out to discover the tools you need alongside ClickWhale.
What's ClickWhale and What does it do?
The ClickWhale WordPress Plugin is a Link shortener, a Link Pages Tool, and a code snippets plugin. This WordPress Plugin makes the perfect free replacement for Pretty Links Pro. It's also a Competitor of LinkTree, a popular Link Page tool.
ClickWhale WordPress Plugin focuses deeply on Link shortening and cloaking. The Link Manager lets you squash ugly & long URLs into pretty links.
Apart from the Link shortening service, it also lets you track the performance of shortlinks on your site. You can now identify top-performing ones as well as poor ones which will help in taking the appropriate position.
By flattering us with Intelligent Click Analytics, we can possibly set aside the reporting from other platforms (think Affiliate Marketplaces).
From the root, the ClickWhale Link Manager aims to impact more visits to our money links. It accomplishes this by means of Link shortening and Cloaking.
Furthermore, the Plugin is navigating the way of Link Pages (Link-in-Bio) to facilitate easy discovery of our important links & profiles.
You can replace Pretty Links Pro with free ClickWhale Link Manager they say without spending a dime. You can also migrate from LinkTree to the tool to run both Link Management & Link Pages in one place.
Let's take a bird's eye view on this, and find out whether the ClickWhale WordPress Plugin lives up to its name!
ClickWhale Review: Features and Functionalities
In our Review of ClickWhale, we came across all the features it offers. It's primarily based on Link Management with the tip of its finger touching on Link Pages. Let's go ahead and explore these wonderful functions
1. ClickWhale Link Manager

The ClickWhale Link Manager provides an avenue from where all things Link Management are dealt with.
Link shortening and Cloaking are made possible, and the next level of Affiliate Link control is at hand.
Its Link-shortening service works with a Site identity mindset. The tool shortens the links by inserting keywords right after your root domain. This is called Link Cloaking
For example, our Affiliate Link here (https://linkwhisper.com/free-trial/ref/1585/?campaign=InternalLinkingPluginsList) can be slashed into (survivezeal.com/recommends/linkwhisper) which now resembles a part of our website.
Thankfully, ClickWhale Link Manager comes with all the required Link Management controls. We can define the keywords to be used for the Link shortening (this both includes the slug & the target) and also set necessary Link rules (like Link attributes, Redirection type, and link behavior).
The best part of the story is that the ClickWhale WordPress Plugin also lets us track the clicks on the shortened links. If you take a second thought, it's clear that this flexibility is one of the benefits of using a Link Management service.
No worries, the Plugin doesn't restrict you in any way. You can create short links, track their performance, delete, reuse the deleted data, and edit whole elements.
As far as ClickWhale Link Manager is concerned, you're always on point with Link Management.
Classifying your shortlinks into definable Categories is a must-have feature, and it's just cool to see that ClickWhale got us covered.
We could manage all our Affiliate Links in the very best possible way.
You can check out our ClickWhale Link Manager Review to discover more about the Link shortening system.
2. ClickWhale Link Pages (Link-in-BIO)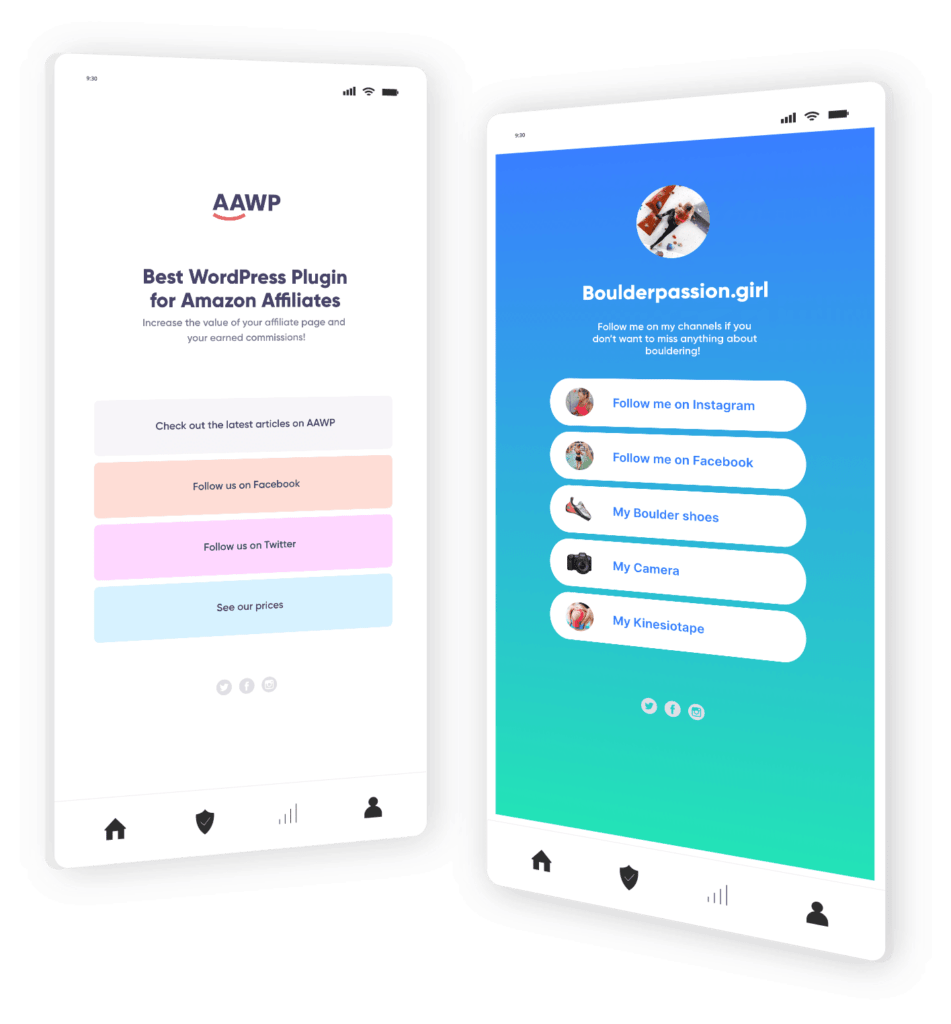 The next feature in this ClickWhale Review is Link Pages popularly known as Link-in-Bio.
Link Pages is used to gather special and important links of a person, business, or organization in one place. It's mostly used to show Social profile accounts to the audience.
Outside displaying other Social profiles, Link Pages can be a store for Navigations and a site to collect donations, payments, etc.
The difference between a Website and a Link Page is that, Link Pages notes down important links from the site in one confined location whereas a Website is the full store of contents with a mixture of both Important and less-significant Pages.
With Link Pages, the prioritization of contents that are critical to business success is secured.
Coming back to the ClickWhale Link Pages Tool, it comes with all the beautiful features that are found in LinkTree (the most Popular Link-in-Bio Tool).
The Pages Tool comes with a drag-and-drop building interface which is ideal for a swift Link-in-Bio creation. One of the unique selling point of the Pages Tool is that, it uses your site address unlike most services.
Instead of being hosted at the subdomain of the Link Pages provider, we now have it as a Page on our site.
ClickWhale Link Pages is jam-packed with customization settings that will address your pain points.
In order to give you a great experience, the Link-in-Bio comes with pre-built emojis and icons that you can use when developing your page. You can also upload additional media files if you can't find your preference in the store.
The Color customization settings is at the next level. You can choose which color to use for any of your elements. You can also use a custom background image if you want a certain stylish appearance.
What's more? Because the Link-in-Bio offered is not different from a regular Page, it can qualify for Search Engine rankings. This presents us with SEO customization settings.
You can do a range of things. From setting up the Meta title & description to using NoIndex Robots Meta, etc. You can also define how the Link Page should look when shared. This is the work of Open Graph – set featured image, title, and description, and enjoy the appearance on Social platforms.
Drawing the two cottons from here, ClickWhale's Link Pages Tool is like no other and is best fit for those who use WordPress.
3. ClickWhale Built-in Tracking code integration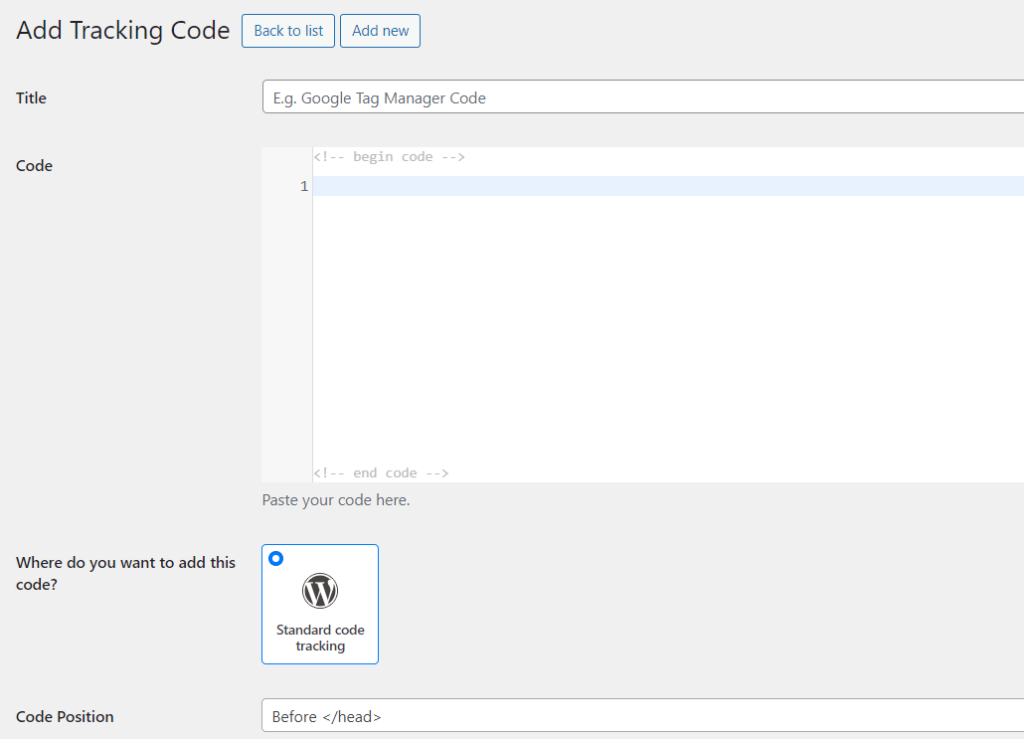 The ClickWhale Built-in Tracking code option lets you plug code snippets like the Google Analytics, and Facebook Analytics Pixel without directly altering things on your site backend.
Of a truth, ClickWhale is trying to bring stuffs in one place without even impacting Page load time. The Link Pages Tool plus the inbuilt Tracking code integration are just the starting point, and we believe they will come up with more features in the near future.
ClickWhale Pricing – is it worth the money?
When you look at ClickWhale Pricing at first glance, you don't need another person to confirm whether the product makes the bargain. This is especially visible when you compare its Pricing levels with that of the competition.
ClickWhale is offering two Plan types as of the time of updating this Review. The plans are the Annual and Lifetime commitment.
For the Annual Commitment, we have the following
$49 for 1 site
$99 for 3 sites
And $199 for 10 sites
As for the Lifetime commitment, we have
$149 for 1 site
$299 for 3 sites
$599 for 10 sites
If spending money every year isn't your thing just like us, you can consider grabbing any of the Lifetime plans before it becomes too late.
Mind you, the only reason ClickWhale is distributing Lifetime plans is that it's new to the Industry. They didn't start it; every new company that knows what they are doing does that, and it goes a long way in helping their Start-up.
You can consider making that smart decision right now, and in the upcoming years, you'll no longer have to pay for a Link Management service.
Using ClickWhale: how to install and use in WordPress?
In our review of ClickWhale, it happens that there's nothing to master before effectively benefitting from its features. It's no no-brainer and running it on your site is still the traditional way of installing and activating a WordPress Plugin.
To get started, you first have to visit ClickWhale using this link for a special discount. Then on the landing page, there's an option to request a Demo, use it to understand the Plugin before committing.
Next, after going through the Demo and you found it interesting – head over to their pricing section and make that final decision.
Afterward, follow the instructions they will send you via email to completely get the Plugin up and running on your site.
ClickWhale Review: Best Alternatives and Competitors (Free and Paid)
Despite all the amazing features we discussed in this ClickWhale Review, there are several of its alternatives that claim to be better.
Here are them and their spot in the Link Management industry: Pretty Links, ThirstyAffiliate Link Management Plugin, Lasso Affiliate Link Management Plugin.
We have purposely reviewed ClickWhale alternatives. Check them below
Pretty Link Review, the most-used Link shortening & Cloaking Plugin!
ThirstyAffiliate Review, a Link Management Plugin with Affiliate fantasy in mind!
Lasso Affiliate Plugin Review, an all-in-one Link Management Tool for Link Cloaking and Comparison Table!
The Links above point to our Review pages. To visit their sites directly, check these deals below and save at the same time
ClickWhale Review: Pros and Cons
This ClickWhale Review is undoubtedly incomplete without us taking a look at the Pros and Cons.
Here are ClickWhale's Pros and Cons
Benefits or Pros of Using ClickWhale WordPress Plugin
1. ClickWhale lets you amass more conversions by converting disgusting links into Pretty Links
Instead of using raw affiliate links which can be disgusting and click-repelling, ClickWhale makes you shortened & brandable versions that perform better.
2. ClickWhale fosters the ability to have easy-to-remember & short links
Having an easy-to-remember Link is one of the best ways to recollect late conversions. When a customer clicks on your smart affiliate link, it won't be impossible for them to trace the link back whenever they need it unlike when you're using a Link in its raw form.
3. ClickWhale Link Pages Tool ensures you have a professional Link-in-Bio that matters to your business
With the ClickWhale Link Pages Tool, the time has gone when you need to queue to obtain a subdomain for your listing. You can now have one set up entirely as a Page of your website.
On the other hand, here are the…
Shortcomings or Cons of the ClickWhale WordPress Plugin
1. There's no Search [Old link] and Replace [with shortened Link] URL function
Having a Search & Replace functionality built into a Link Management service is critical because it ensures that old links are replaced by their respective short links.
Unfortunately, ClickWhale doesn't yet have this feature, the mastermind (Pretty Links) boasts of this spectacular feature.
Many might say, you can replace the links manually or by using another Plugin. But we are interested in ease & simplicity.
So ClickWhale didn't make it here though it's still a developing Plugin.
2. No Advanced Link Control Options just like the one in Pretty Links
Again, as a result of ClickWhale being new to the Industry. It's yet to include advanced Link control options just like the ones seen in Pretty Links.
A manager of a small website might not see any need to have these additional functions, but it matters to big site owners.
Advanced Link Functions such as the Expiration option (that allows us to deactivate links based on Time/clicks and also to optionally redirect to a New location) and Dynamic Redirections are what make Link Cloaking complete.
The Dynamic Redirection option which can be seen on Pretty Links makes it possible to restrict & to apply shortlinks per Visitor's Location, Devices, and so on.
FAQs and rich Answers
Before starting this ClickWhale Review, we explored and sought answers to questions People ask every now and then regarding the Plugin.
Here are the Frequently Asked Questions, their Answers, and Links to relevant Pages.
Will it slow down my website?
Nope, the ClickWhale WordPress Plugin doesn't impact a noticeable drop in Page Load Time. Don't misquote me, it doesn't contribute to the weight of a website.
Does ClickWhale work in my Language?
We haven't tested ClickWhale with other languages but we believe it accepts Plugin-based translation. So you perhaps can use it in your language using WPML, TranslatePress, etc
Who built ClickWhale? Do they have other Products?
The ClickWhale WordPress Plugin is built by the developers of AAWP, the best Amazon Affiliate WordPress Plugin.
We have got your question already answered! ClickWhale is the sister product of AAWP. You can read our AAWP Review to understand its area of concentration… And of course, it's a Link Management Service also!
ClickWhale worth it? Is it any good – Our Final Verdict?
To determine whether the ClickWhale WordPress Plugin is worth your money. You can consider the disadvantages of approaching it in the old-fashioned style.
Long and disgusting Affiliate Links are no longer leading these days. Folks aren't avoiding them because of their horrendous appearance, instead, they are more preoccupied with the Losses they incur every time they use these links.
Using a raw Affiliate Link isn't recommended. It opens the opportunity for fraudsters to use Affiliate ID replacement. And if you're wondering how they can do that, it's pretty simple, and avoiding it doesn't give you full protection.
What's more? Using Raw Affiliate Links as they are collected from their Platforms forces visitors to think twice before hitting on them.
Raw Affiliate Links can also be impossible to memorize. This gives your links a zero chance of being traced down by Leads (i.e. the People) themselves.
That said, Link shortening with ClickWhale is undoubtedly worth it! And considering that the Plugin is offering a Lifetime license, it will be one of your best investments in the future if you commit now.
Go and grab ClickWhale's forever license before it expires.