Pretty Links Review: Pricing, Features, Alternatives – worth it?
As for Bloggers, YouTubers, or other class that deals with links, proper time/link management is always an issue. This is more common in the hands of Affiliate marketers who promote countless products/services in their stores.
Just think of adding hyperlinks to all Affiliate keywords in a blog, it does consume a lot of time. Also, you don't want your commission to be stolen, and organizing your links properly is there too.
Unfortunately, Affiliate marketers pass through many things in a quest to notch up one thing called "marketing success"! Yep, they wanna succeed at all costs.
Now, if you're among them – I have got a secret to share, it's all about the Pretty Links WordPress Plugin and its potential in the marketing world.
What's Pretty Links, an overview?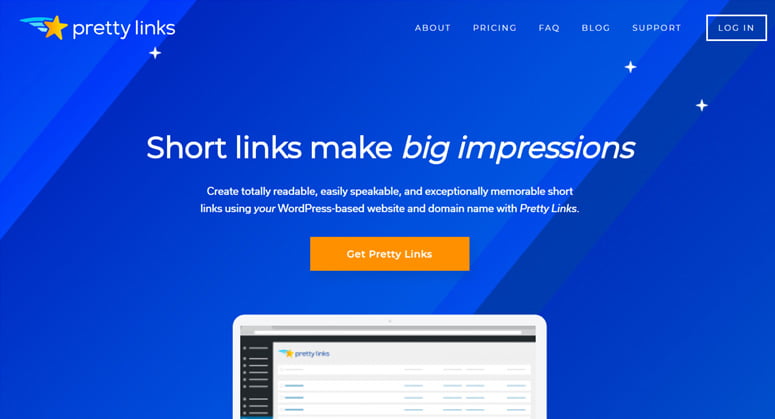 Pretty Links is simply a custom link shortener, a URL redirection tool, and a link branding software for online entrepreneurship success.
It's a WordPress Plugin built for publishers with the main aim of unlocking more Affiliate revenue. In addition to cashing out more, the plugin saves more of your time which can be monetized as well.
Pretty Links Review: Features
Pretty Links as a WordPress Plugin comes with an array of different features which functions dependently to give out the desired result.
From the Auto-keyword hyperlinker, and Link cloaking to Click Analytics and whatnot are the major advantages of using PrettyLinks.
Let's explore them in full
Note: we break these Features into 3 main collective groups as follows:
1. Link customization
Link customization is the process of personalizing hyperlinks according to one's preference. Instead of shortening links to junk characters, you can come up with sth that depicts a product or service in question.
Pretty Links have really got your back when it comes to Link customization. It possesses several features that help in achieving the desired result.
One of such feature is called Link Cloaking, the process of disguising raw Affiliate links from hackers and Stripping-minded people who are likely to get rid of your Affiliate IDs.
Ironically, some folks on the internet have solid enmity towards Affiliate links. Some don't want you to benefit at all and many are just newbies who are conscious of additional costs.
Whatever the reason might be, you would want to be performing the best possible. Link Cloaking isn't only for shielding links, it's also valuable in link branding.
Just take a look at the image underneath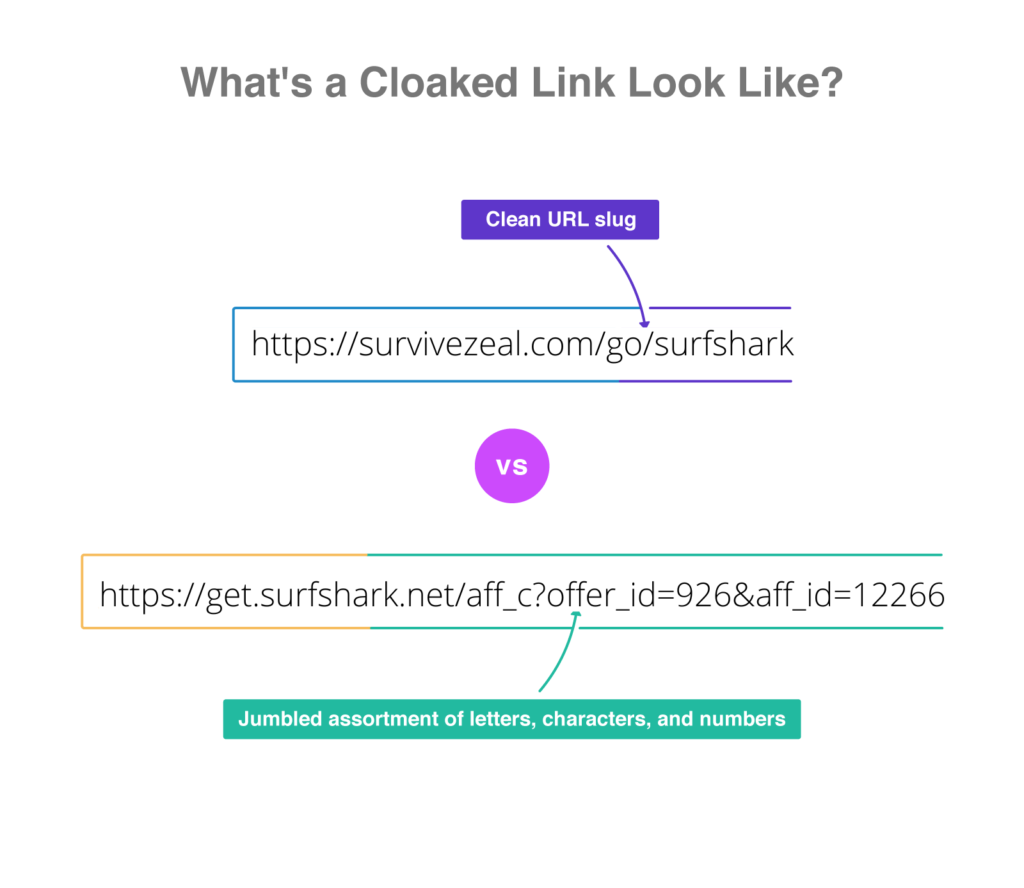 As can be inferred from the image, cloaked URLs are branded links that evoke trust, simplicity, and professionality. Now, instead of muddling your audience with jumbled assortments of characters, you could easily add more trust and recognition to the links being shared!
There are way more Link Customization options to try out. One of my favorites is the Link scheduler, an intelligent Redirection timer. You can make the best out of this tool during a Promo, an Anniversary, or any other event that requires a change in the Landing page. It's really utilitarian.
Like we have aforementioned, there are weigh more customization settings to play around with.
When all of them are combined, one can achieve a sudden spike in the number of striking sales.
Speaking of which…
2. Link Management
Link Management is the process of taking general control of all your links, repairing them when broken, and amending certain things when needed.
It's one of the vital roles to play in the marketing space. Because Landing pages and links of course change with time.
Pretty Links is good in discerning broken links, downtimes, and all suspicious activity that may effectuate you negatively.
In fact, it boosts Affiliate revenue beyond expectation. You'll have extra time to monetize rather than spending hours managing your own links.
All the features you needed has being integrated beforehand, you'll have access to Google Analytics Event Tracking, Amazon's one-link feature (aka Geolocation which monetizes foreign traffic to the fullest) and so much more.
3. Link classification
Link classification is part of proper Link Management practices. When Links are categorized accordingly, they will be much easier to reach in the future.
Unlike other Affiliate Marketing Plugins, Pretty Links provides one of the most convenient mediums to categorize, stylize, and look-up for links when needed.
You can create different categories for your Links. For instance, if you're promoting several products which are under the same field, putting them into categories will save you a considerable amount of time.
FYI, all works are performed right from the WordPress dashboard. Also, it's an easy-to-use interface, so you won't spend any time familiarizing what you already know.
Pretty Links Review: Pricing
That being said, let's figure out how the Plugin is priced and as to whether it's worth the cost!
Pretty Links are priced in 3 different categories such as
The Super Affiliate Plan packet, $199.50
The Marketer Plan Packet, $149.50
The Beginner Plan Packet, $99.50
The best plan to go with is the Super Affiliate Packet, which allows up to 5 WordPress Installs. The Marketer Plan allows only 2 WordPress sites whilst the Beginner Plan permits only one single site.
You're to opt for the plan that best matches your purpose.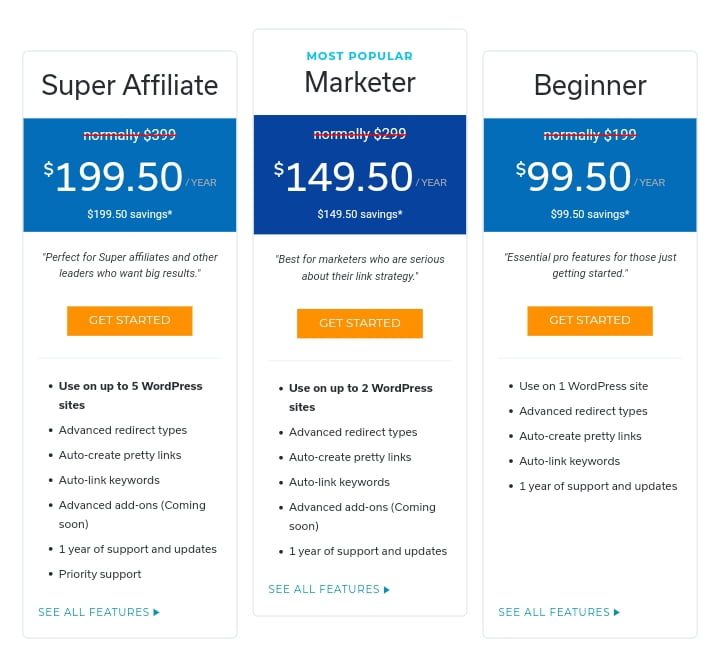 Are there any coupons for Pretty Links?
Yep, I think there's one. You can check it out here <<<
Does it offer a free plan or a trial version?
Pretty Links does offer a free version but it's quite limited in features, so you'll have to upgrade to premium if you need maximum access.
Regarding the free trial, I don't think there's an ongoing one as of now. The reason is that the company is spending much on the built-in assets, so it does not make sense to burn resources for free.
Pretty Links Review: Customer Support
One of the stellar qualities of a good Affiliate Marketing Plugin is the ease with which they attend to customers' questions and suggestions pertaining to their services.
The Pretty Links WordPress Plugin falls positively on this track. Meaning, their customer support service is dope and responsive.
They have packed dozens of helpful documentation and tutorials that will get you started. Overall, the Plugin is easy peasy to use and operate.
Recommended softwares and Pretty Links best Alternatives
To monetize all of your marketing efforts and to obviate leaving some money on the table, I would advocate using a CTA Affiliate Plugin alongside Pretty Links.
CTA or Call-to-action Affiliate Plugins are one that gives you creativity over your Affiliate products. They are used to tweak attention-grabbing Product Displays such as Product Boxes, Comparison Tables, Versus Boxes and so many of them.
Now for the CTA Plugin, I would always recommend Lasso, a Multi-purpose Affiliate Marketing Plugin.
This is the only CTA Plugin that offers almost all the same features offered by Pretty Links. That is to say, it slightly replaces Pretty Links in terms of features, but you know what, specialization is the word that counts. So Pretty Links surpassed it in accurate Click tracking and in Link redirection.
What I have to say: You can get both of the Plugins if you have what it takes, but as for beginners or one that don't need many Plugins on their site, I would recommend ditching PrettyLinks for Lasso. Here's the full Review.
Pretty Links Alternatives
Pretty Links as a WordPress Plugin is not all alone in the Link management field, here are the best Alternatives to put into consideration
The above Link(s) are pointing to their sites directly. Here are meticulous Reviews in case you need them
Frequently Asked Questions
Top FAQS about Pretty Links and their good answers:
1. What's is PrettyLinks in a nutshell?
Simply put, Pretty Links is the most popular WordPress Link Management Plugin for Empire builders.
2. Who will find PrettyLinks useful?
Almost all publishers, content creators, and those who use WordPress as a content management system.
If you're a Non-WordPress user, sorry to say, this Plugin is definitely not for you.
Recommended: Check out top Affiliate Plugins for Non-WordPress user's.
3. Will Pretty Links stop working when my License expire?
You don't have to be scared! Because your links aren't expiring anything with your license.
All you have got to do is to leave the Plugin installed on your site.
But as for the premium features, you'll be deprived of it until you renew your license.
Pretty Links Review: Pros and Cons
As a general rule of thumb, whatever has value also has its own downside. This is applicable to Affiliate Plugins precisely the Pretty Links WordPress Plugin.
But mind you, Pretty Links has no downside at all. It has only got some imperfections. Though nothing is perfect in this world, we decided to compare them anyways
[coming soon]
Is Pretty Links worth it, our final verdict?
Most definitely, Pretty Links is by far the most popular Link Management Software used by over 10000+ sites.
It's a great plugin with an above customer rating of 4.5.
Now, It's not well-liked as it is. There's sth great behind its popularity.
In translation, Pretty Links is a Plugin that offers a higher Return on Investment. Also, it spikes up Affiliate revenue in no time.
The flexibility accompanied by Pretty Links is the core thing that catapulted it to this level today – the most popular Link Cloaker for WordPress!
Pretty Links, your guaranteed step to marketing success!