AzonPress WordPress Plugin Review: Is it the best Amazon Affiliate plugin?
Affiliate marketing is one of the most lucrative means to earn a high standard of living online. There was a time when it was regarded as a side hustle before things changed to a whole new level – as of this time, an average Affiliate Marketer makes more than $10k in a rolling period of 30 days.
To sum it up, top-earners in the field makes a hefty $33k just in a month. This price tag is by-far greater than what top Engineers and full-fledged Graduates are earning in a month.
Just to instill your interest to the greatest extent – the world's richest Affiliate marketer has a net worth of over $3 million. That's really insane!
Now before bringing your dreams to fruition in the Affiliate marketing world, you'll need several key factors, such as
First and foremost, before dreaming about Success in Affiliate marketing. You must have a professional website in place.
Secondly, the attempting user must have published quality contents about the Program or service in question. One of the benefits of writing blog post is to gain tractions and visibility.
Having a website and a considerable amount of blog post doesn't sum it all – factually, there'll be little to no conversion if proper CTA optimization is not utilized.
Call-to-action boxes or pop-ups are literally a gimmick to outstanding conversions. Infact, it's a recipe for any successful Affiliate.
Mind you, the boxes in question won't create itself. To accomplish this – you'll need a CTA tool or plugin. One of which is the Azonpress WordPress Plugin, a tool that produces high-end compelling product boxes, which would irresistibly instill the interest of your audience.
That's being said, let's take a bird's eye view around this nifty plugin: we would cover all the functions, settings and other relevant tags in details.
For now, let's see the overviews
AzonPress Plugin overview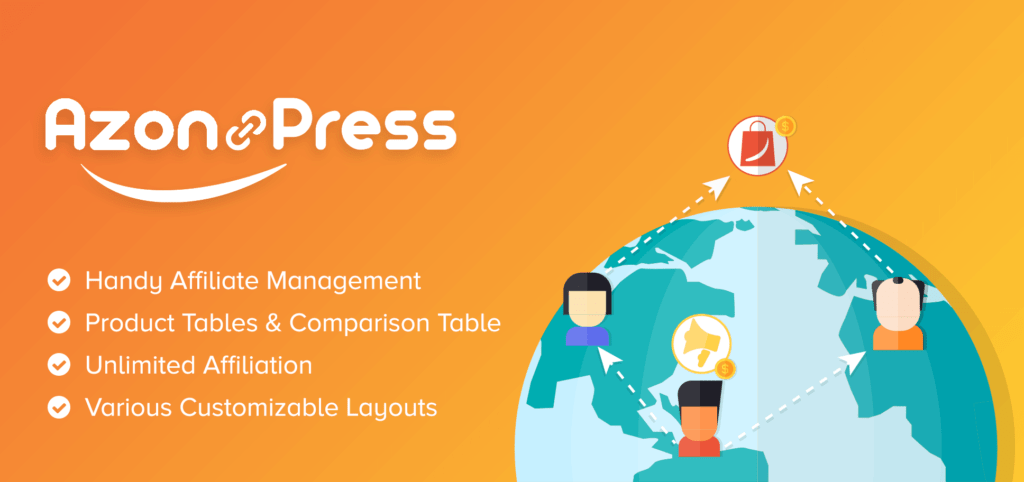 The AzonPress WordPress Plugin is a versatile toolkit developed by the WP manage ninja brand for the sole aim of garnering more conversion from the Amazon Associate Program.
As can be inferred from the basic definition, AzonPress is really a well-developed WordPress Plugin for polishing Amazon Affiliate links, tweaking convincing templates, and troubleshooting critical errors that would've been apparent.
The Plugin comes with a plethora of wonderful features, making it a must-have for ambitious Affiliate marketers. By ambitious Affiliates, we mean – those who want to attain to the acme of their commission.
AzonPress Plugin Demo
Here are what to expect regarding the plugin overall displays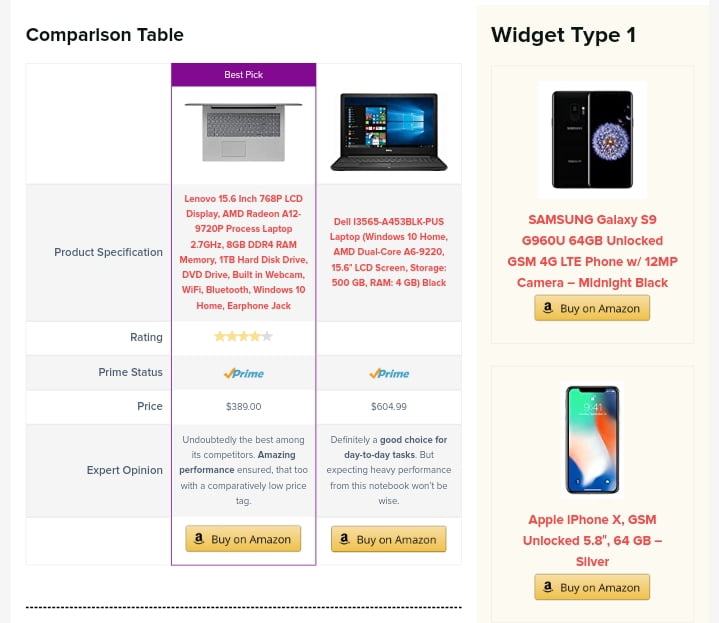 AzonPress WordPress Plugin and its Pricing
In terms of its price, the Affiliate Plugin is totally underpriced. You would understand better if you've used AAWP (reviewed here).
The most fascinating thing is that they offer options to buy the plugin forever if you feel like it.
With just $27, you can get yourself the full functional plugin. Then for the lifetime subscription, it's measly $119 all for 1 site.
Here are the overall pricing tags:
For the Annual subscription, here's what we have;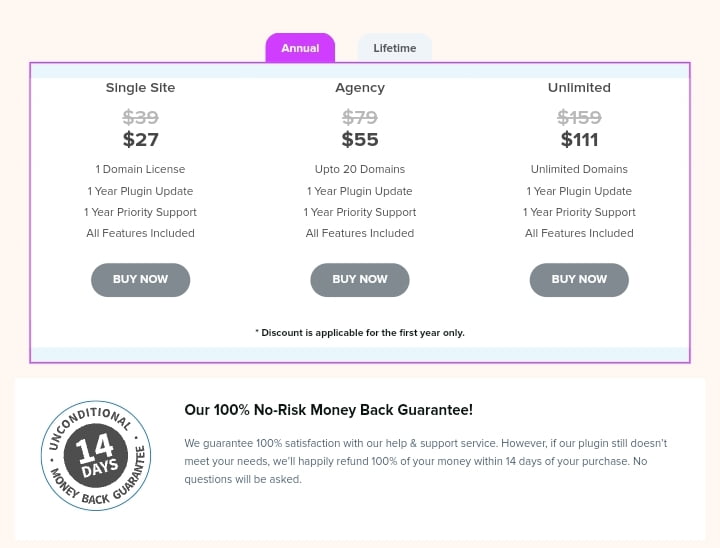 Single site — $27
Agency — $55
Unlimited — $111
Regarding the lifetime subscription, we have;
Single site — $119
Agency — $199
Unlimited — $279
AzonPress Plugin features
Now, let's take a bird's eye view regarding the Plugin in respect to their functionalities. Underneath are what the plugin has to offer:
Better Product Presentation
Responsive Product Tables
Automated Comparison Tables
Sales-oriented Features
Easy & Flexible Customization
24/7 Priority Support
1. AzonPress Review: Better Product Presentation
The Azonpress WordPress Plugin let's you curate product boxes and displays in an eye-catching manner. With this exact functionality, one can easily increase the rate of conversion whilst also improving the value of content.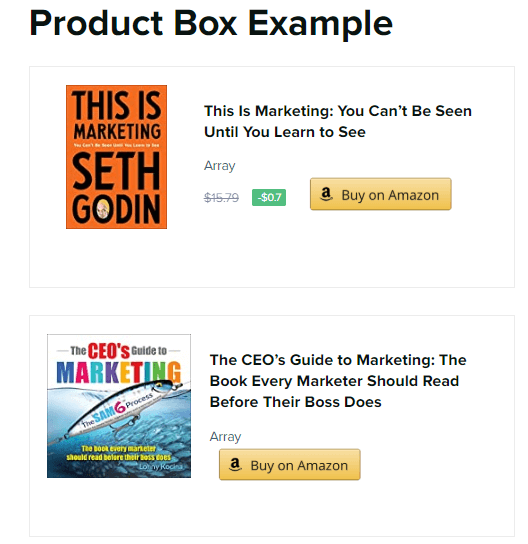 It's no joke that the overall look of a site plays a major role in instilling and keeping visitor's interest overtime. If you're still using the same mundane method of product illustration, it's high time to start implementing this tactics – go get the AzonPress Plugin.
Fortunately, if you're still using naked product boxes, for instance – image with text only links. Azonpress can help you with that. It accomplishes this by revamping your natural boxes into something enticing.
In the same vein, if you're running any other affiliate marketing Plugin, the Azonpress plugin have got you covered. It provides option for data import, i.e you can easily import your links from your current affiliate marketing toolkit.
2. Azonpress Plugin Review: Product Elements
This is ideally Azonpress most basic feature, it let's you display product presentation in several formats such as
Text links
Image links
Call-to-action links
With the text and image links, one can create an enticing clickable displays in no time.
The call-to-action linking is a surefire tool to lure your audience into smashing what's on screen.
3. Azonpress WordPress Plugin: Product Tables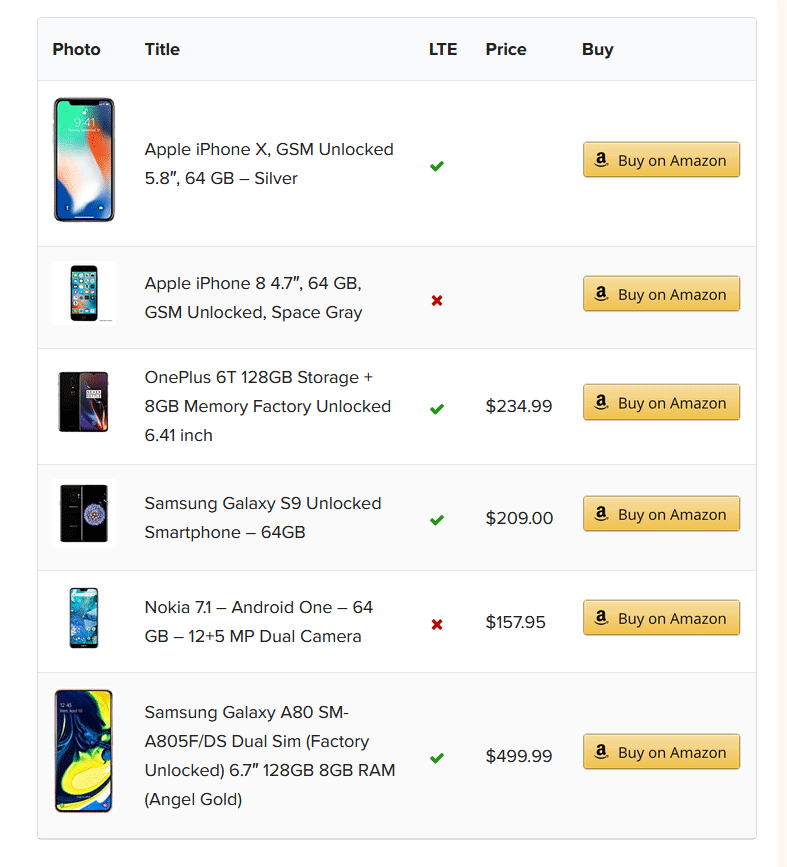 The AzonPress Product Table is an advanced version of the product elements stated above. With this specific functionality, Affiliates are made able to tweak high compelling product boxes, which will inturn drive more Affiliate commissions.
Instead of using image only links, one can arrive at a professional configuration.
All things are done by the help of shortcodes obviously. You only need to search for the product using its name or alternatively – by using its ASIN (Amazon standard identification number).
Ironically, the Product Tables are also sales-oriented. Meaning that it provides all the requisite information in brevity.
Information worth adding are: review link, disclosure, and such stuffs. You can also add more than 1 button links, for instance: you can include both Amazon, Walmart and other platforms.
4. Azonpress features: Comparison chart or table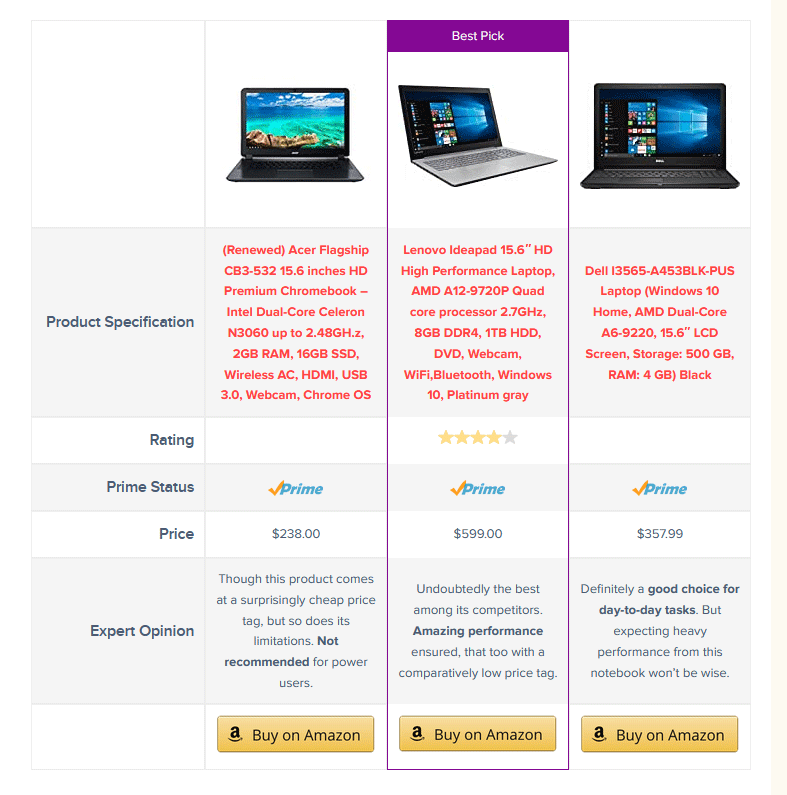 Time to stop muddling your web visitors with lots of similar products!
Sometimes, you might have to include an array of products with the same similarities in common. Or on the contrary – radically different Products together.
The AzonPress plugin let's you differentiate two or more products together, thereby giving the customer an informed decision.
5. Azonpress Plugin Review: Bestseller's Lists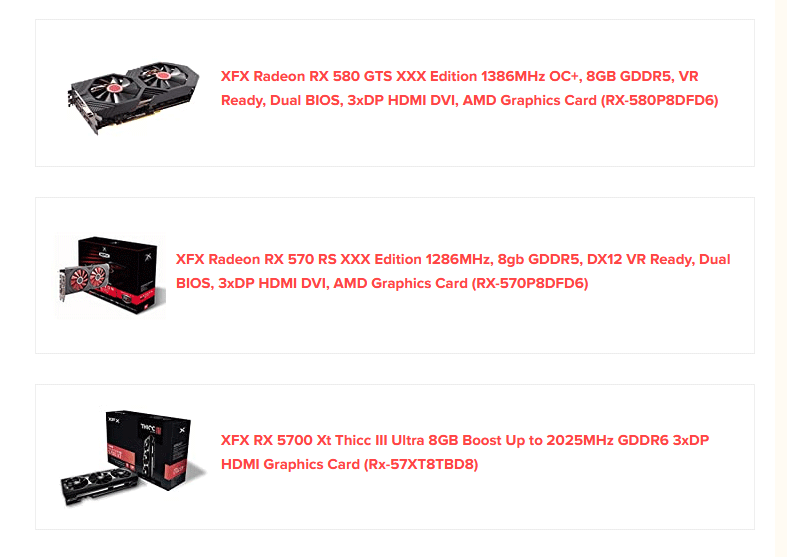 Some folks out there are allergic to outdated products. So you might have to include the Bestseller's List for this reason.
Including the Bestseller's List is critical especially when you're writing about the "top performing products".
Undoubtedly, one can drive more sales by just embedding this List on their website. This is because top-performing products are the most sought-after.
Now, to add the Bestseller's List on your website, follow this guidelines that follows:
Add a new post or page
Click the Azonpress icon at the top of the page
Smash the Bestseller's List
Choose the preferred taxonomy or category
Select the number of products to be displayed
Then, you'll be provided with an embeddable shortcode to use on your site.
6. Azonpress Plugin Features : Customizable Layouts
AzonPress offers tons of customizable layouts to use on their Product tables. You can sure select the one's that best fit your listings.
Instead of using one particular layout over and over again – you can select unique styles to use on your websites. Additionally, by tweaking the shortcodes – you now have a radically different Products tables. This action brands your website entirely, making it superb and professional.
Here are the layouts on Azonpress
Grid template
List template
Box template
Table template
Widget template
The first-two options are basically used for listing Products in a high compelling way.
The third-four templates are meant for single products, while the widget template are embedded in widgets.
The widget template comes with some customizable settings, for instance: hiding the code on specific areas of your page such as categories, tags, etcetera.
With these settings: one can place the best matching products on each categories or tags with ease. This would be lucrative if you're displaying some Affiliate links on your site.
Ironically, by utilizing these templates, you can further increase sales or Affiliate commissions.
7. Azonpress WordPress Plugin: Appearance settings
Apart from layouts and templates, AzonPress also provide options to make certain changes on the total appearance of your site.
Appearance customization such as
Link Default: which have a direct impact on SEO.
Button styles which could impair CLTR's
The link Default are set to no-follow by default. If needed – you can always change it with ease.
Regarding the button appearance, one can edit the boarder radius, padding settings, button colors and text colors respectively.
You can also make the Button more enticing by using the templates from AzonPress.
8. Azonpress Plugin Review: Custom CSS
The AzonPress plugin has been designed to deter any prior coding knowledge and dexterity. It's naive and super-intuitive.
Mind you, while you don't need any coding knowledge, you're not limited to do so.
Tech-savvys may need to tweak certain CSS rules in customizing the layout of their site. This could be implemented to resolve certain glitches or bugs.
9. Azonpress Plugin Features: Geo-targeting
If you're not using Geo-targeting arleady, you're losing big waves on your commission.
Geo-targeting, aka the Amazon one-click feature is a set of rules, instructions and directives given to an Affiliate link, so that every audience regardless of their location would be monetized.
By using this functionality, your audience are redirected to their local Amazon stores, thereby deterring the loss of commission.
You can either select no geo-targeting, one country or country-wise targeting. Also, bear it in mind that inorder to benefit from it, your tracking codes must be setted up in the different Amazon marketplaces.
Azonpress works with MaxMind to provide you this facility. Now, to activate the feature on your site – you'll need to create a MaxMind account, and generate a license key. Then you're good to go.
Reasons why you should start using the Azonpress WordPress Plugin?
These are the major reasons why you should start using this plugin right away.
1. A hike in conversion
The Azonpress Plugin (as can be seen from their homepage) boast of increasing your Affiliate revenue up to 250%, which it prolly does.
"Make the best use of the Azonpress WordPress Plugin and increase commission for at least by 250%"!
Try Azonpress now and thank me later
2. Shortcode enabled
The best part of a link management tool is the ease through which it's used. Azonpress has solved all the hassles utterly.
With the help of shortcodes, one can duplicate the same design without having to start afresh. That is – more time saved and more money acquired in the long-run.
3. Great Customer support
The brand that built Azonpress, precisely the WP Naija Brand have already compiled lots of underpinning contents that'll help you get through with the Plugin.
You can also expect an unparalleled customer support by using their support center. Believe me – non of your message will go abyss.
4. Highly Cost-effective
No one will stand the chance to contend or contest about this one. This is obvious especially when you compare it with the other Affiliate marketing Plugins such as AAWP, Affiliatable, etcetera.
Looking at the AzonPress Plugin Alternatives
Azonpress isn't all alone in the link management field. There are some or let's say an umpteen number of plugins that plays similar roles like it.
Such wonderful plugins are:
Pro tip: If you're a Multi-Affiliate Marketer (I mean one who endorses countless products from different merchants), I recommend ditching all these Amazon Associate Plugins to opt for something exclusive.
What am I talking about? it's concisely the Lasso Plugin (reviewed here). The Plugin support all Affiliate links of any kind, be it Amazon, Walmart and other Affiliate Programs.
Time to stop using more than one Affiliate Plugin – use Lasso the All-in-one Affiliate marketing Plugin. Bet me – you'll thank me later for this.
Spoiler alert: Mind you, If you're not in any way affiliated with Multi-Affiliate Programs or let's say if you're managing an Amazon-niched website. Then signing up for the AzonPress Plugin would be a better option. This is because specialization is the term that counts.
FAQS about the Azonpress WordPress Plugin
This page have resolved all the intimidating questions about the Azonpress WordPress Plugin. You can prolly find a solution here.
Let's get right to it!
Does Azonpress offer a Free Trial?
Absolutely not, the Azonpress WordPress Plugin doesn't come with a trial-version. Yet, you can try the plugin for free using their Guarantee period. It was 14 days worth of money-back guarantee before, but at the moment it has dropped to 7 measly days. Reason is that, it hasn't being easy with big softwares like this.
Can I integrate Azonpress to any e-commerce solution?
That's not exactly what the plugin was built for. Precisely, it was incepted for the Amazon Associate Program. Therefore, it doesn't work with any other e-commerce solution. If you're looking for a plugin that can do this – try the Lasso WordPress Plugin (reviewed here).
Is it possible to upgrade an existing license?
Yep, you can easily upgrade your existing license if your current plan doesn't satiate your needs.
Compare and contrast: Azonpress vs AAWP?
If you've heard of AAWP (the best Amazon Associate Plugin), you'll be damn curious to discern and similarize it with Azonpress.
Here are concise differences between them
[coming soon…]
What company is responsible for the AzonPress WordPress Plugin?
It's WpManageNinja.com, a leading solution center for WordPress. The company's point of expertise would be pointed to high-end Plugin and theme creation. As of the time of publicizing this post, they've over 50k websites powered by their themes/plugins.
That's a shrewd testimony that the brand is worth one's weight in Gold. The same thing would be addressed to the Azonpress WordPress Plugin.
Here are top plugins provided by this brand:
Here are top themes provided by the brand:
ScienceX – Multipurpose Education, Researcher & Professor WordPress Theme
Simpli Pro – WooCommerce & Blogging WordPress Theme For Women
Inspirar Pro – Multipurpose WordPress Theme for Unlimited Website
if possible, we would recommend getting the Ninja Table Pro and the other WordPress themes if you don't already have one. Doing so will accelerate the efficiency of the plugin (that's because the themes have been properly built to perform the very best with the Plugins).
Is the AzonPress Plugin worth it? Final notes…
The Azonpress WordPress Plugin is really a Game-changer in the affiliate marketing world. Especially, for the Amazon Associate Program – the plugin has done something great and inexplicable. Real ethical affiliates would understand want I mean by this.
If you're still skeptical whether to take that big move, we inspirit your morale further. Do try it! Luckily they provides a 7 days money-back guarantee, which is a long way to go.