AAWP Plugin Review: Price, Features, Pros and Cons – worth it?
Here's a Review of the AAWP Plugin, let's see what it have got in pricing and features all-combined.
Affiliate marketing is said to be the perfect go for all those willing to change their 9-5 work into a convenient and reliable way of making money online. Even when you're asleep, the cash will be flowing!
The genuine fact is that: Affiliate marketing can make one a millionaire if used wisely! To notch up this, you'll have to use certain CTA tools to skyrocket your Affiliate revenue.
Affiliate marketing is considerably tricky especially when you're promoting several brands. You'll have to duck tape all things together, perform certain updates when necessary, and also find a way to fix broken links.
This is where the Amazon Affiliate WordPress Plugin (AAWP) becomes practically effective. It shoulders the 10 hours of work by performing certain changes automatically.
With just €49, you can get yourself the full-functioning Plugin. Before you go, here is a succinct review about the AAWP Plugin: Its Price, Features, Pros, Cons, ROI, Settings, and more – Worth it?
What's AAWP, an overview?
Simply put, the AAWP Plugin is a Link management tool that lets you increase the value of your affiliate links, and the earned commission as well. It was built for the Amazon Associate Program with the primary aim of amassing more commission and sales.
Meanwhile, if you're a member of the Amazon Associate Program, this plugin is merely made for you. I guarantee you'll find it invaluable, here's a preview of some of its templates.
The so-called plugin allows users to try their services with a wide entry period of 30 days. You can sure unsubscribe if it doesn't satiate your needs, at least 3 days before the expiry date). Ironically, the platform will reimburse you in that case.
Ps. The AAWP Plugin is top-notch! Being recommended by the Amazon Associate Program shows that it's worth one's weight in Gold.
AAWP Live Demo – templates
These are sneak previews of AAWP's products templates or boxes. You can view them in full on their website.
Get-AAWP Pricing
You may be puzzled, why is it GetAAWP and not AAWP. The plugin is delivered by the site — Getaawp.com and not the latter. We sometimes refer to it as Getaawp because some folks out there know it by its website name, and may perhaps call it the same thing.
Anyways, let's forget the terminology and revise our focus to the main pathway — how much does AAWP cost?
The Plugin is valued at €49 for the basic plan which supports only one website. So if you've dozens of sites with Amazon Affiliated products, then this utility is probably not for you. Let's look at the second one.
The second one titled the "Plus plan" as can be inferred from the image is a perfect option for middle webmasters. If you've more than 1 site that is in affiliation with the Amazon Associate Program – then this is a perfect match-up.
Regarding the Pro plan whose price tag is €249, you'll have access to run the Plugin with no more than 10 sites. Whoa, this is a better option for major site owners: 10 sites may be too big for some people. In the same vein, there are a deluge of Affiliates who manage more than 20 sites!
For those of them in this field: the Ultimate Plan is prolly worth going after. It lets you manage an umpteen number of sites in one subscription, pretty cool?
Yeah, that's fantabulous

🙂
Does AAWP offer a Free Trial?
Nope! The AAWP plugin doesn't have a free trial, instead it provides 30-day money-back guarantee. Is this tasteful or distasteful? Well, a whole period of 30 days money-back guarantee is just like a Free Trial. It's even better than 7 days of the free trial offered by some of its competitors.
GetAAWP Discount code
It has been long since the inception of this Plugin, nearly 7 seven years ago!
They're celebrating their 7 years anniversary with a scoring discounts on their plans! You can avail the offer via the link underneath.
AAWP Plugin Features
The Amazon Plugin for WordPress also known as AAWP has a plethora of wonderful features that are worth one's weight in Gold. From its geo-targeting feature (a sure handler for foreign clients) to automatically featured attributes such as "the Bestseller list, the New releases tags, and its compelling display boxes, are really why AAWP is worth your money.
Core features/functions of AAWP Plugin
That being said, let's explore top AAWP Plugin Features, and predict whether it's suitable for your online presence or not! The first or basic feature of AAWP is its fantastic 'Text Linking'. Here are what AAWP have to offer.
Text Links
Product Boxes
Bestseller Lists
New Releases Lists
Data Fields
Widgets
Automated Data update
Amazon Associate Compliance
Let's explore them in full.
1. AAWP Text Links
Text links are probably a necessity that every Affiliate Plugin must have. Why are we listing it as a feature? Yep, I agree with this fact, an average content creator creates Text Links manually or automatically every day.
Infact, text links are being replaced by products boxes which are known to convert well. However, GetAWWP has taken the story to the next level.
With this functionality, one can prolly edit the ASIN name to a more compelling words. The Links in question are always marked no-follow, so it won't impair your SEO.
2. AAWP Product Boxes
Rather than spamming your site with Links – You can easily utilize this feature. It offers an eye-pleasing Call-To-Action than the regular Text link aforementioned above.
AAWP comes with ready-to-made templates for you to choose from. You can also customize the display to your preferences. This can be done by tweaking certain things in the shortcode.
3. GetAAWP Bestseller Lists
The Best seller lists is a sure plug to increasing your Affiliate revenue. Rather than promoting unwanted products on your site, you can now compile the best selling Amazon products, all done in one click. The products are selected based on their taxonomies, that's to say – only relevant products or services are being selected.
It's also pretty easy to pack up: you just need to make some searches and leave the rest for AAWP.
Then, you can subsequently display the end-products in listed format or in grids.
4. GetAAWP New Releases (list)
This is identical to the Bestseller's Lists. Now instead of boring your audience with old contents, you can prolly list the Newly released products.
This would be really effective if you're featuring the Lastest products on your page or page post. To make this happen – follow the same step we used for the Bestseller's list. It's easy peasy and eye-catching.
5. AAWP Data Fields
The Data field is slightly homologous to the Product Boxes. But in these functionality, there's just a succinct Name about the item. For instance, inserting a call-to-action button on an image and not having to specify all the descriptions and other associated keywords.
This is an alternative to the Product Boxes discussed above. Meanwhile, if there's no need to input so much details about the concerned product – it's all done with a Product's name and a clickable button.
6. AAWP Widgets
With this Plugin, one can now insert astonishing links as a widgets in their sidebar, footer or even at the Header.
The software comes with a range of responsive add-on inorder to maintain the products appearance at any screen size.
So you don't have to be worried of their actual looks – AAWP has got you.
7. GetAAWP Automated Data Updates
This is an accomplished intention to relieve all the stress needed to edit Product's name, descriptions and price per updates. Affiliates supports are no longer needed in this field. All things are done by the plugin automatically.
You can also select personalized time-frames for each Updates. This is also great in some cases.
8. GetAAWP Amazon Associate Compliance
Every Affiliate Programs has their set of rules, and the Amazon Associate Program isn't isolated to this. You might write a full disclosure page but still get penanced due to incompliance.
The AAWP Plugin has probably brought an end to this, by adding full Disclosure link to each individual boxes. You can sure remove the links if you feel like it. But it's not advisable to do so.
The Epic features of GetAAWP
The line we just concluded is basically AAWP's primary features. Here are the best the plugin can offer
Comparison Tables
Geo-targeting
Click Tracking
Accelerated Mobile Pages
Caching
Browser Extension
No Theme Dependency
1. AAWP Review: Comparison Tables
Ever wanted to compare two or more products before, it's no tedious task with AAWP. The plugin let's you gather similar products together whilst giving a brief difference between the collection.
Infact Comparison Tables is now a dope in Search rankings. Ironically, It has been a hidden site ranking criteria used by Google all this while. This is applicable to questions about "Top or Best" products.
AAWP let's you attain to that height by merely doing the classification for you. All you need to do is to select the products, do the editings and viola, it's done and dusted.
2. AAWP Plugin Review: Geo-targeting
Geo-targeting is one of AAWP'S most praised element. This feature makes it damn possible for foreigners to convert by redirecting them to their respective local stores.
Now you can outsmart the lost of Potential Leads, thereby monetizing it to the fullest. Alternatively, Amazon has this feature in-between but the available Geo-stores is currently limited. With the help of this functionality, you can not only increase the sales but delivers what's best for your audience.
This can influence how potential visitors engage with your site. Typically, having the Plugin active would bring a positive impact and vice versa.
3. AAWP Review: Performance Analytics or Click tracking
Obviously, the general fact about troubleshooting a particular problem is to first ascertain the source and the cause of the problem. You cannot fix or improve something by merely improvising. It won't work at all to be frank.
With this spectacular Feature, one can now get a meticulous data pertaining to the overall user activity. For instance, the rate of engagement, the number of clicks or more advanced — the most performing part of their page.
With this scrupulous information in hand, one can now neglect the guesswork, and strategize their moves based on real time data.
Needless to say, the Plugin allows integration to several Analytics software including Google Analytics and Tag manager. The end-product is always great: that's to say, none of your Affiliate tracking id will be truncated or omitted in the process. All things will remain intact.
4. AAWP Plugin Review: Google Accelerated Mobile Pages
Accelerated Mobile Pages has been an indirect ranking factor on search engines mainly utilized on Google and among others. And while AMP isn't a direct Ranking factor, speed itself is a ranking factor for Google search. This is while it's critically important to have it on your website.
If you're longing to maintain or even increase your search rankings – using AAWP will make that pretty easy. It's built to adapt to any screen size whether on mobile, desktop or other devices.
The AMP feature provides supports to a number of AMP Plugins, that means, you can use it on your favorite AMP provider without any issue or hiccups. The Plugin also comes with an in-built AMP program which looks utterly great than the other AMP Plugins.
The significant challenge is that the plugin offers this without sacrificing the value of the display boxes, the comparison tables and among others.
5. GetAAWP Review: Caching
The AAWP Plugin skyrockets your page loading speed farther by utilizing special caching practices. This is consequential as it prevents unnecessary loading time or data. In this case – you'll rest assured that your site won't encumber any of your site's visitor. This is how it works.
In a layman's term, the Plugin would temporarily save an already downloaded contents, and provide it on the next screen. That's really fantabulous, isn't it?
Other AAWP Plugin Features
1. Browser Extension
Outside of the main features, there's one which let's you create AAWP shortcodes directly from your browser toolbar. This particular functionality is probably noteworthy because of its ease of set-up.
2. Unique Tracking ID
The AAWP Plugin automatically creates the link for you, including your personalized tracking id.
3. No Theme Dependency
The Plugin doesn't depend on any particular theme to serve its functions. It works with all kinds of themes including Thrive themes. However, if you want to look more professional, you can try using the one's from their theme directory. The brand is called MHthemes, and there themes is so great. You can check it out underneath.
How to set up the AAWP Plugin?
Setting up the AAWP Plugin is no-brainer. You just need to do the following
Purchase the Plugin and get the license key from the official website.
Head over to the backend of your WordPress Website.
Search for the plugin using the keyword "AAWP".
Install and Activate the Plugin with the license code.
Having activated the Plugin, then it's time to connect it with your Amazon Associate Account using the PA API (Amazon Product Advertising API).
How to get Amazon Product Advertising API (PA API)
To get this API, there are certain measures to be meted out. And what are we talking about
You have to get your Associate Account verified
And secondly, you've to make at least 3 sales
Having achieved that: you just need to head over to the Amazon Associate dashboard, then click on tools > get your product Advertising API
In the next screen, hit the button that says "Request for PA API key" to reveal your Access key and the Secret key.
N:B: Once you close this page, you'll not be able to reveal the secret key ever again. Don't forget to click the Download button to save it as a .csv file or rather save it somewhere instead.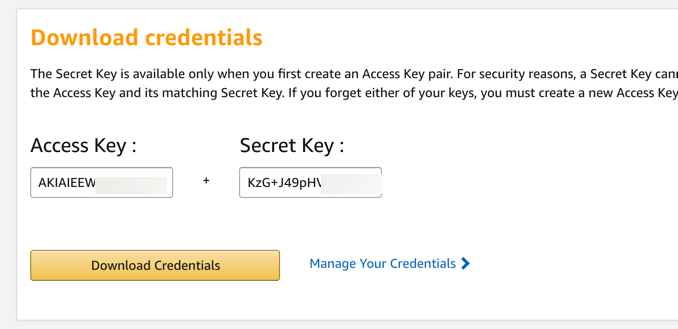 Other noteworthy things are:
You can have a maximum of 2 active pair of Amazon PA API.
New API key will start working in the next 48 hours of delivery.
Your account will lose access to the PA API if it doesn't generate atleast 3 sales in the last 30 days.
Initial limit per day is 8640 request.
Do not use the same API key on multiple sites unless you're generating enough sales to allow more API request.
Now after getting the Amazon PA API key, let's connect it with AAWP
Back to AAWP Configuration
This section is deemed that you've completed the steps stated explicitly above. To fully link your Associate account with the AAWP Plugin, follow these steps as follows:
Go to AAWP in your WordPress dashboard
Then head over to Settings
And then to the "API Key" section
Enter your API credentials (such as the Secret key and the Access key) correctly. You can copy and paste, that's recommended.
You'll also need to enter your Associate tracking id in the next box. If you don't arleady know it – take a quick hop to the Associate dashboard by merely clicking here. Or alternatively, head over to your Associate Account in a separate tab.
After entering the required codes completely, smash the blue icon, titled "connect" to finish the connection.
N:B: Your API key has a rolling period of 2 days i.e 48 hours before being functional. This is done by the Amazon Advertising Team inorder to combat Spams in the best way possible.
How to use the AAWP Plugin
Now that we are done setting up the plugin to live. It's high time to configure all the features we just covered above.
1. Setting up the Geo-targeting feature on AAWP Plugin
The flexibility AAWP has to offer lies on this functionality. This leading factor makes it's damn realistic to monetize each audience regardless of their individual location.
To get this working, you've to perform some basic settings — just head over to the AAWP Plugin, then to Settings > Functions and click on "enable the geo-targeting feature".
Additionally, If you have not yet signed up for other Geo's Amazon Affiliate Program, this is a good time to do so. This minute action can exponentially increase your Affiliate revenue.
You can receive your commission from these stores via Payoneer or Pingpongx (if you are a domiciliary of America).
2. Adding Amazon Comparison Tables on AAWP
To add your first Comparison Table using the Amazon Affiliate for WordPress (AAWP). Refer to the steps as follows: head over to Amazon Affiliates > Tables > Create a New Table'
You can further select the rows and columns you would like to add.
To Add items to the comparison table, you've to specify its ASIN number (if available). Or otherwise use the "Search icon" on the same page. You can search for the products you need and subsequently add it to the table.
You can now fill out other credentials and then click "finish/done/create" to bring the table to Live. Then you can copy the shortcode and paste it in your widget, page post or other convenient area.
3. Adding AAWP Product Boxes
Product Boxes is arguably the Plugin's most used feature. It's relatively rare to write an Affiliate Post without having to use one. Therefore, it's regarded as an integral part of Affiliate marketing.
To add a Product box, you've to tweak the ASIN number of the shortcode below.
Or simply search for the products in the Plugin's dashboard.
Product Box
[amazon box="1577314808″]
4. Adding other items using AAWP
You can do other things as well like: Adding the Bestseller's Lists, the New Releases List, Text Links and among others.
The end-products is always a Shortcode to be placed on specific areas on your site. You can refer to the AAWP dashboard for an impeccable configuration.
Text links
Text links : [amazon link="B01NBKTPTS" /] or [amazon link="B01NBKTPTS" title="this product" /]
Here's one for the Bestseller's Lists
Best seller code
Best seller list: [amazon bestseller="Playstation4″ items="2″]
The Aforementioned customization should be made on each shortcode. Basically, by tweaking its ASIN number. Or simply by doing it in your WordPress backend.
N:B: All these are presented as an analogy — To add any content to your site, kindly refer to Plugin dashboard.
Now, let's rewind and arrive at a Conclusion.
Why you should use the AAWP Plugin?
Increment in Conversion!
It's no bones about how AAWP Plugin skyrockets Affiliate revenue. It does this by collaborating all of its spectacular features altogether.
Functionalities such as the Geo-targeting feature which helps in amassing revenue from foreign clients to the Eye-catching Display Boxes which lures potential audience to smash into commission, and all-inclusive are the reason why the Amazon Affiliate WordPress Plugin (AAWP) is worth your money.
Works with any theme!
Regardless to say, this reputable Plugin would work with any WordPress theme, be it Premium, third-party themes or even Thrive themes.
Responsive and Mobile friendly!
The content generated is always responsive on mobile, desktop and tablet devices. Even on the AMP version, the Plugin's functionalities performs very well.
Has a Higher Return on investment (ROI)!
No one will contest about the high output revenue which this plugin generates every single month. You can take inspirations from their customer's ratings.
A Responsive Customer support!
You'll get a quick response from AAWP customer support center either by a direct email or by using their customer support page. Their response is reliable and won't exceed a period of 12 hours at the maximum.
AAWP Plugin Alternatives
Mind you, while the Amazon Affiliate WordPress Plugin performs really great in its field of concentration. There are certain Plugins that would tend to compete with it.
However, I'll still opt for the AAWP Plugin because it's the best for managing Amazon products links. It's prolly built for all Amazon Associates who wants to take their earnings to the next level.
Anyways, here are some honourable alternatives to the AAWP WordPress Plugin:
You can explore them in full by hitting the links!
Looking for their full Reviews? Try these either;
FAQS about the GetAAWP Plugin
In these section, you'll come across some frequently asked questions regarding the AAWP WordPress Plugin as well as their best possible answers. Let's move in…
Is the AAWP Plugin Free?
Not at all. There's no software that could outstand the charges accompanied with their services by giving it out for free. It's not possible at all.
Regarding the cost of the software, AAWP is said to be underpriced pertaining to its Return on Investment (ROI value). So it's not and will never be free. You can see the pricing at the top of the page.
Does AAWP Plugin works with the self-hosted WordPress.com?
Most definitely, as far as you're with the Business plan, you're good to go
What Payment method does the AAWP plugin accept?
Besides PayPal, the software also accept direct credit and debit card transfer via their secured payment processor
Payment card credentials are secure and encrypted. They are not stored on their server instead they get trashed at the same time interval.
Is the AAWP Plugin Legit?
The software is probably certain on what they says. They do drive more affiliate leads and skyrockets your Affiliate conversion. That being said, the Amazon WordPress Plugin is more than real and legitimate!
What are the Plugins that are recommended by the Amazon Associate Program?
The Amazon Associate Program loves the success of their affiliates. That's what necessitated them to arrive at a better conclusion between the best WordPress Plugin to use with their program. Here are the 4 of them:
---
These are some excellency and imperfections to keep in mind while using this plugin.
[affiliatable id='106498′]
AAWP Pros
Proudly recommended by the Amazon Associate Program
Geo-targeting which handles foreign audience
Compelling Products Displays
High ROI and Affiliate revenue
Support for Accelerated Mobile Pages
Browser Extension which simplifies the whole thing
Responsive Customer support
AAWP cons
Low quality of Comparison Table in AMP version.