Linkilo Plugin Review: a superior Link Whisper Alternative!
Internal link building is one of the substantial factors of a properly conducted SEO. It tells Google and other Search engines about the relationship of pages with one another. Also it helps in determining the quality of pages over another.
Without internal links, a Page would literally not show up in search at all. That said, this post is assumed that anyone reading it has at least the basic knowledge of Search Engine Optimization.
So we all know that it's worth dedicating time for. But there's a tedious work in it! — Link building is undoubtedly so stressful and time-consuming especially that of internal linking.
But you know what, as time ages, advance machines come up. So certain softwares have utterly taken over the process of Link building so that you can relax and create more contents.
Counting at the top of the Softwares is the Linkilo Plugin, an Internal Link building and Auditing tool for WordPress!
Linkilo as an SEO Plugin is highly worth the use. For those of us that have came across Link Whisper (also a Link Building tool), Linkilo is such a great alternative and it seems to possess more features.
Without further Ado, let's get going with this Honest and Unbiased Linkilo Plugin Review!
We start with the overviews
Ps. We just compiled a list of the best Internal Link Building Tools in the market right now. You can check it out to know Linkilo's position.
Linkilo WordPress Plugin Overview
The Linkilo WordPress Plugin is an Internal link building software built for WordPress site owners for Search Engine Optimization. It takes the stress and time required in maintaining a proper Link Building out of the box.
With the software activated on your site, you get Automatic hyperlinking, Link suggestions to link up and so many other features that make a healthy SEO website.
Underneath contain in-depth explanation concerning what the Plugin has got to offer and how it can be helpful in the long-run.
Linkilo Review: Features
Link suggestion tool
Add URLs to older Posts
Summary Reporting
Link Overview and Analysis
Anchor Analysis Reporting
Link and Keyword Cannibalization Reporting
Auto links
Taking the features one after the other 🙂
1. Link suggestion tool
The Link suggestion tool offered by Linkilo is basically its core feature. It functions by suggesting relevant links as you write on WordPress. It accomplishes this by analysing the Pages you have on your site.
The Link suggestion feature is kind of a section displayed at the footer part of the WordPress editor. It's of two parts: the one at the right contains "the proposed phrases" which Linkilo has discerned from your current Post and the other one at the Left features the "Relevant Post" which should be hyperlinked with the Proposed Phrases.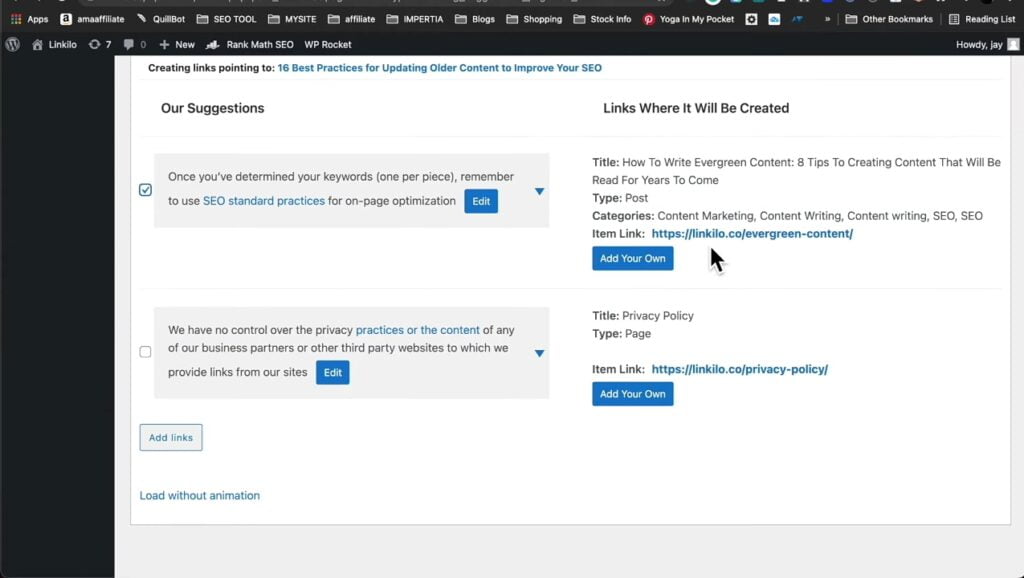 You can either accept or decline the Link suggestion. You can also go ahead to filter Link suggestions by certain criteria such as: by their tags, categories, published dates, etc. This might come in handy when you only want internal links from specific taxonomies.
To further refine the links that Link Whisper suggest, you can sync up Google Search Console to the account. You can import targeted keywords from Yoast SEO, Rank Math or that of All-in-one SEO. Also, you can add up custom Targeted keywords if you feel like it.
Now here's how Linkilo manages to suggest relevant links
The Linkilo WordPress Plugin throws out link suggestions based on the contents you have on your site. As usual, when you write on WordPress. Your title tag and subheadings are being stored in Linkilo server. Then when you add another post, Linkilo will start looking up for potential opportunities in the article. Synonyms are matched by thesaurus and contextual analysis.
Keywords from Google Search Console and Targeted keywords from your favorite SEO Plugin (you can name them: Yoast, Rank Maths and All-in-one SEO) are also used for the suggestion.
That said, it could be good to take an eye on the relevancy of the suggestion that Linkilo gives. Regarding this, the Plugin ain't so smart as they're currently not using NLP (Natural Language Processing) unlike the Link Whisper WordPress Plugin, a great alternative to the plugin. Anyways, the plugin gets better as time goes on.
Ps. The Aforementioned NLP supplement is in development according to the developers on Linkilo
1i. Linkilo Related Post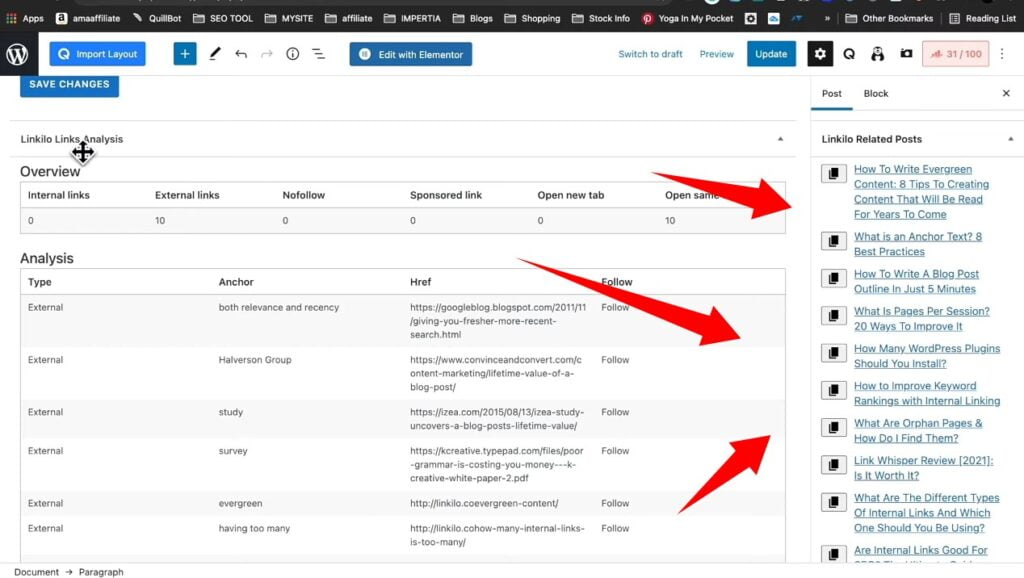 Unlike the Link suggestion tool (which is seen at the footer), the Related Post feature is located at the right corner of your current WordPress editor. It comprises contextual related post to hyperlink to. This gives you a prior info regarding which post you can link up to so that you can extend a little helping hand in terms of targeted keywords.
2. Add URLs to older Posts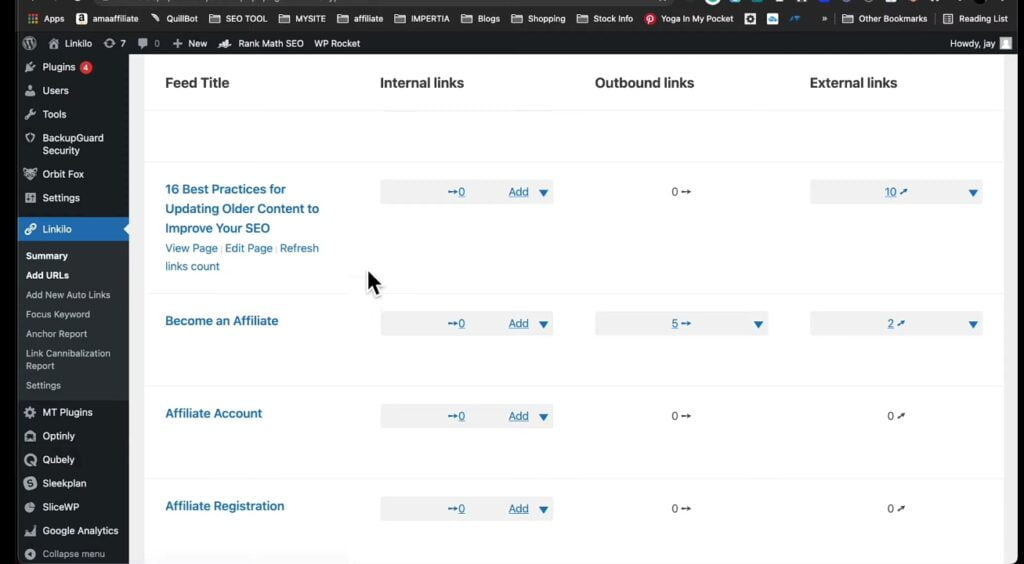 Outside of the great 'Link suggestion and Related Post feature', Linkilo still have stunning functionalities such as the ability to fix Orphan pages, Pages with no internal links pointing to them and Pages that need a little helping hand in interlinking.
Content creators can easily scan through the database on Linkilo to investigate which of their amazing post could handle an extra amount of link juicing. Also they can click to the individual post they have in mind and perform the Doable with ease
3. Summary Reporting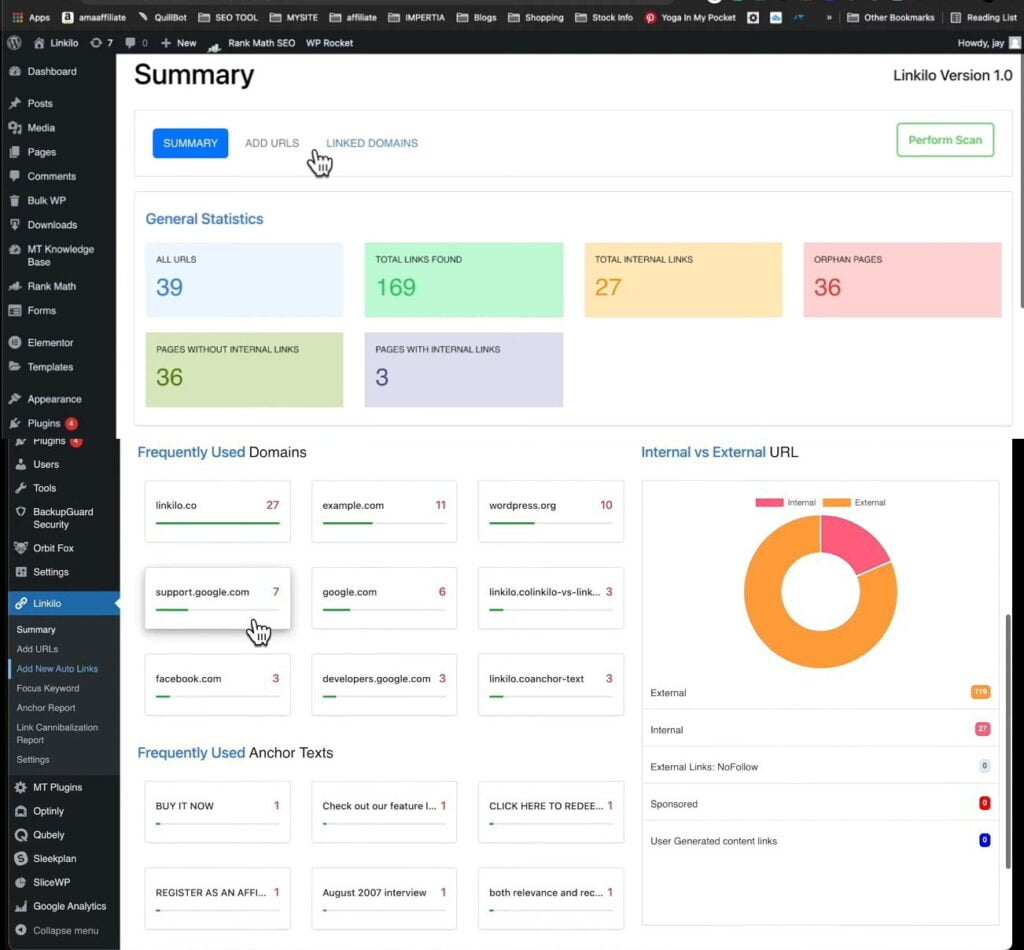 Summary Reporting pulls general statistics regarding the current status of your Link building footstep or strategy. It aggregates vital reports with one another so you know when you're doing it right or not.
One of its critical element is the Internal Vs External URL Ratio which future-proofs your scores in link placements. Below are all the reports shown in the statistics:
(Total URLs, Total Links Found, Total Internal Links, Orphan Pages, Pages without Internal Links, Frequently used Domains and Frequently Used Anchor Text)!
4. Link Overview and Analysis
Each post you publish on WordPress has its own Link Overview and Deeper Analysis.
The Overview section contains simplified value elements such as: the respective number of the two Link types, i.e External and Internal, the respective number of the different link attributes (here we have; No followed and Sponsored Link counts). Also the modes of the links (Open in same and Open in new tab) are all listed there.
For the Deeper Link Analysis, you get a bird's eye view regarding the Links you created, their respective Anchor Texts, their Link types and that of their Link attributes.
With this on-hand, you can disregard the guesswork and focus on data-driven results.
4. Anchor Analysis Reporting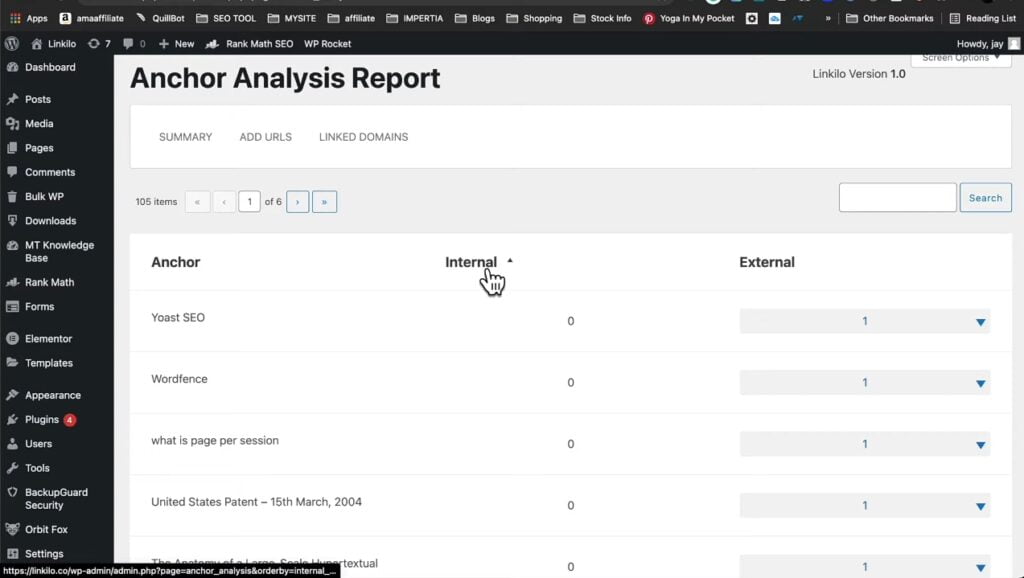 Honestly speaking, this Linkilo Plugin Review is amiss if we choose not to mention this incredible feature. It's spectacular and invaluable to SEO!
With it, you get insight if you're misusing your Anchor Texts or not. The misuse can come up in two different forms, such as: (a) if you're adding it a lot or (b) if you're not using it at all.
This better your chances of getting penalized by Google and other Search engines because it's totally a black hat SEO technique.
5. Link and Keyword Cannibalization Reporting
Likewise Anchor Text Report feature, the Link and Keyword Cannibalism Reporting is critically important in obtaining a magnificent Page position on SERPs. With it on-hand, there's a less chance of getting penalized and there's a maximum odds of getting above your performance.
That said, you get insights when you're using the same keyword for different pages. Now, whether you've engaged in this before, the Linkilo WordPress Plugin let's you correct it stress-free!
Still don't understand? Learn more about what we mean about Link and Keyword Cannibalization here!
6. Auto Links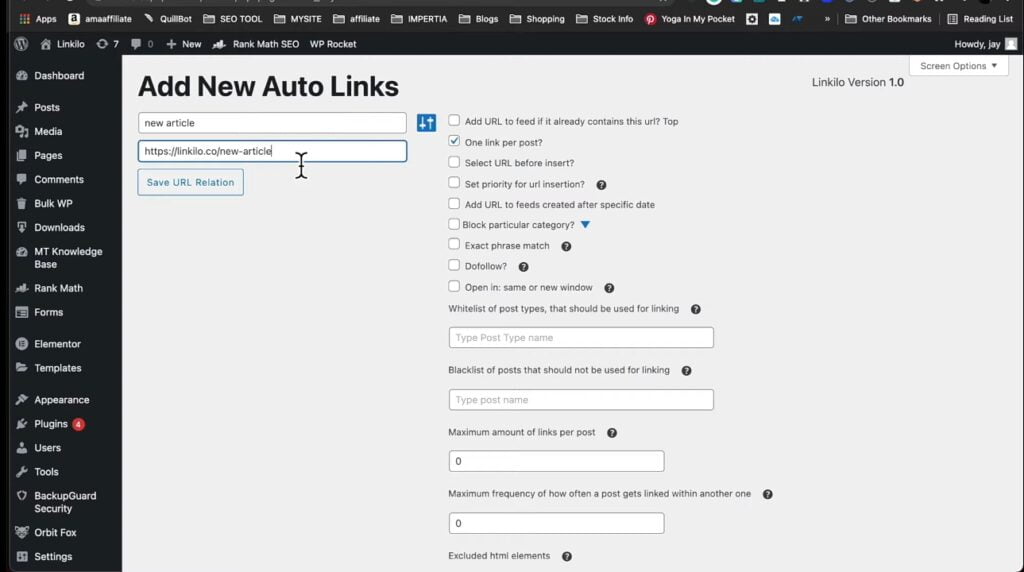 If you're a fan of any Link Management Software, chances are you've come across this feature. Top leading Link tools like ThirstyAffiliates and Pretty Links have it as a core element.
It just happens on Autopilot. You only need to specify the keyword and the required hyperlink and it's all done and dusted. The linking happens automatically for previous and future mention of that keyword.
One downside to using this feature is that it works best only for External and Affiliate Links. Because sometimes you wouldn't want to point the same internal link to a giving keyword especially when it's describing another thing else.
Now, this Auto Link feature (by Linkilo) isn't what you think it is. It's literally not all alone, it has requisite features that you can use to streamline your linking needs.
Actually, no one would like the same hyperlink to appear too many times in a post. So there's a filter that gets around this. Also, using hyperlinks at the beginning of a page ain't practical, it jeopardizes visitor's general experience and also your neatness as a content creator. So all these have their filters in place.
Believe me, good filters mean a lot!
7. More Features Upcoming
According to Linkilo team of developers, the software is bringing more features such as Link Management (see also ThirstyAffiliates), Broken Link Audits, API Integrations
Content Keyword Analysis, Natural Language Processing, Link Preview
Backlink Report & Tracker
And much more!
Linkilo Plugin Review: Pricing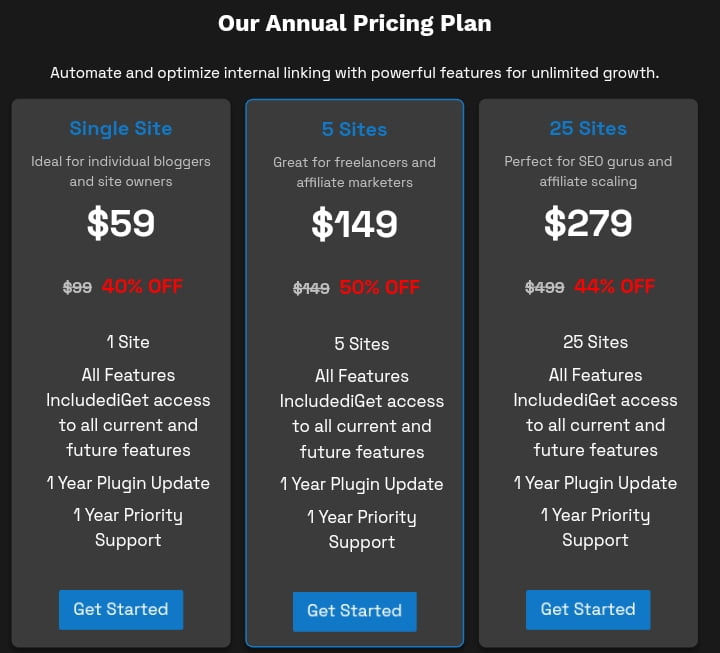 Linkilo Annual Pricings contain the following:
Single Site ~ $59
5 Sites ~ $149
25 Sites ~ $279
Unlimited Sites ~ $499
When exploring Linkilo Pricing Page, it is so obvious that the plugin is reasonably priced and worth any spending. They currently offer only Annual and Lifetime plans… of which the latter is an LTD (Limited Time) offer and thus the platform will be removing it as sooner than expected. I think they will be ending their Lifetime license this Yr-2023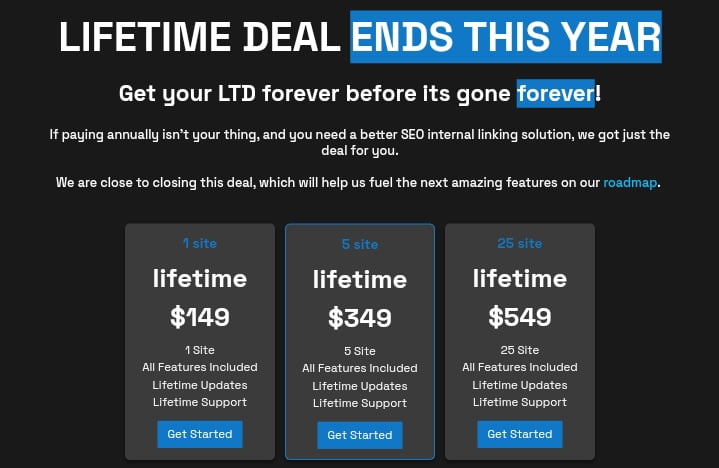 Linkilo Lifetime Pricings contain the following:
Single site ~ $149
5 sites ~ $349
25 sites ~ $549
More sites ~ You need to contact Linkilo team
Therefore any action undertaken right now wouldn't be regretted! The Plugin is new to the marketing space, this is the reason they had rolled out their Lifetime Plans. So it's worth grabbing for a limited time.
That said, here's what the Linkilo WordPress Plugin have in their pricings 👇
Ps. You're backed up with a whole of 30 day money-back guarantee, no question asked!
Linkilo Plugin: Free Trial, Free Version, Discounts, Coupons & Promo codes?
Does the Linkilo WordPress Plugin offer a Free trial or a Free version? Are there any Discounts, Coupons or Promo code that could get it at the best bargain?
Glad you asked! As per our knowledge, there's an ongoing promotion right now that gets the Plugin at a penny.
Linkilo Plugin Review: Support Ratings
One of the wonderful things that describe a good software or platform is the ease at which they respond to customers' queries, feedback and suggestions. For this, the Linkilo WordPress Plugin has up and running Agents that respond to messages in a jiffy.
So, it really didn't fail us at all. We tried reaching them on Facebook, Twitter and through Email and all was a wonderful experience. For this, I rate their Support service 4.5 stars 🤩
Linkilo WordPress Plugin Alternatives
So we have seen it all. But there's one thing left in this Unbiased Linkilo Plugin Review. It's all about softwares that are alternate to the Plugin. Let's take a look.
Linkilo WordPress Plugin Alternatives that are 100% matched in services includes:
Link Whisper, the most used Internal link builder Plugin that delivers almost all the features of Linkilo
Internal Link Juicer Plugin, a noiseless Linkilo alternative that simplifies the workload of inter and exterlinking
Interlinks Manager, an internal linking tool with penetrating link structure and statistics
Autolinks Manager Pro, a massive way to achieve 100 thousands new links (be it external or internal) in your site.
The above links are merely pointing to their sites directly. If you're more of reviewing products, here are their Honest and Unbiased Reviews:
Other notable Plugins that are slightly related to Linkilo in functionalities include:
ThirstyAffiliates for Link Management, Cloaking and Classification
PrettyLinks, best for beauty-seeking bloggers who want pretty URL
Lasso Plugin, an all-in-one Affiliate Plugin for all your marketing needs.
Linkilo and some FAQS around it
This page clarifies some of the daunting questions regarding Linkilo WordPress Plugin. We didn't only provide satisfying Answers but also links to other relevant pages. So let's get right into it.
Why can't I find Linkilo on WordPress.org?
The primary reason is that all Plugins that appears on the WordPress.org database are either free or fremium products, but as of Linkilo, it's a Premium only WordPress Plugin. So it can't appear on the database literally.
What happen to my links when I delete/remove the Plugin?
Nothing exactly happens to them! Since they have been generated and stored on the WordPress database, deactivating or uninstalling the Plugin won't change anything.
Who's the Plugin made for?
Probably for all WordPress entrepreneurs that deal with link building and SEO. The Plugin takes out the time required and gives maximum result on Autopilot.
Can you give an honest comparison between Link Whisper and the Linkilo WordPress Plugin?
Yeah sure! First off, bear it in mind that Linkilo and Link Whisper offer the same core feature but both are slightly different from one another in terms of functionalities.
That said, here's how Linkilo compare with Link Whisper!
Does Linkilo offer a free trial?
Unfortunately, such Plugins in the Link building niche tend not to offer a free trial. But there's a way to convert their 'Refund Policy' into sth more than just a trial – it's all about requesting for refund within their specified money-back guarantee period! This means, you're not losing anything.
→Give it a go now, I think you'll like it!
Haven't found what you're looking for? You can check out their FAQ page here for more. Or alternatively, you can drop your views in the comments section beneath.
Linkilo WordPress Plugin: Pros and Cons
Of course, we've reached the two-sided portion of this Linkilo Plugin Review which are their respective upsides and glitches. Let's explore with the chart below
Linkilo Pros
Time-saving
No room for missed link opportunities
No room for misused Anchor Text and Interlinking strategy
Intelligent Link suggestion
Intelligent Automatic Linking (both External and Internal)
Linkilo cons
Usually suggest irrelevant contents
Plugin is pretty new
Linkilo as an Internal linking Plugin, is it worth it?
Having said all, the Linkilo WordPress Plugin is certainly worth the shot because it's the best in Link insertion field. Don't even dare mention Link Whisper (a great and popular alternative to the plugin). Before now, I used to utilize Link Whisper until I came across the Plugin in question. Don't misquote me, Link Whisper is good if you don't need all the extra features by Linkilo and it's also more reliable. Really the things to consider whilst making the selection.
So Popularity means a higher trust-score. And if it happens that you gotta choose the one that's more reliable, Link Whisper would be the go-to solution.
Linkilo is just new to the field and who knows whether they will deactivate the Plugin in the future or not. It all boils down to your point of selection.
Besides, the Linkilo team is working on new features such as Link Management which should slightly replace Link Management Softwares like ThirstyAffiliates and Pretty Links. And not only that – more features is in development.
As it's obvious, Linkilo is never stagnant in what they offers, they are literally evolving to dominate the Link building sectors – hope they succeed 🙂
But you know what, the Plugin in question has a generous offer in their Lifetime subscription, so if you make this move now – all the upcoming features will all come as a free of cost products.
Best of luck. Are you still confused? – check all the extra features Linkilo's implementing against Link Whisper on this link 👈
Feeling ultra curious, here's our page that Compares Link Whisper with Linkilo! We recommend you check it out also!
Until then, happy solid Internal linking 🙂