AmaLinks Pro Review: Price, Features, Pros/cons – worth it?
AmaLinks Pro, the best damn Amazon Affiliate Plugin that won't get you banned by Amazon!
If you're an Amazon Associate, chances are you might have heard of Affiliate Plugins or some sort of similar phrases like it.
Affiliate Plugins are basically extended softwares, toolkits or plugins that adds efficiency and supports to Affiliate links. They let's you get creative with your links, increases click-through-rates and reduces the time spent on each occasion.
When you hear of Affiliate Plugins, it's akin to a Collection or let's say a Collective Products. But when you say Amazon Affiliate Plugins, it's still a collection, but now it looks more directive.
Amazon Affiliate Plugins are under the Parent group – Affiliate Plugins. They are Amazon-based Plugins made specifically for the Associate Program.
Meanwhile, the Amazon Affiliate Program have got several companies that are serving one or other purposes. From stunning Product Displays and Click Analytics to the Geotargeting feature, and beyond are what they got to.
Now, the AmaLinks Plugin isn't exclusive here. According to them, the Plugin is the best damn Amazon Affiliate Plugin that won't get you banned by Amazon.
Let's shed some perfect light on this… regarding whether it lives up for its NAME!!!
What's AmaLinks Pro, an overview?
Like its name implies, AmaLinks Pro is an Amazon Affiliate WordPress Plugin used to captivate visitors interest, and glamour towards a particular product on-screen. It's an award-winning Marketing Plugin which enables you to get to the acme of your Affiliate revenue.
As an Affiliate, you would want to be earning the biggest commission possible. Because content creators like you deserves it – this is the actual reason why this plugin exist!
It let's you get creative with your Affiliate links in many modes, styles or widgets, such as: As a Text/Image Links, Call-to-action Buttons, Product Showcases and a responsive Comparison Table.
Around all, Text Links is the most predominant one: it's used several times in a post.
This is also applicable to Image Links which monetizes clicks to an image. Incase you're not using it, it's time to shuffle things all around because you're leaving some bucks on the Table.
Coming to the Call-to-action Buttons, AmaLinks Pro provides the best it can offer. By using Amazon Compliant 'Buy on Amazon' buttons alongside its captivating appearance.
The Product Showcase box is a surefire way to steal your visitors interest and dwell duration. Yeah, It ignites that pleasure like magic. To not exaggerate, it's the best and exceptional feature among other alternatives such as AAWP, Affiliatable and AzonPress.
Regarding the Comparison Table, it is such an exquisite functionality to have on your site. By comparing two or more products altogether, visitors would have that perfect mind to make a definite decision.
The AmaLinks Pro is really a Gold mine. Best for new and seasoned Amazon Affiliates, also best for marketers from around the world.
Time to get started, it cost just a measly fee of $49 per month for 1 site! Go get started… you're saving the biggest discount!
Amalinks Pro Features
The AmaLinks Pro WordPress Plugin have got an umpteen number of amazing features that are guaranteed to increase Affiliate commission.
Such features in question are utterly exceptional, differentiating them from their real-life competitors. You cannot find the No-API feature, the rich Product Showcases and whatnots in almost all Amazon Affiliate Plugin we have reviewed.
The most intriguing fact about the Plugin is that it provides New Features and Products Updates at a regular date.
1. AmaLinks Pro Features: Link Types
The Plugin provides vast majorities of ways to entice user's to click to a targeted spot in no time. I don't think they can resist the push.
Just wait a minute, and think about – seeing such a nice Product Display like this and wouldn't indulge to click. Your engagement is perhaps inevitable.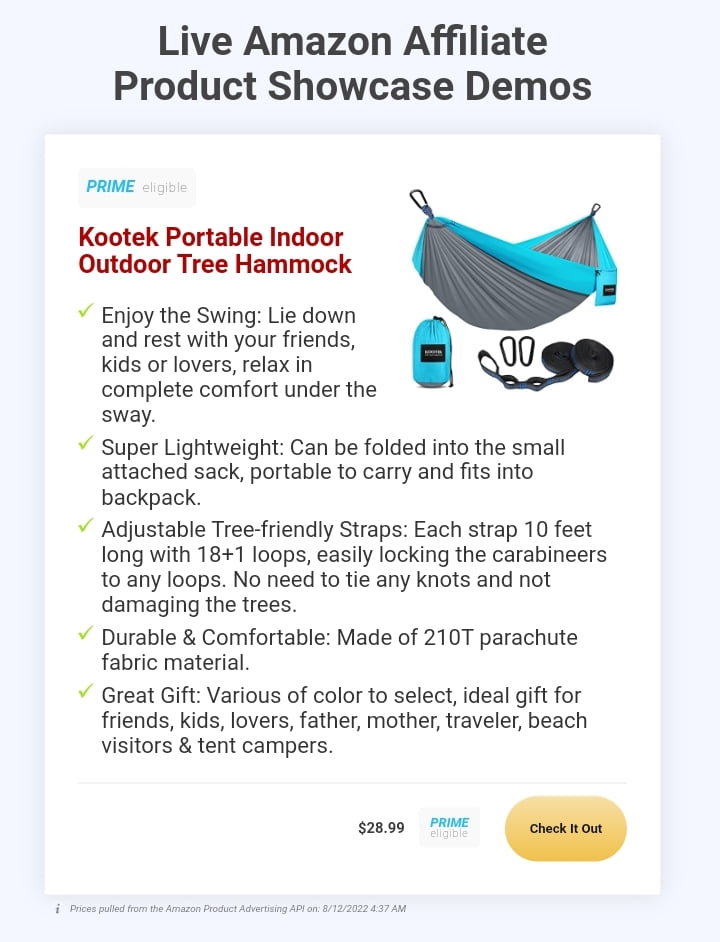 Thankfully, the AmaLinks Pro Plugin have got all the link types, templates and displays that will probably mesmerize your audience.
Here are what it has to offer:

Text Links
Image Links
Call-to-action Buttons
Product Showcases
Comparison Table
Let's review them one after the other.
1. AmaLinks Pro Review: Text Links
As you might arleady know, direct Text Links are common and the most popular call-to-action among content creators. In almost every write-up in the internet, there must be at least 2 – 5 links inserted on average.
With the plugin on hand, there's no need to hop to Amazon for product's links to insert in your post. Virtually, the plugin comes with an inbuilt feature which enables publishers to find the dream product at the click of a button.
Mind you, this is achieved inside WordPress by a direct search with the Product's name or its ASIN value. After this, you're good to go. Such a time-saving hack, don't it?
2. AmaLinks Pro Review: Image Links
The Image Link feature on its own is probably a peak-reacher. Are you sure you're not leaving some bucks on the table?
Truth be told, images tends to draw more attention than the regular text link explained explicitly above. It achieves more clicks, leads, and conversion than that of Text Links.
The dark side, it's so strenuous to insert links in almost all images in your post. Due to this, some publishers often ignores it not knowing that it have a huge impact in the value of their Affiliate revenue. As for you, you would want to be earning at the peak potential.
The bright side, the AmaLinks Pro Plugin has made this easily attainable. It pulls products images alongside the links that comes with it.
You can further align the image[s] to best fit your needs. Also, deciding on which image[s] to go with is wholly customizable.
Ironically, the Image Links in question are pulled directly from the Amazon Product Advertising API, thereby giving you a complete assurance of its Compliance with the Amazon Associate Policies.
Here's a case study which shows the performance of raw Text/Image Links versus the one served by AmaLinks Pro.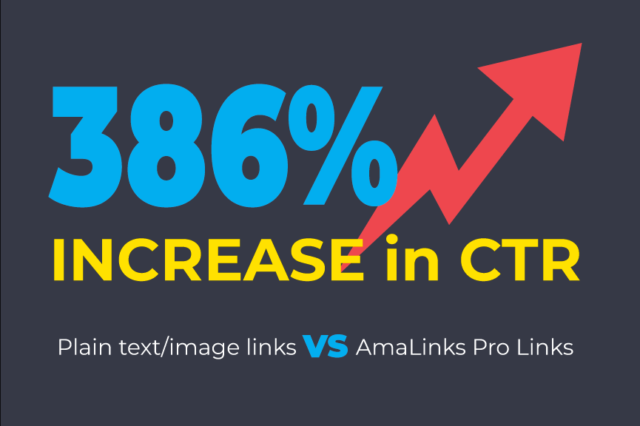 This is hyper ridiculous
3. AmaLinks Plugin Review: Call-to-action Buttons
Text Links as well as Image Links are overly incomplete without a proper Call-to-action Button. Obviously, CTAs is the most converting method to get an audience to smash into commission.
By smashing into commission: I mean to complete the Conversion journey or having the intent done as well.
Hopefully, the AmaLinks Pro Plugin boats of a Professional Buttons which are guaranteed to convert. The Button's type is unique, versatile, and click-worthy.
To add an attention-grabbing Button, you merely need to search the Product using its name or its ASIN value. Then, AmaLinks will provide an embeddable shortcode for you to use anywhere on your site.
Ps. All things are done inside the WordPress Admin Area. So there's no need to visit Amazon thereby saving more of your time.
4. AmaLinks Plugin Review: Product Showcases
This is where the Plugin stacks up against its competitors. What are we talking about — An exceptional widget type which includes all the data from Amazon outrightly!
As an Amazon Affiliate, there might be times when you ought to showcase all the details to end-users. In this case, the AmaLinks Pro Plugin is the only known plugin that can do it.
The 'Product Showcases' feature aggregates Product informations, images, reviews, links and other relevant tags right in one Display.
You can choose to showcase a large image library of photos or an in-depth descriptive points around a particular product[s].
The Plugin comes with a drop-down icon which let's you include relevant tags the way you like. Also, all the Product's elements are highly customizable. This gives you a room to customize anything to your own preference.
After you're done tweaking the widget, you'll be provided with an embeddable shortcode just like as the case with the other Link Types.
Assuming you wanted to change the root Product, you don't need to start afresh – you just need to change the ASIN number.
Shockingly, working with the Plugin saves more of your time. In the same vein, it earns you more commission. This is how it works:
Whilst setting up how the Link opens, you can select an option to allow visitors to add products to their carts directly. This comes with a generous Cookie duration of 90 days…thereby enabling you to reach to the acme of your commission.
Wow that's a holdable reason to give it a try.
5. AmaLinks Pro Plugin Review: Comparison Table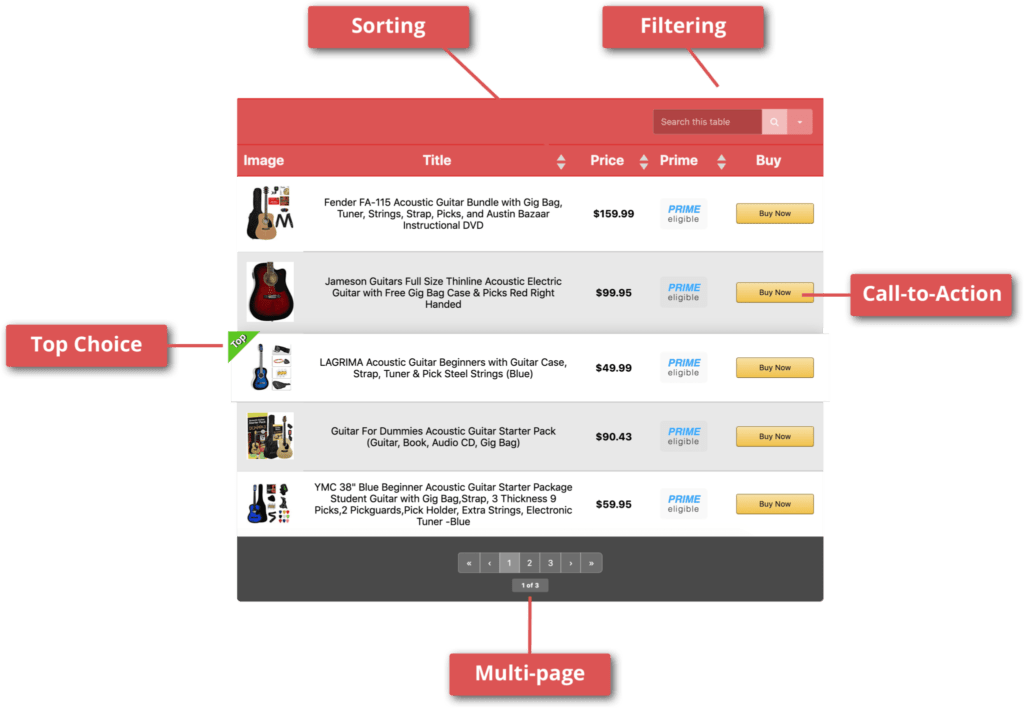 Comparison Tables are becoming necessities on Review and Tech-niched websites this days.
To get on top of what-is-trending, you would need to make your site look unique and professional. Thankfully, AmaLinks have just got your back on this.
With loads of different assortments, you can handpick the best one that matches your interest, then customize it with the chosen products.
Now, merely looking at it – the frontage would help in arriving at a better selection. This is consequential as it helps potential viewers to arrive at the best decision possible.
You can use captivating tags like "best one, best picks" and all-encompasing to goad them to engage.
Pro tip: Tagging expensive products will help in earning more commission.
For the sake of efficiency, the out-product is always a shortcode to embed on your site.
2. AmaLinks Pro Features: No-API Mode
Damn it – there's no need to relinquish if you have not met the agreement policies. In concept, you must make at least 3 qualifying sales within a period of 6 months before being qualified to access your Amazon Product Advertising API.
This is a kind of gibberish as far as AmaLinks is concerned. Reason is because it had finagled a virtual replacement called the No-API mode.
The No-API mode is homologous to a switch which can be altered just by turning it on and off. To use it – simply turn it on, To quit it – simply turn it off.
Now, some folks might be preoccupied as to whether the No-API mode lacketh certain features or… how is the Plugin still in Compliance when there's no API for synchronization?
Well, using the No-API mode on AmaLinks doesn't mean you'll be compromising on some features. To be frank, you get almost all the features accompanied with the API mode. The only difference is the set-up process.
The No-API mode utilizes the standard SiteStripe feature on Amazon to deliver rich Product Displays. Unlike the API-mode where you can select Products templates for the work, you only need to align the (SiteStripe) display box accordingly.
This is a great feature for New Amazon Affiliates, helping in both terms of site quality, and earnings.
New Amazon Affiliate click here <===
Because the No-API feature enables aspiring Affiliates to complete the 3 sales/180 days policy on Amazon. It magnetizes potential viewers like magic. Time to get started!
4. AmaLinks Features: Google Analytics Event Tracking
Getting real-time statistics regarding clicks, actions, and engagement is the most efficient way to streamline your course of action.
For the users of Google Analytics, the AmaLinks Pro Plugin have got a built-in feature that does exactly this. It's called Google Analytics Event Tracking.
With it, you can easily ascertain the rate of engagement, clicks to Links, Products Showcases and to that of Comparison Tables.
5. AmaLinks Pro Features: Copy/Paste Showcase Shortcodes
As you might arleady be aware of, AmaLinks Pro is completely powered by Shortcodes which are known in getting the work done in an effortless approach.
You can easily copy the out-product as a shortcode, then paste it inside of WordPress. All things have being made easy peasy.
Infact, instead of starting a whole illustration from scratch, you can easily replicate a matching one just by altering the ASIN number (or by using the Products name directly).
Additionally, there are over 200+ templates to choose from, whether you're dealing with a Comparison Table, a Product Showcase Box or even a CTA button. Your probs has being arleady covered | just go get the Plugin, you'll thank me later for this <===
AmaLinks Pro Pricing
It is such a pocket-friendly plugin to be honest. Starting from $69 and ending at $597 with different utilities being satiated.
If you're looking for a particular pricing plan to get started with, honestly you will surely find one. Be it the most cost-effective one which cost just $69, or an advanced version that supports several sites.
The Plugin is said to be inexpensive regarding on the Pricing tags it offers, before now – the plugin doesn't have any pricing plan at $69. Guessed what, the massive drop was triggered by Customer's general reviews!
Looking at this you can discern Customer's high-level of priority, that means – the Plugin is always shifting to satisfy the needs of their customers.
Currently, AmaLinks Pro is being priced at different levels which includes:
Blogger Plan for 1 site annually
Basic Plan for 3 sites annually
Premium Plan for 25 sites annually
Platinum Plan for unlimited sites annually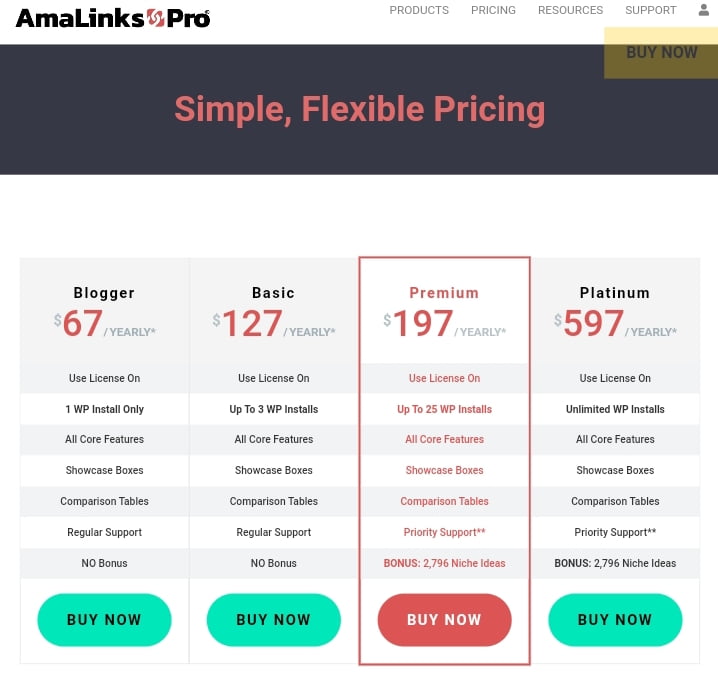 Merely looking at the screenshot above, you can discover that there's no such thing like monthly plan packets. Though the least one cost just like a monthly subscription in some Alternatives, some user's might find it awkward.
But there's no true issue with this, just think about paying the monthly fee just to cover the whole year! It is generally a money-saver!
Choose the best plan for yourself <===
AmaLinks Pro Alternatives
The AmaLinks Pro Plugin is undoubtedly the best damn Amazon Affiliate Plugin that won't get you banned by Amazon. Best for startups Affiliates, Amazon Associates and Pro Bloggers.
At times, if you're like me – you might consider trying the alternative of a particular stuff, service or product to best ascertain the best one that most fit the subject line. In this case, you'll resort to similar providers that offers the service in question.
For the AmaLinks Pro Plugin, here are some Alternatives that are worth considering
We have ultimately reviewed all of this Products! We recommend you check them out with the links beneath:
Frequently Asked Questions
Underneath hosts the most frequently asked questions regarding the AmaLinks Plugin and some possible solutions to get around it.
Does AmaLinks Pro have a free trial?
There's no available trial version in this case. You can sure try the Plugin risk-free with their diamond-plated, rock-solid – no questions asked – 100% money-back guarantee within the first 30 days.
What happens if I let my subscription expire?
Your links, Comparison Tables, and Product Showcase Boxes will remain intact provided that the Plugin is still installed on your WordPress website.
The damn limitation is that you won't be allowed to use the Plugin's best features such as the crystal-clear Product Displays and whatnots.
Can I use AmaLinks Pro to insert Affiliate Links from Affiliate Programs other than Amazon?
No you can't! Because the Plugin is maintaining itself so as to be in 100% compliance with Amazon Operating Policy and Agreement.
The Policy ruled off linking to other stores, programs or services other than Amazon. To stay at a lesser risk of losing your hard-earned money, the Plugin disagreed to offer this feature.
This makes it really the best damn Amazon Affiliate Plugin that won't get you banned by Amazon.
Time to get out from Jeopardy. Incase you're using a Plugin that offers this facility – you're at a greater risk of losing your commission to the bird's of the air. Prevention is better than cure!!!
Get the Plugin now | stay protected, remain unbanned!
Can I upgrade my plan later if I need to use AmaLinks Pro on more sites?
Literally yes! You can upgrade at anytime to cover more sites and more features.
You're unlimited…
Does AmaLinks Pro work with Page builders like Elementor or Thrive?
Yeah you can prolly insert AmaLinks-based link types on all page builders including Elementor and that of Thrive Architect. They have even got step-by-step guide for it incase you're new to it. Basically the Plugin can work anywhere where WordPress Shortcodes can be inserted.
AmaLinks Pro Plugin: Pros and Cons
The general rule of thumb is that anything that has an Advantage must also have its own angle of flaw or an imperfection. Here are the Pros versus the Cons of using the AmaLinks WordPress Plugin.
Is AmaLinks Pro worth it, our final verdict?
Now, listen – the AmaLinks WordPress Plugin is the best Amazon Affiliate Plugin in safeguarding your steps towards the harsh Amazon Operating Policy and Agreement. If you truly love your Partnership as well as your earnings on Amazon, it's high time to be on the safer side of life!
The Plugin is great in all aspects of pricing, features and the available functionalities. Infact, it's our top-notch recommendation for New Amazon Affiliates, Pro Bloggers and Old Affiliates who are desperate to test a whole new Product experience!
Time to get started. Believe me, you will never regret this move.