ClickWhale Link Manager Review – a free Pretty Links Alternative for Link Management
If it doesn't matter to you, it matters to most people – the look and length of the Links you share on your site, and social media profiles in particular.
Given that I'm directing you to this link (https://linkwhisper.com/free-trial/ref/1585/?campaign=InternalLinkingPluginsList).
Naturally, you'll interpret it as a Money Link. Even worse, the average person sees it as spammy and malicious than ever.
Consequently, they will likely not click on such a link. You might think when you attach such a link to an Anchor Text on your site, the lengthiness and malicious look on it won't be noticed.

But this is wrong. As can be seen in the screenshot, the desktop version of a site lets the user know the address of a link before clicking on it.
So there's nearly no way to disguise that ugly link.
When you drop it on your social profile, the Affiliate and Tracking Parameters appear with it. Also, when you use it on your Site Pages, Desktop users spot the Ugliness at first glance.
For the mobile versions of your site, it seems you're on the right track. But what about Copying and Opening the Link from another page? The user will subsequently find it.
These cases brought about Affiliate Link Management into the box.
With it, you can easily shorten ugly links (like the one we shared above) to (https://example.com/recommends/link-whisper).
You see… The Link no longer appears malicious. The Tracking Parameters have been cleared and are now branded with your site identity.
You can achieve this using ClickWhale's Link Manager which is free. Think ClickWhale, think shortened and branded version of a URL.
Let's now dig deeper into the Ins and Outs and explore how the Link Manager can be a helpmate in the Marketing world.
Must-Read: This Page focuses on the Plugin's Link Management function, to see other features in full, kindly refer to our ClickWhale Full Review. You can do this when you are done with the current Page!
ClickWhale Link Manager Review – A Closer Look at the Affiliate Plugin

The ClickWhale Link Manager constitutes valuable features that enhance conversions and affiliate link management.
Using it, one can now make their Affiliate links trustworthy, memorable, and brand-depicting.
By trustworthy, the Links that you run through the Plugin take a new shape. Precisely, it's no longer a cluster of letters and fearful elements, it's now a simple link with trust and simplicity.
As for memorable, your visitors will find it easier to familiarize your links and they can write down of them at anywhere.
Last but not least is that, when you use a Link Management service like ClickWhale, it overshadows the terrifying perception using your your brand identity.
Just think of it… When you can make your links more trustworthy, memorable, and brandable, why relax back?
Generally speaking, a trustworthy link gets more clicks than an ugly one. A memorable or branded link in the same vein gives you a greater boost because it makes it possible for even visitors to differentiate your offers from third parties, and also gives them the ability to plug it down from their head every time they need it.
All said, adopting a good Link Management practice is one of the boxes to tick for improved conversion and visibility.
Let's now take a look at how the ClickWhale WordPress Plugin lets you do this for free
ClickWhale Link Manager Features – A free Pretty Links Alternative for Link Management
The ClickWhale Link Manager lets you do Link Cloaking, Tracking, and Analysis all from the WordPress dashboard.
To start, you'll have to install and activate the Plugin on your site. It's that easy and there's no learning curve.
First, head over to your Site's admin area and log in. Then go to the Plugin section and click Add New. Use the search box to look up "ClickWhale".
There, it is! Next, install and activate the Plugin. After activation, you'll be given an option to import your data from your current Link Management Plugin (if you have one). Hit the button hard to get things in place.
Assuming you have ClickWhale set up on your site right now, let's navigate through its Link Manager and explore all of its features.
Link shortening and cloaking
Link shortening and cloaking is the primary function of the tool. The function lets you shrink obnoxious and long URLs into shorter versions which also carry your site identity.
To use this function, simply specify the target URL and a shorter version of it, then the Plugin will set a Redirection rule that connects them together.
For instance, using the Link shortening and Cloaking tool, I can slash this Affiliate Link ( https://linkwhisper.com/free-trial/ref/1585/?campaign=InternalLinkingPluginsList ) into this ( https://survivezeal.com/recommends/linkwhisper ) which is now shorter and personalized.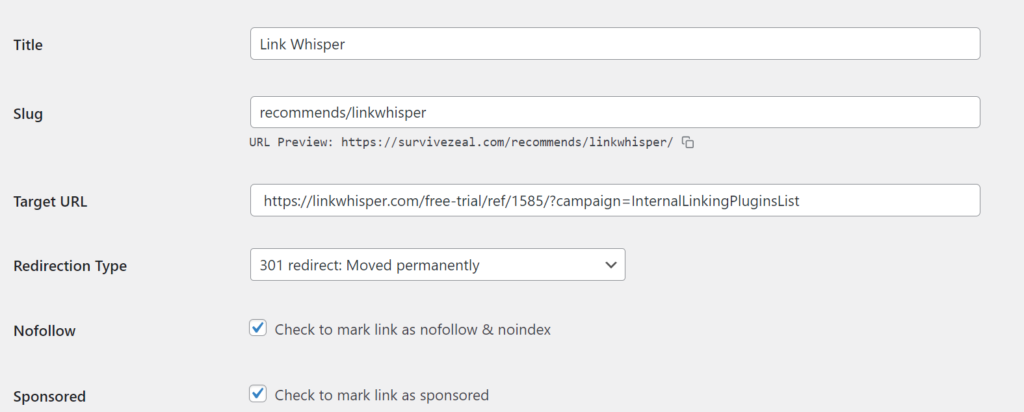 The /recommends/ part of the cloaked URL is called the Prefix and can be customized along with the /link-whisper/ side.
You can use other prefixes like /go/, /refer/, etc. which is even more shorter.
The best part of it is that you're not limited to what slugs you can use. You can use anything.
Redirection types
Before hitting on that done/create/whatever button, an option is provided from where you can select the Redirection type which the short link will use.
We have all the options – 301, 302, 303, 307 & 308 Redirect.
The 301 Redirect (moved permanently) is the default and is the best one for Affiliate and Sponsored links.
Link attributes settings
On the same screen, you're provided an option to choose the right Link attribute for the short link. You can make the link Nofollow, Sponsored & otherwise.
By default, the Nofollow and Sponsored attributes are ticked and this obeys Google's instruction for Affiliate and Money Links.
Link Categorization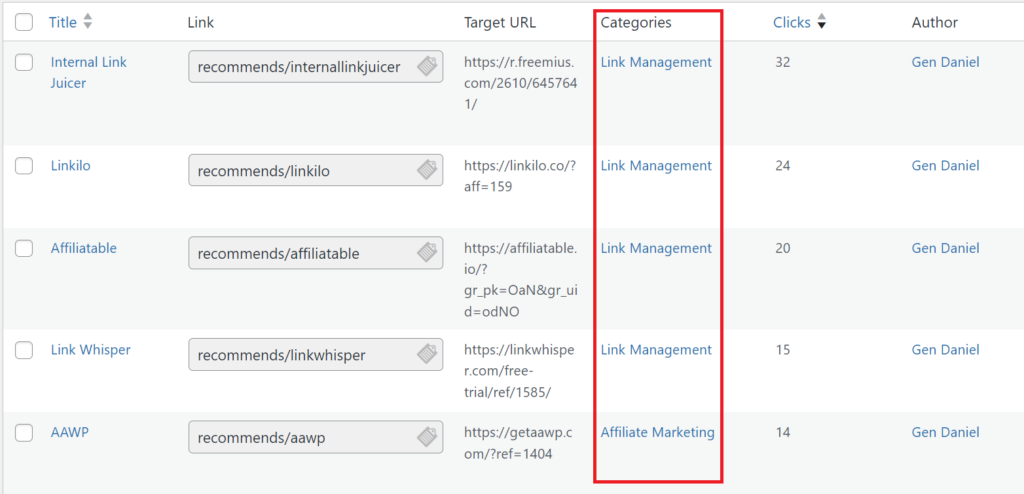 With the ClickWhale Link Manager, you don't create links and litter them around without organization. The tool gives you the option to classify your short links into definable categories.
This way, managing them becomes easier.
Click Tracking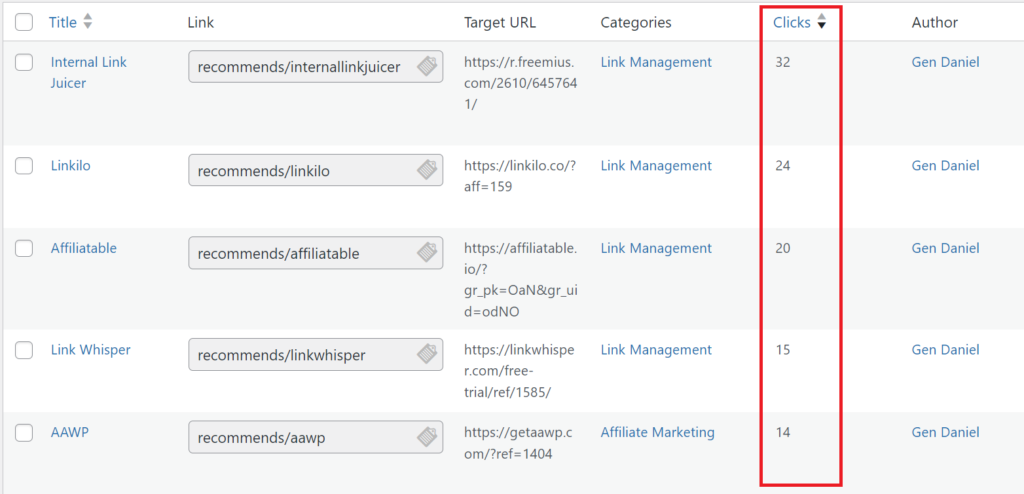 There's actually no point in using a Link Management tool if it doesn't track the clicks on short links.
Of course, ClickWhale gives you this super functionality and lets you know which of your links are performing better than others.
While you cloak your links with this tool, you don't have to be overly cautious, because you can always edit every aspect of it. You can change entirely everything.
Unlike some Link-shortening services, ClickWhale doesn't limit you at all when it comes to making edits. As aforementioned, you can change everything, yes everything!
ClickWhale vs Pretty Links Link Manager (the Free Versions)
Here's how the ClickWhale Link Manager compares with Pretty Links in terms of free features.
For New website owners, investing in a Link Management service is one of the last things in their scale of preference. It's not because having one ain't important.
The reason is obvious – one can't spend more than they earn! Thankfully, ClickWhale Link Manager is here for us, and here's how it stack up against Pretty Links
Free ClickWhale Link Manager gives you the option to do Link Categorization while the Free version of Pretty Links doesn't.
Free ClickWhale also gives you access to other features such as Link-in-Bio (think LinkTree) and Tracking code placement.
As for free PrettyLinks, you're deprived of them.
When you compare ClickWhale Link Manager's free features against that of Pretty Links, it's without doubt that the Whale of the Sea outperforms it.
ClickWhale other amazing Features – a Free Pretty Links Alternative
Just like we said in the other section, ClickWhale does have several other features outside the primary Link Manager it comes with.
The Plugin is designed to manage everything links and we are blown away by the rate at which it does that.
You can now stop paying for Pretty Links and migrate to the Plugin for easy and free-of-cost Link Management. You can as well ditch the popular Link Page tool (i.e LinkTree) to manage all things in one place.
You can check out how ClickWhale compares with LinkTree here.
The best of it is that you don't have to upgrade to premium – The free version is enough!
Link Pages
Getting your favorite links in one place hasn't been easy. Link Pages are widely used on Social platforms, and the aim is to direct fans to a generalized screen accompanying offers and other social profiles.
The ClickWhale WordPress Plugin has a Link Page functionality which it offers for free. With it, you can set up an exquisite one that will use the address of your site.
Tracking codes
With the Plugin up and running on your site, you don't need another plugin to install codes and snippets on your site. You can add Google Analytics tracking data, Facebook retargeting pixels, etc. on your site without having to alter anything.
Import and Export
In case you are already using Pretty Links or another Link Management Plugin, ClickWhale makes it attainable to import all your data in one click.
When you activate the Plugin on your site, it detects the competition (if there's any) and lets you import your data seamlessly.
Why use ClickWhale Link Manager for Affiliate Link Management?
Here are the reasons why you should use ClickWhale Link Manager rather than going with your raw Affiliate Links
1. Makes Links shorter and more appealing
Believe it or not, there's nothing brighter in Affiliate Marketing than a short and easy-to-remember URL. Rather than using the raw Links from your Affiliate Platform directly, ClickWhale enables you to generate shorter versions that are conversion-minded and interesting.
2. Commands Links to have a branded structure
With ClickWhale Link Manager, gone are the days when you'll still have different Affiliate link structures (as they are extracted from their respective platforms). Your Affiliate Link structure will now use your site identity and this applies to your already-built and future links.
3. Measures the performance of Links
When you take away Analytics from the path, you run the race alone.
Even though most Affiliate Platforms provide you with performance reporting, you need this particular one to achieve the most from Affiliate Marketing.
4. Link Cloaking obviates Commission Loss and hijacking
If you're still taking the risk of using Raw Affiliate Links on your site, you have to think again – Commission Loss can come as a result of incorrect Affiliate parameters. Even worse, hooligans can take advantage of the raw nature of your links.
However, when you stick with Link cloaking, the ugly assortments of letters and symbols in your Links get overshadowed by a simplified one. At this point, there's little to no chance of making that egregious mistake. Also, Fraudsters who hijacks commission by replacing existing IDs won't have a chance, and even if they do, it's now easier to spot that wickedness.
5. It's free!
The last but not the least reason why you should make ClickWhale your link Manager is that, it's entirely free to use. We can't deny this fact.
We think we have pumped enough convincing reasons why you should try ClickWhale. It's now time to incorporate this tool into your Affiliate Marketing strategy.