Surfshark vs ExpressVPN, which is the best overall?
In this Surfshark vs ExpressVPN Review, we will compare the VPN services base on all qualities. Think their Security, Privacy, Bypassing Censorship, Streaming, Torrenting, Compatibility, Speed, Customer Support, Pricing, and whatnot.
Get ready to ascertain the best one for all use cases. It's of a truth that both work following the basic principle of a VPN, nonetheless, their proprietary features are what set them apart.
With the Lightway Protocol of ExpressVPN chasing out Wireguard, and Nexus in Surfshark edging out DoubleVPN, the two are said to be striving for the forefront position.
Here we brought the content of this in-depth Review to a Summary.: decision.
Surfshark vs ExpressVPN, who won in which field?
All said, it's advisable to opt for the Provider that best meets your VPN expectation. For instance, Surfshark took the box in the area of compatibility, therefore if you're looking for sth to use in all your devices and that which won't limit you, go with Surfshark.
Alternatively, you can use our decisive guide beneath to further refine the effectiveness of your choice.
— For the best overall VPN in the market. It's Surfshark. I mean, it leads the industry when VPN tags like Security, Privacy, Speed, Compatibility and you name them are compared and contrasted.
— For the Chinese people, the two works well. But ExpressVPN has been known for outperforming the rival in the land of some censored countries mainly China. So, we can't help it than to direct you there
Spoiler: The reliability of a VPN in oppressive or censored countries is just like blowing wind. With the NoBorders mode on Surfshark, you can conveniently surf the great firewall of China. Likewise, using ExpressVPN, you can usually do that. It's all dependent on many factors (on this later).
Let's now dive deeper into the underpinning contents of this top-tier VPNs Challenge
1. Surfshark vs ExpressVPN in terms of Security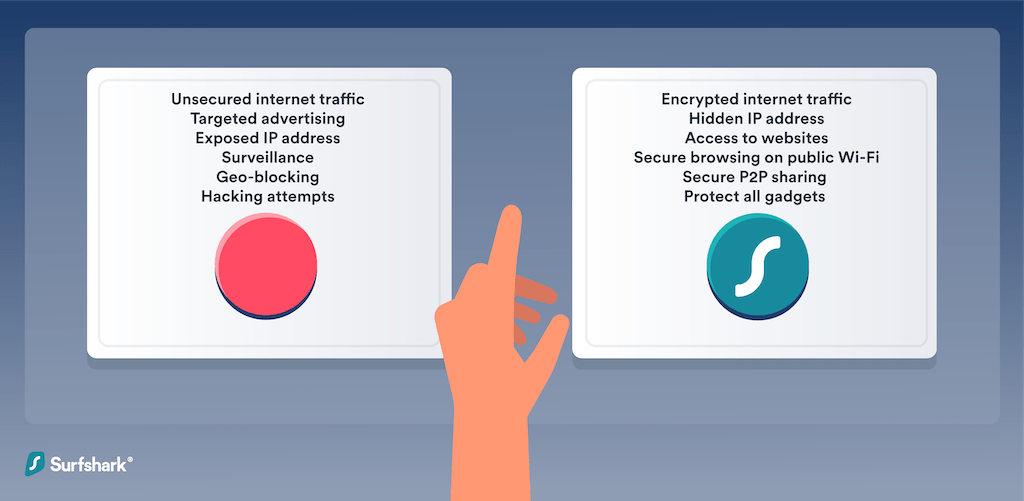 Either Surfshark or ExpressVPN can give you a rigid amount of security. Thanks to their Industry-leading Protocols, Features, and Encryption Algorithm.
Top Protocols in common:
OpenVPN (UDP & TCP), IKEv2/IPsec, Wireguard/Lightway.
Where,
OpenVPN: is an open-sourced VPN Protocol that offers a considerable amount of security.
IKEv2/IPsec: is one that offers a substantial amount of security and is best suited for mobile devices.
Wireguard: is free, open-sourced, and the most demanded owing to its shielded strength and security. Surfshark VPN offers this whilst ExpressVPN uses a built-from-ground version called Lightway
Lightway: works in almost the same way as Wireguard. But it is built with Privacy and Obfuscation in mind (more on this later).
Encryption Algorithm in common:
AES-256 bits
Where,
AES-256 bits: is the toughest Advanced Encryption standard as of now. Unlike 128 bits, it's almost impossible to crack.
Note: This is the same encryption used by Governments and Militaries.
Top Security Features in common:
Ram-only servers, Kill-switch, Split-tunneling, GPS spoofing, Stealth VPN, SmartDNS
Where,
RAM-only servers: denotes VPN providers that use Diskless or volatile servers on their network. These VPN providers do not store data at all because they are erased on each session/reboot. Thankfully, both VPNs have transitioned wholly into the technology.
Kill-switch: is a security feature that turns off internet connection at the point of abnormality or disconnection of a VPN service. This is critical as it prevents your data from following the direction like that of a normal connection.
Split-tunneling: is the process of selecting which application or website uses the VPN connection.
GPS spoofing: adds an extra layer of anonymity to a regular Virtual Private Network. Although a VPN can change your IP address and make you appear in a different location, it doesn't affect the GPS functionality of your device. With the 'GPS spoof feature' you can trick apps that use GPS to think that you're in a whole new location.
StealthVPN: obfuscates the fact that you're using a VPN. It makes it hard for your ISP and other Monitors to differentiate normal traffic from VPN traffic, thereby allowing the adaptability of VPN connectivity in an area that restricts it. So great!
SmartDNS: is a technology that lets you bypass geo-restrictions on Streaming services by redirecting specific DNS queries. With this tech, you can stream from a Router or Platform that doesn't natively support a VPN connection.
What set Surfshark apart from ExpressVPN in terms of Security?
1. Surfshark Multihop: Likewise other top-tier VPNs, Surfshark offers a Multi-hoping feature (also called DoubleVPN) which lets you connect to two different servers simultaneously. When this is established, it becomes 2x stronger than a normal VPN connection. Unfortunately, ExpressVPN doesn't support this at all. And considering that Surfshark is the king of DoubleVPN (this is because of its precious features like dynamically opting for regions where the Multi-hop should follow), ExpressVPN is critically behind the back.
2. Surfshark Ad-blocker: You can find the Ad-blocker in Surfshark's Cleanweb feature. It incorporates a Tracker blocker, a Malware Defender, and an Ad-blocking system. Although ExpressVPN offers a similar feature called 'Threat Protection', it doesn't contain an Ad-blocker.
3. Surfshark Antivirus: Even though we're dealing with VPNs and should base on only VPN features, it's still worth mentioning that Shark has a lightweight Antivirus built right into it whilst ExpressVPN doesn't.
4. Availability of security features in more platforms: In our Review of Surfshark vs ExpressVPN, we deciphered that Surfshark has the most feature support and availability on multiple platforms or devices. A good example is the critically important Kill-switch functionality, ExpressVPN only offers it on its Desktop and Routers' apps whilst the Support is Universal for all Shark's apps. This is a hammering Win considering the value of the feature.
What set ExpressVPN apart from Surfshark in terms of security?
1. Its Lightway Proprietary Protocol: The Lightway Protocol from ExpressVPN edges out Wireguard that Surfshark and most VPNs use in terms of its strength and ability. Wireguard which is regarded as one of the safest isn't primarily built for Privacy and Obfuscation, as a result, it's not that effective in that sector. Lightway on the other hand is good at maintaining your privy and as well as evading VPN detection technologies.
2. ExpressVPN Password Manager: Incompliance from mentioning this Application is kind of partiality because we made mention of Surfshark's Antivirus. Both Programs are worth having!
Between Surfshark and ExpressVPN, who wins in terms of Security?
Either of the VPNs will give you Security that is above the standard. The two use Military grade encryption, offer Protocols that are tested and approved, and come with Proprietary features and Add-ons. All things being equal.
But there are still heavy differences that we can use to determine the winner.
Surfshark offers DoubleVPN/Multi-hop which is highly significant in terms of security. It also comes with Ad-blocking technology which ExpressVPN lacks. Plus, the availability of security features on all Platforms (think the stellar Kill-switch feature).
ExpressVPN in opposition doesn't use Wireguard rather it uses Lightway, which is slightly better than the formal.
However, Surfshark had added layers to the Wireguard Protocol raising it to the same height of the opposing competitor. These layers include Surfshark Camouflage and NoBorders (which adds Obfuscation to the Protocol), and Surfshark Nexus (a proprietary form of Dynamic Multi-hop that routes user information in all of its server networks rather than limiting it to only 2 servers).
With this, we can confidently say that ExpressVPN's proprietary protocol (Lightway) only has an advantage over standalone Wireguard and not over larger services like Surfshark and layers.
Still on the debate — ExpressVPN offers a Password Manager which is in beta testing mode. Also, Surfshark offers a separate Antivirus which you can purchase alone or from Surfshark One which includes all Shark's Applications. The two kinds of cancel each other out.
Drawing the cotton here, Surfshark wins in terms of security
2. Surfshark vs ExpressVPN in terms of Privacy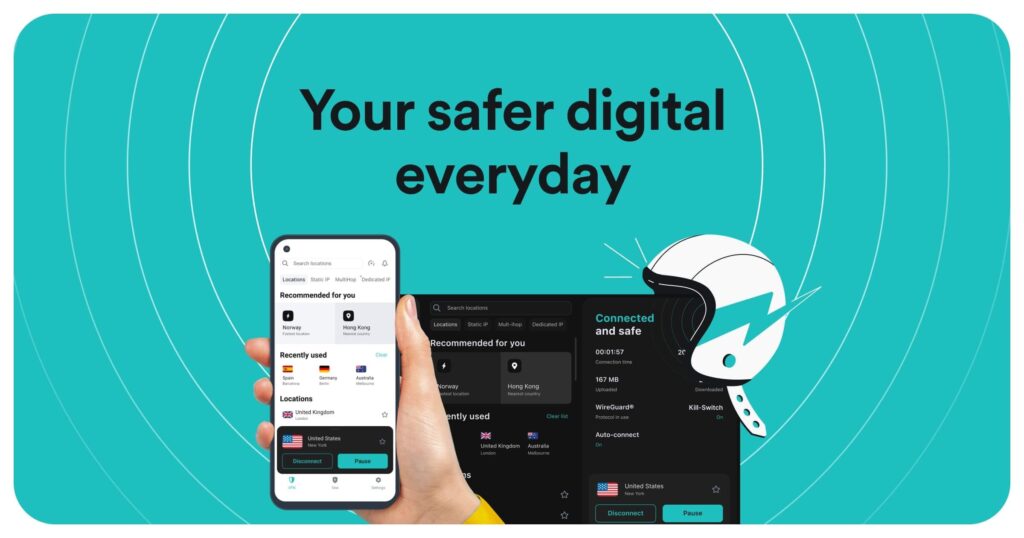 The two offer a strict No-logs Policy backed by RAM-only servers which are completely volatile and do not retain any information at all. Also, both aced our test in WebRTC, DNS, and IP leak test (both IPv4 & IPv6)
Commonalities: Strict No-logs Policy, RAM-only servers, Third-party Audits, Passed Data leak Test, Cryptocurrency Anonymous Subscription
Where,
Strict No-logs Policy: is a guaranteed commitment made by VPN companies towards zero information retention and transmission.
RAM-only servers: defines the fact that no Hard Drive server is used, hence no room for data logging.
Third-party Audits: expresses that both Surfshark and ExpressVPN have undergone security inspections that have proven the authenticity of their products.
Data leak Test: is important because it tells whether any of your private information (like your authentic IP address) is being leaked.
What set Surfshark VPN apart from ExpressVPN in terms of Privacy?
1. Presence of Warrant Canary:
A Warrant Canary is a way that VPN providers and other platforms use to convey the idea that no information has been requested or transferred to third parties like Governments via subpoena or Gag orders.
When the Warrant Canary is present, it means there's no data sharing. When it's absent, it means there's one perhaps. Thankfully, Surfshark has a clear Warrant Canary Page whilst ExpressVPN has non to prove its No-logs policy. A snag!
What set ExpressVPN apart from Surfshark in terms of Privacy
1. Not among the 14 Eyes Alliance: The 14 Eyes Alliance is a group of countries that have established a strong surveillance system over what is happening within them. These countries monitor and share internet users' activity for the sake of maintaining National security.
Fortunately, ExpressVPN is headquartered in the British Virgin Islands, where data privacy is better. As For Surfshark VPN, their headquarter is in the Netherlands which is a part of the 14 Eyes Alliance.
Note: "At the end of the day, a VPN being established in an -Eyes country doesn't mean anything. Local data retention laws, history of electronic data collection, and the infrastructure established by the VPN provider do. And no matter what country a VPN is established in, a UK VPN server will be located in the UK, potentially within reach of UK intelligence services if they want to tap it. And at that point, the technical expertise and sophistication of the VPN provider's infrastructure will matter a lot more than whether or not the HQ is established in Bolivia".
With this, Surfshark being headquartered in one of the Alliance states is kind of trivial as it doesn't define the authenticity of their Product or Company.
Note: Surfshark recently moved its headquarter from the British Virgin islands (where ExpressVPN is still operating from) to the Netherlands. This relocation shows that the Headquarter or primary location doesn't matter at all! What matters are the infrastructure and the security measures being put in.
Between ExpressVPN and Surfshark, who wins in terms of Privacy?
In Privacy, no it's not a Draw!
Surfshark has a conspicuous Warrant Canary page which further proves its No-logs policy. In contrast to this, ExpressVPN doesn't have any.
We searched their site thoroughly and couldn't find it.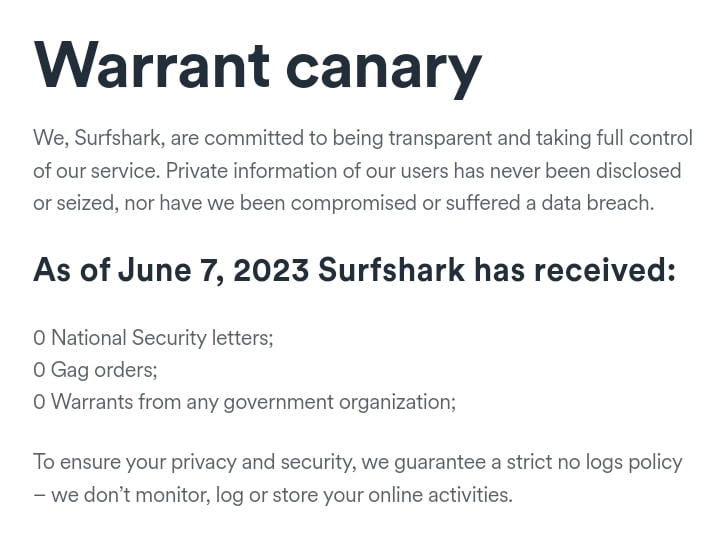 The Warrant Canary evokes hope and trust towards Privacy-matters. Just like when you need an extra confirmation, you can just peep on the page and it will tell you the current affair indirectly.
Mind you, publicly announcing a Government order to share users' log isn't fully permitted. The only way to signify of this, is having a Warrant Canary Page.
As Aforementioned, if it's absent, it becomes super-likely that such request exist. When it's present, it signifies zero third-party request to log and share users' activity.
To conclude, Surfshark VPN edges out ExpressVPN in terms of Privacy!
ExpressVPN vs Surfshark in terms of Bypassing censorship?
Both ExpressVPN and Surfshark are good at bypassing regional and onsite censorship. In fact, they are one of the best VPNs in doing this.
Contemplating bypassing the Great Firewall of China? Or having your accessibility reinstated on Streaming services? You're being covered.
Censored Countries they unblock in common: China, UAE, Iran, and others
Streaming services they unblock in common: Apple TV+, Amazon Prime Video, BBC iPlayer, Disney+, HBO, Hulu, Netflix, Showtime, Sling TV, and others
Between Surfshark and ExpressVPN, which one wins in terms of Bypassing Censorship?
Either Surfshark or ExpressVPN will work fine in unblocking and lifting whatever censorship there is. All thanks to their Stealth servers and other technologies.
ExpressVPN uses Cipher block chaining to keep you safe as possible. Its Lightway Protocol is one of the best in obfuscation. They hide the fact that you're using a VPN.
Surfshark in the same vein uses clever Obfuscation which is provided by its proprietary Applications. One of its notable features called NoBorders, outwits and forces surrounding censorship to surrender.
The features adopted are enormous!
From experience coupled with the voice of People on Social Platforms, ExpressVPN does a little bit work in bypassing Censorship.
It's a little bit more effective in breaking the Great Firewall of China. But Surfshark has been rated for its beast performance in breaking Anti-VPN technologies including the one in China.
Regarding the things that have happened, ExpressVPN wins at Surfshark in bypassing Censorship!
ExpressVPN vs Surfshark in terms of Streaming?
Isn't it great to be in China and still access Netflix US? Regardless of your location, these two VPN providers have been trained to work the best with even the most local streaming service.
Sites they unblock in common: Apple TV+, Amazon Prime Video, BBC iPlayer, Disney+, HBO, Hulu, Netflix, Showtime, Sling TV, and others
Glad to hear, there was no convenient way to compare or contrast Surfshark and ExpressVPN. Both of them have variations when it comes to speed and reliability of connection.
ExpressVPN vs Surfshark in terms of Speed?
For gaming and other data-hungry stuff, a good Upload and Download speed are 5 Mbps and 15 Mbps respectively. The Ping also known as latency should be low as possible. A good value may vary depending on the load. However, an average one is always less than 60 ms
Conversely, a VPN will always reduce your internet speed by default. As a consequence, the above data is for normal connection. For a VPN connection, the following applies: The Download and Upload speed remains intact while the Ping rate changes from 60 ms to 100 or 50 ms in most cases.


Surfshark US server: Download Speed was 83.27 Mbps and Upload speed was 65.59 Mbps [251 Ms pings]. Just 17% decrease in Download speed, and 35% decrease in Upload speed — No observable decline!


ExpressVPN US server: Download Speed was 89.26 Mbps and Upload speed was 85.12 Mbps [307 Ms pings]. Measly 11% decrease in Download speed, and a slight 15% decrease in Upload speed — No observable decline!


Surfshark UK server: Download Speed was 82.36 Mbps and Upload speed was 55.15 Mbps [139 Ms pings]. Just 18% decrease in Download speed, and 45% decrease in Upload speed — No observable decline!

ExpressVPN UK server: Download Speed was 89.17 Mbps and Upload speed was 75.56 Mbps [134 Ms pings]. Measly 11% decrease in Download speed, and just 25% decrease in Upload speed — No observable decline!
Between Surfshark and ExpressVPN, which one wins in terms of Speed?
ExpressVPN was a little bit farther in speed. Once dubbed, the "fastest Virtual Private Network", the trace of the mighty name is still in it! They are fully transitioning to 10Gbps server likewise Surfshark which means more speedy connection.
Note: During the test of Surfshark vs ExpressVPN in terms of speed, we spotted that Surfshark was sometimes ahead of ExpressVPN in terms of speed in the WireGuard/Lightway Protocol, the speed on the screen is the average. Another thing we discovered is that, ExpressVPN performed better in the OpenVPN UDP Protocol.
Above all, ExpressVPN is faster than Surfshark VPN.
Surfshark vs ExpressVPN in terms of customer support
You don't have to think twice when deciding to go with Surfshark or ExpressVPN. Because, as a top-tier Providers, their Customer support is very much alive.
Whether you need it from your favorite social media platform or any other medium given that they exist, Express and Shark VPN have got social managers working for them 24/7.
You can even befriend one of their agents. It is of good conduct to have predefined documentation, how-to guides, and helpful tutorials.
My favorite is always chatting from the live chat bubble. Clear reason is that it happeneth instant!
From our review of Surfshark vs ExpressVPN, we noticed that the latter has a somewhat faster response time, whereas the former has the most informative documentary page. So Ceteris paribus!
Surfshark vs ExpressVPN in terms of Pricing? Which one is cheaper?
When it comes to pricing and plans, Surfshark outshines ExpressVPN not only with its affordable price but also as the most pocket-friendly VPN option.
Pricing plans in common: 1 and 12 months plan
Uniquesnesses: 6 Months by ExpressVPN and 2 Years Plan by Surfshark.
Typically, a one-month and 12 months committing period is effective in balancing budget with utility. The 6-month packet is good in most instances. Lastly, the 2-Year Plan is always the bargaining type and is good for longtime VPN users.
Surfshark VPN
2-Year Plan: $5.99/mo for Surfshark One+, $3.22/mo for Surfshark One, and $2.30/mo for Surfshark Starter.
1-Year Plan: $8.29/mo for Surfshark One+, $4.49/mo for Surfshark One, and $3.99/mo for Surfshark Starter
Monthly Plan: $22.95/mo for Surfshark One+, $17.95/mo for Surfshark One, and $12.95/mo for Surfshark Starter.
ExpressVPN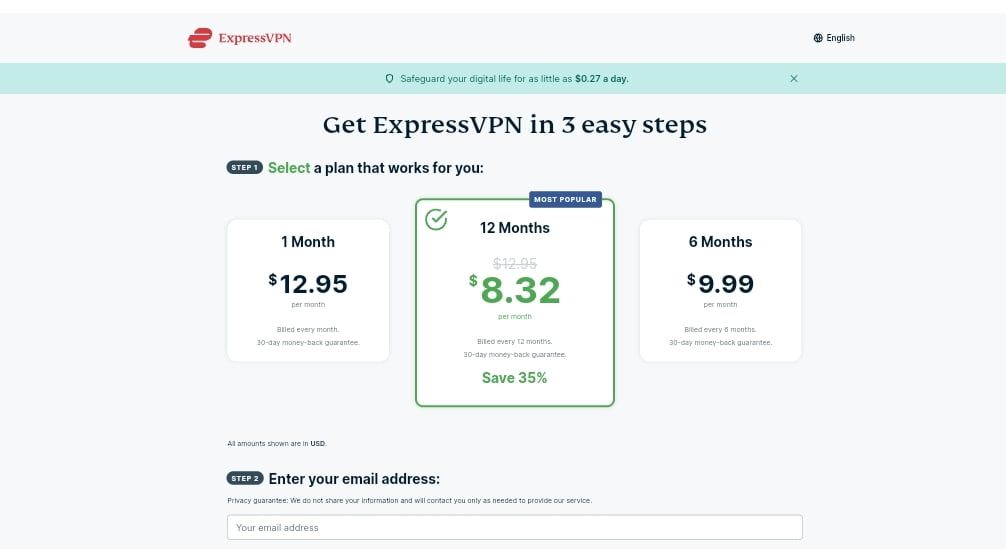 Monthly Plan — $12.95/month
6 months plan — $9.99/Month x 6
12 Months Plan — $8.32/month x 12
What sets Surfshark VPN apart from ExpressVPN in terms of Price?
1. Highly Pocket-friendly at all levels: Surfshark is so cost-effective to the extent of just $2.30/month which is more than the cost of peanut. Its one month price is accidentally homologous to the monthly packet from ExpressVPN. For the Yearly commitment, the Price point is 3x less expensive than the rival (using Surfshark Starter as a point of contact). When it comes to its generous 2-Year Price point, the cost of ExpressVPN can secure you deluge of licenses on Surfshark Starter. This makes it the cheapest top-tier VPN in the market!
2. Unlimited Device connection: Wouldn't you mind being able to connect for your family members or friends after extending the connection to all your platforms? With Surfshark, you have it unlimited whereas ExpressVPN forces you to get another subscription after hitting 5 devices.
Judging by the Price points, Surfshark takes the edge over ExpressVPN in terms of Pricing.
What do we have to say, final Verdict?
Either Surfshark or ExpressVPN makes a great VPN option. Both offer the typical things that are required in a VPN.
But, it's so unbelievable that ExpressVPN doesn't support Double VPN, a highly demanded feature in the market.
The demand isn't trivial, people and cybersecurity geeks need it in doubling the security of their connections. At least, it keeps the encrypted tunnel going when one of them is altered.
What of the Warrant Canary Page which indirectly proves to the general public about their current status in handling users' data? It's not there unfortunately
Also for the price, ExpressVPN is one of the overpriced solutions after Astrill VPN. Let it come to your mind that the Pricings we stated on the Page above are discounted. Yes, they are sale optimized.
If you consider the renewal Price, it might look cumbersome to most people. Considering all the bills, one from there and the other from an alternate location, it's at times good to maintain a good spending profile.
Above all, ExpressVPN alone is worth it especially if you know what you're paying for. You're literally getting one of the best VPN solutions! But getting Surfshark to the game makes it slightly unworthy at this time.
Because they both offer the same thing! Why would one go so high in Pricing like that?
Anyways, this won't stop us from recommending ExpressVPN. This Surfshark vs ExpressVPN will culminate as:
Surf like a shark on the web without having to scratch your bone. In reality, you surf the internet in a professional way without compromising on free VPNs.
For the likes of ExpressVPN, you can take a mighty thrust in the land of the dead. But do anticipate scratching your laps for what it takes.
More and Recommended Reviews: Surfshark vs NordVPN Review, Surfshark vs AstrillVPN Review
Want to make the best VPN choice as possible? Check out our brief Guide to choosing the right VPN!