Linkilo Affiliate Program Review: Is it the best SEO Affiliate Program?
The Linkilo WordPress Plugin in the Link building sector has an Affiliate Program inbuilt that pays high-ticket residual commission.
Linkilo like it name suggest is an internal Link building and Auditing tool for WordPress for less work. It's a Link structure plugin that let's you make the best use of internal linking to garner enriched results on Search Engines.
With the Plugin, there's no room for Orphan contents, Pages without internal links pointing to them and Pages that are at high risk of getting penalized by Google and other Search engines.
That said, the Plugin in question helps in evading potential and unexpected penalty from the most popular Search Engine and cos.
Before waisting much of your time, let's dive into the main topic – Linkilo Affiliate Program Review, the Honest and Unbiased one!
N:B: This Post is concentrated on Linkilo's Affiliate Program, if you're looking for sth else that's beyond the program, we recommend checking out this Review of Linkilo here.
Anyways, let get cranking…
Which Affiliate Platform is the Linkilo Affiliate Program hosted on?
One of the key consideration when opting for an Affiliate Program is the Platform hosting the network. As for Linkilo, it's a host of itself. Meanwhile, it ain't available on FlexOffers, ShareAsale, Post Affiliate Pro or any other Affiliate Platform existing on the web.
Its Affiliate Program is built right into their website. So they're utterly unavailable on other Affiliate Networks or Programs.
That said, if that sounds nice to let's keep going.
Present features in the Linkilo Plugin Affiliate Program?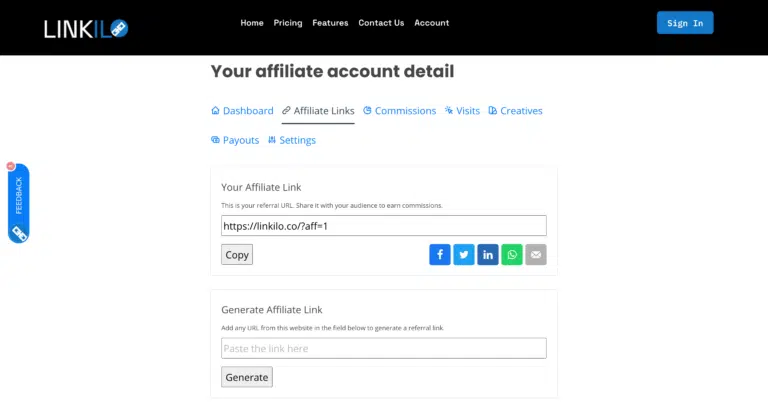 Now unlike other Applications whose inbuilt Affiliate Program is quite ugly and limited in features, the Linkilo Affiliate Program provides at least what is needed to keep cranking.
Their interface is intuitive and they offer Deep linking functionality, which is a key factor in monetizing all traffic to their Page.
Additionally, the program offers basic tracking reports that are accurate and reliable. So you'll be seeing data-driven results that aren't unrealistic.
The Acceptance Vs the Declination rate of the Linkilo Affiliate Program – is it worth applying for?
As of the time of updating this Review, the Linkilo Platform accepts new Affiliate in Autopilot. Therefore, there's no prior verification or authentication required.
Also bear in mind that the plugin is pretty new, so they're on the market to hunt potential Affiliate that maketh conversion happen.
Linkilo Affiliate Program Commission rate, Cookie Duration and Commission type?
Your estimated commission all boils down to these parameters. Let's check if the Linkilo Affiliate Program is worth the push or not.
Pertaining to the Linkilo Affiliate Program Commission rate and type, they offer an 35% one-time incentive for lifetime subscription and a bounty 35% recurring revenue for all other subscription that ain't lifetime (you can name them: Annual and Monthly subscription but they don't offer option for the Latter as of now)
Now regarding their Cookie Duration, they showed up the biggest Generosity here. Affiliates have a whopping 90 days period of cookie duration. This makes sure that all late Actions count for you.
Linkilo Affiliate Program Payment methods and frequency
The Linkilo Affiliate Program has only PayPal as a payment method as of now. And there's a warning on their site that Affiliates who can't receive through PayPal are literally doing nothing for them. So you have to check yourself, if you don't have one, here's a link to PayPal.
My thought for those who want to join the Linkilo Affiliate Program
If you're reading this now, i'm 70% sure that this Program is sth that suits your expectation. Leaving all things outside, the Program is worth the push especially if you're in the SEO niche.
I recommend using the Plugin yourself before joining as an Affiliate. This helps alot because upon doing so, you will know what the Plugin is all about and what it can do. So this gathers all the standing points in place so that you'll be able to throw out the best convincing story about the Plugin.
Also, Linkilo has a 30 day money-back guarantee, No question asked!
→ Check Linkilo Review and get it at the best bargain!
Is the Linkilo Affiliate Program worth the hype?
Absolutely yes, the Linkilo Affiliate Program is even more than the phrase "worth the hype" because it provides an additional income stream for not only bloggers in the SEO niche but as for almost all website owners around the globe.
Now, you're getting rewarded by recommending a feature-rich Internal Link structure plugin which I believe your audience will find invaluable.
Linkilo Affiliate Program Alternatives
But it doesn't stop there, there are umpteen number of Linkilo Plugin Alternatives that also offer an Affiliate Program. Here are some of the most well-known
Link Whisper Affiliate Program, 30% recurring commission (best alternative) 100% matched
Internal Link Juicer Affiliate Program, 20% one-time commission (worth considering) 90% matched!
ThirstyAffiliates Affiliate Program, 30% commission rate (for Link Management lovers) 70% matched!
The above links for the alternatives are pointing to their respective sites directly, if you would want to review the programs terms and commission structure, do consider their Reviews here
Link Whisper Affiliate Program Review: Is it the best paying in the SEO niche?
Internal Link Juicer Affiliate Program Review: is it worth the Push?
ThirstyAffiliates Affiliate Program Review: Earn 30% revenue share!
Looking for sth more to explore? Check out our 'Affiliate Program' category and use the Filter there to find hundreds if not thousands of recurring Affiliate Programs!
Until then, keep enjoying Perpetual conversion!!!