6 Best WordPress Car Rental Plugins [free and pro]
Running a Car Rental website hasn't being easy. In concept, you have to utilize a range of relevant softwares that best describe the aim of your business. If your site is hosted on WordPress, Squarespace or any other Content Management Systems, you'll need to use the relevant application to keep your business up and running
In this article precisely, we'll be showcasing several Plugins that will enable you to accomplish your goals. Here we have Plugins for: Car Rental Management System, Car Rental Service, Car Rental Reservation, Equipment Rental, Rental Booking system, Woocommerce Booking and Rental, Rent a Car and Customer Relationship Management (CRM) for Car Rental Business.
That being said, let's take an all-round look regarding on the best WordPress Car Rental Plugins.
We start with …
1. RnB – WooCommerce Booking & Rental Plugin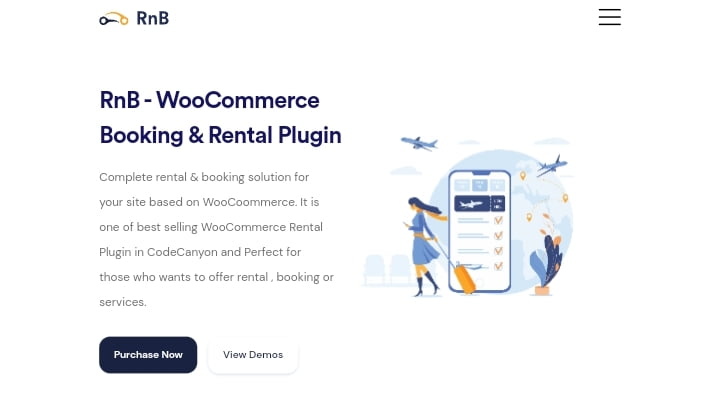 The RNB WooCommerce Booking and Rental Plugin possesses incredible car rental functionalities which necessitated it to fall among the best WordPress Car Rental Plugins. It's fully packed with plethora of wonderful features such as:
Easy-to-use Admin Panel
Inventory Management toolkits
Quality Pricing configuration
Super Product Availability support
Booking length settings
And amongst others
In a nutshell, the Plugin offers tons of features that adds more value and meaning to a regular car rental website. Infact with no exaggeration, the Plugin can be used all-alone to jumpstart a dealership business. It's worth the cost (price: $29)
2. Car Rental Booking System for WordPress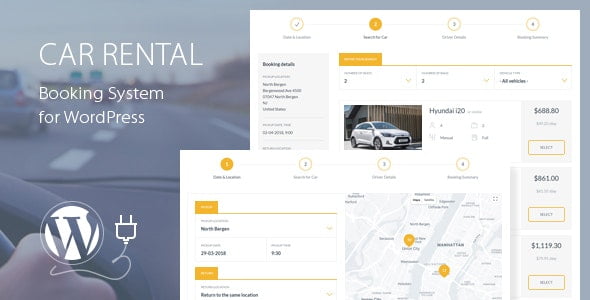 Ironically, the Car Rental Booking System Plugin is literally the go-to solution center in adding the best booking template in your car rental website. To demystify, it's the overall best and proven plugin that performs impeccably in car rental booking aspects.
Using it, one can be able to rent a car several days in advance. User's can navigate back to previous steps they have arleady completed. This exact feature is really pivotal especially when there's a mistake or an oversight.
There's also an integration to Google calendar and that of social media profiles so that you'll keep in touch with prospects at all times.
In all, the Plugin offers the best in the booking aspects of running a car rental business. Now instead of waisting loads of time learning how to tweak the best booking offers to your customers, you can easily install and run this plugin right away.
It's worth $40 in the Envato Market right now!
3. VikRentCar Plugin: best car rental WordPress Plugin[s]?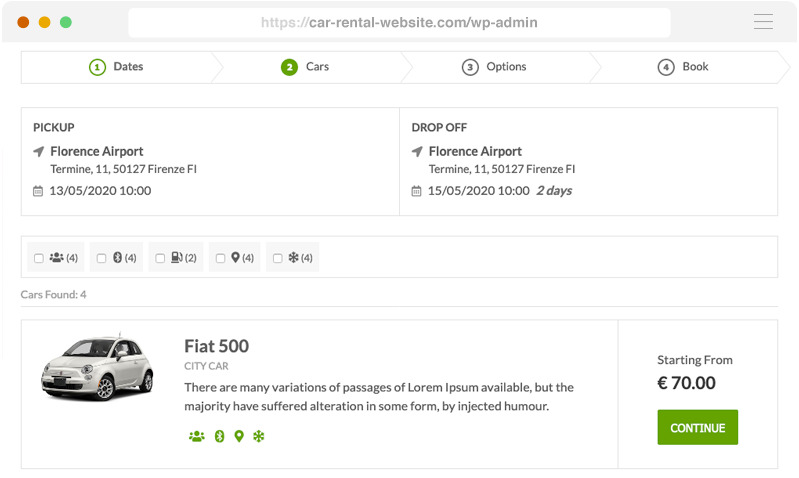 Before now, VinkRentCar ain't available for WordPress site owners. But thankfully, it's now a native plugin hosted on WordPress.
The VinkRentCar Plugin, one of the most viral car rental Plugins is actually the ideal solution for all kind of rental goals. It can serve as bookings for: Bikes, Boats, Cars and all the rest of them.
Having this on mind, you're the best person to decide whether it's a good fit for your marketing goal or not.
One kink associated with the plugin is that the supported Payment methods are very few and thus might prevent user's from completing their bookings.
Regarding the cost of the plugin, it's priced at $120 which is decent. Also, it has a free version…
4. Booking and Rental Plugin, BRW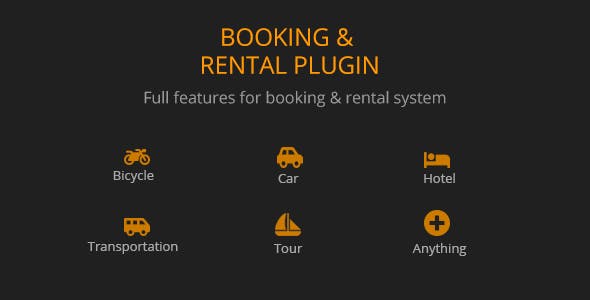 In the midst of the best WordPress Car Rental Plugins is the BRW Plugin, a pocket-friendly software with exceptional features.
The Plugin makes it damn possible to book cars and set prices based on time, day, season, the number of guests and so on. You can also go ahead to input pick-up date and drop-off date in the calendar to enable you book rentals only for specific time-frames.
Also you can use this plugin altogether with the 'Advance Car Rental Booking Management Plugin (see it underneath) to handle bookings automatically from many different systems including Boat Rentals and Bicycle Rentals, Transportation and Taxi station locations.
It also supports bookings for hotels and several other items out there so that you won't have to install many Plugins to run your car rental website.
In terms of pricing, the plugin is very cost-effective. You can get it at $39 with a 12 months validity period. Yah, it's worth the try.
5. Advance Car Rental Booking Management Plugin for WooCommerce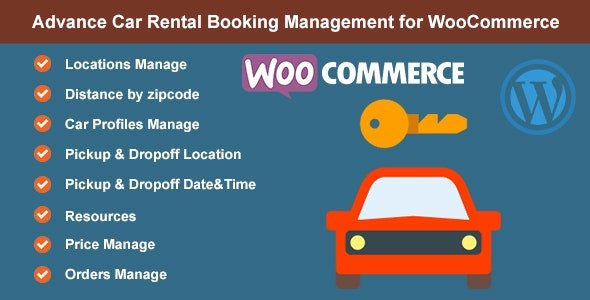 Certain features and functionalities are mandatory for the best WordPress Car Rental Plugins. Thankfully, the Advance Car Rental Booking Plugin for WooCommerce made it far to the this place.
It's so obvious that the Plugin in question helps provide Car Rental services. But it's not limited and does provides supports for motorbike and bike rentals, equipment rental and taxi services.
You can add incredible features, types and categories in the page. You can also go ahead and leverage the data calculation for price points. You can set it to be daily, hourly, or even weekly.
There are so much more the plugin has got to offer. Actual price is just $19 for the full year
6. Car Rental system Plugin [Native WordPress Plugin]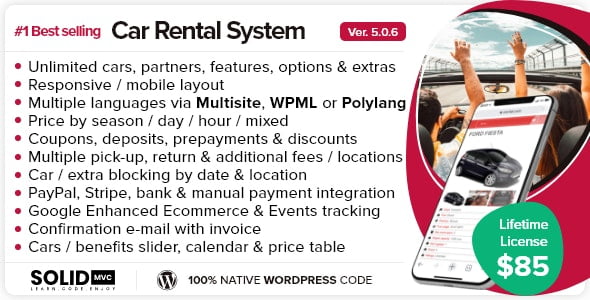 The Car Rental System Plugin have got support for almost unlimited cars, features, partners and preferable options to choose from. The layout is also responsive in all screens. Whether it's on mobile, tablet or desktop – the look appears very flattering and professional.
In the aspects of supported languages, the plugin is multilingual, supporting more than 15 languages and still providing the option to add more.
Now arriving to the payment model, it supports easy PayPal gateway, Stripe, bank and manual payment integration. Meanwhile, you've got all means to add unlimited Payment methods.
Pertaining to the features and functionalities, the Plugin offers one of the best solutions here. You can do many things from running it on a WordPress Multisite, have supports for WPML with native support for WordPress date, email and time settings.
In price tag, the plugin is worth of $85 which is highly less than the cost of developing a car rental website from scratch. It's worth the cost.
And that's finally wrapped it up for the topic – The best WordPress Car Rental Affiliate Plugins [free and pro].
You can also check out: the best Car Rental Affiliate Programs to join if you're a Publisher in the Travel industry. You could easily double-up your Affiliate earnings with the best programs in the market….
Let's do this!